Back in the Nest: Mr. Donaldson Returns to LHS
This year, LHS welcomed many new teachers through its doors. However, a few familiar faces—including Brian Donaldson—have returned to the building after a short hiatus.
Donaldson, who served as a health and physical education teacher at North Middle School last year, now has many roles at LHS; he is a health and ninth grade physical education teacher as well as a coach for JV boys' basketball, JV girls' soccer, and girls' spring track. He is also a co-advisor for the Student Government Association (SGA), a club advisor for the varsity club, and the freshman class advisor.
Donaldson currently resides in Lynbrook with his dog, Teddy, and his chinchilla, Munchkin. He has lived in Lynbrook for all of his life, attending Marion Street Elementary School and South Middle School before graduating from LHS with the Class of 2013. These early years of Donaldson's life greatly influenced his career path, especially his participation in Lynbrook's annual Summer Playground program as a counselor. "I was always a big athlete growing up," said Donaldson, "but what got me into wanting to be a teacher was actually Summer Playground and working with younger kids." 
Donaldson followed this passion into college, graduating from SUNY Cortland in 2017 with a bachelor's degree in physical education with a concentration in adaptive physical education. He elaborated on the adaptive physical education concentration: "It specializes in students with special needs, either cognitively or physically, creating an inclusive environment for them." After graduating from Cortland, Donaldson earned his master's degree in health education from SUNY Brockport in 2020.
Donaldson's first teaching job was that of a permanent substitute teacher in the West Hempstead School District. Then, he landed another job as a permanent substitute teacher—this time at LHS—where he also served as the class advisor for the Class of 2023. Then, he transferred to Waverly Park Elementary School as a physical education teacher as well as the JV girls' soccer and middle school track coach. Throughout all of this time, Donaldson also served as the JV boys' basketball coach at Bethpage. Donaldson then began working at North Middle School as a health and physical education teacher before returning to LHS this school year.
Donaldson is glad to be back at the high school. "My favorite part of the job is being able to interact with the students, not only in the classroom but outside as well," Donaldson said. He is always excited to see one of his students at sporting events, concerts, or even at a restaurant around town. 
Many students are likewise glad to see Donaldson back at the high school. Senior Jacob Lunati, who has known Donaldson since elementary school and currently works with him in the SGA, is one such student. "As a graduate of Lynbrook, we have many similarities, and [Donaldson] is very personable and easy to get along with," Lunati said. Freshman Ella Carroll, who had Donaldson as her physical education teacher at North Middle School and is now coached by him for the JV girls' soccer team, agreed: "Being a LHS graduate himself, he can relate to the students on a level that other teachers might not be able to." Additionally, Carroll noted how Donaldson is always "looking for opportunities to be involved with Lynbrook activities" as well as "ways to make his classes and teams fun." Lunati is especially appreciative of Donaldson's commitment to his students: "This year, the football team celebrated Teacher Appreciation Day, and I was honored to have Mr. Donaldson wear my jersey." 
Despite his long journey, nine years after graduating, Donaldson has finally found his way back to LHS, where he continues to spread his enthusiasm for athletics among the student body. 
About the Contributor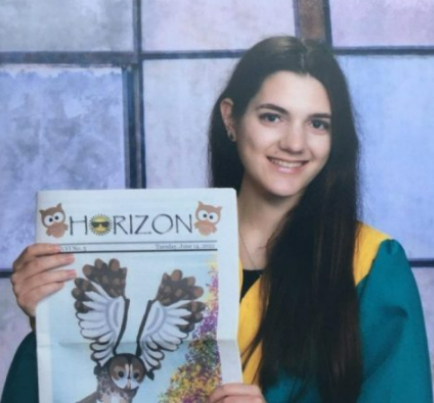 Kate Chiulli, Print Editor-in-Chief
I am a member of the Class of 2023 as well as one of the editors-in-chief of the print edition of Horizon. I enjoy reading, playing the violin, and using...