Don't Worry Darling's "Wilde" Ride
What happens when a video of a director mocking one of her co-workers leaks mere weeks before the release of her movie? Well, based on the thousands of tweets, comments, videos, and ratings of the movie Don't Worry Darling, it is safe to say nothing good. 
Earlier this month, the film's director, Olivia Wilde, had a video leak where she begged for actor Shia LeBeouf (originally playing Jack Chambers) to return to the project after he decided to leave. Previously, the actress Florence Pugh (playing Alice Chambers) had made it very clear that she felt uncomfortable playing LeBeouf's love interest from his past history–one full of abuse allegations and a lawsuit made towards him by his past girlfriend, FKA Twigs. He even confirmed the horrific actions that he had done on a podcast after he had previously denied every single one of them several times before: "I hurt a lot of people, and I'm fully aware of that. And I'm going to owe that for the rest of my life."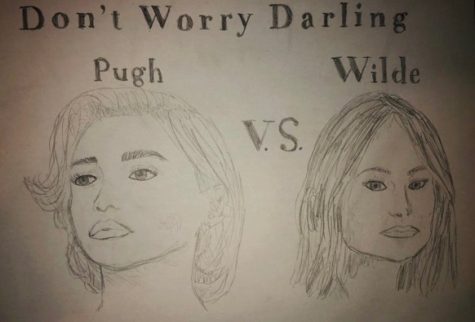 Then, only one year after those allegations came public, LeBeouf was cast in Don't Worry Darling. Before the movie had even started filming, LeBeouf left "due to a scheduling conflict," and Harry Styles took his place. While the filming of Don't Worry Darling was still going on, Wilde and Styles were seen holding hands outside of the set while they attended a wedding. These photos made thousands of people bat their eyes and question if this possible relationship was real or if it was just to promote their new movie. Lucas McNally, a sophomore, feels that "their relationship is more of a PR stunt for the movie to bring in more people and fans of Harry Styles."
Although these photos were shocking to the world, this was just the start of the drama that would surround Don't Worry Darling. In the aforementioned video of Wilde talking to LeBeouf, she said, "I think this might be a wake-up call for Miss Flo." However, many people, including sophomore Anisa Lopez, do not "believe that the video was meant to be in the mocking tone that everyone else believes it is." 
After the video was leaked, it seemed like the entire cast of Don't Worry Darling had suddenly gone quiet. Then, one week later, the cast showed up to present the movie at the Venice International Film Festival. During the festival, hundreds of reporters asked the cast questions regarding the movie and or any rumors that needed to be addressed. One of the reporters asked Wilde, "Can you just clear the air and address whether there had been a falling out there, and if so, why?" Wilde replied by saying, "I can't say how honored I am to have her as our lead," a response that did not answer the question being asked. 
Meanwhile, during the festival when the actors had taken their seats and Styles was about to sit next to Chris Pine, it seemed like Styles had just spit on Pine. Many viewers tried to zoom in on the video and rewind it to see if what everyone had been saying was true. Olivia Romanowski, a junior, laughed and said, "Harry Styles did not spit on Chris Pine. I think Pine just gave Styles a weird look, and people took it the wrong way." These rumors were soon debunked by Styles at his concert the following day, by which he had made a joke to the audience saying, "I just popped very quickly to Venice to spit on Chris Pine." 
About the Contributor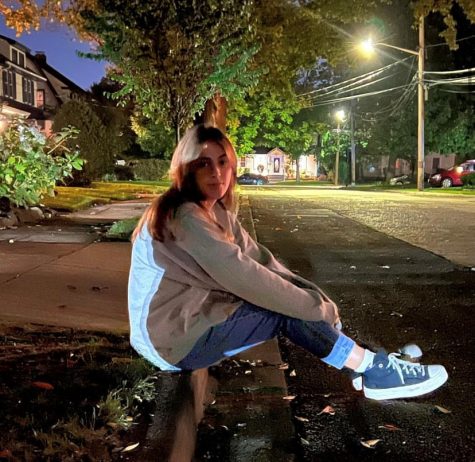 Dylan Hincken-Kossow, Editor
Hi! My name is Dylan Hincken-Kossow, and I'm a member of the Class of 2025. I am also part of the Speech & Debate Club, GirlUp, Key Club and the...