A Dream Come True: Lea Michelle Begins Her Run in "Funny Girl"
All the way back in 2009, a soon-to-be hit show appeared on television screens: Glee. This television show, which most students have at least heard about, is centered around a high school glee club, following many of the zany characters' lives as they try to survive as "geeks." Very stereotypical, of course. A specific main character, a glee club member named Rachel Berry, had a dream: to play Fanny Brice in Funny Girl on Broadway. In the later seasons, the show fulfilled her dreams and her character "played" Fanny. This was not mirroring reality at the time, but in 2022, that plotline got a bit more ironic. Lea Michele, who played Rachel Berry on-screen, was recently cast in Funny Girl as– you guessed it– Fanny Brice. This casting announcement came as a shock to almost the entire theater community, although there have been jokes made leading up to the announcement. The casting of Michele was officially released in July, and she has just begun her run. However, questions arise when people consider the casting of Michele. Should she be playing this role? Has she grown from her past self? Is this fair to previous leading lady, Beanie Feldstein, or her wonderful understudy, Julie Benko? All questions that will soon be answered as her run continues. 
Ever since Funny Girl opened its doors in March, there has been a lot of controversy surrounding their former leading lady, Beanie Feldstein. Considering Feldstein's Jewish heritage and Broadway-level singing, she should have been a perfect fit for the role. However, once the internet got wind of her singing, the drama never stopped. Lots of people commented that her tone of voice sounded nasally and "annoying." Some people even made fun of her appearance. Unfortunately, both Beanie and another former Glee star in the musical, Jane Lynch, ended their contacts early. There are many speculations as to why this was; however, it can be assumed that is it partly because of the criticism Beanie endured in her run. Shortly after her departure announcement, the Funny Girl team announced the casting of Lea Michele to take over the role. Many people were excited, though others in the theatre community thought that Lea, although musically qualified for the role, should not have gotten it.  
Lea has many controversies and drama surrounding her, dating all the way back to when her career began. During her Glee days, Michele was rumored to have treated her castmates poorly by being petty and mean. There have even been allegations of her being racist to her castmate Naya River, who played Santana in the show. These allegations have never been disproved, causing Michele to have a bad reputation with her future coworkers. Because of this controversies, many people do not think she deserves role, especially after Beanie's sudden departure from the company. "This is the biggest Broadway scandal in a long time," said senior Grace Benedict. "My biggest issue with this whole thing was the producer's treatment of Beanie Feldstein. I think she was mis-casted and shouldn't have gotten the role in the first place and only got it due to nepotism. However, the producers should have defended her instead of agreeing with the public. It was extremely disrespectful to [Beanie], and they should have stood by her. I absolutely support her for leaving. I think Lea Michele is better for the part vocally, but due to her past I think we are setting up a wrong precedent that people should be rewarded for toxic behavior. I just hope that she has learned from her mistakes and there is no further drama." 
The casting of Lea Michele is not to say that Funny Girl did not have any other fantastic options. Arguably the fan-favorite breakout star, Julie Benko, grew quite popular during the time when Beanie left and Lea's contract had not yet started. She has numerous rave reviews online praising her for her fantastic performance. She is also Jewish, and from what the public has seen, a genuinely nice person. Now that Lea's contract has begun, she is back to performing every Thursday as well as being Michele's regular understudy. However, with someone like that, why even cast a replacement– especially someone with as bad of a reputation as Lea Michele? Well, the answer is probably more disappointing than one might think. Even in something as magical as Broadway, money is still the top priority. The reviews of Beanie's voice have been less than kind, and Julie Benko, although a perfect fit for the role, didn't have enough star-power to her name to bring guests in. That's where Lea comes in. With a name like hers, theater goers will come to see the show just for her. On top of that, while difficult, she can most certainly sing. Simply from her Glee performance of "Don't Rain on My Parade" many have that she has the right voice for the job. There is no doubt that Lea Michelle is going to blow the house down every night, and possibly even brighten up her reputation in the process—though many believe this is the exact goal. On Michelle's opening night, multiple videos of all her songs were posted on TikTok, YouTube, Instagram and more. No one from Funny Girl tried to stop them or take them down, almost like they want theater goers to hear Lea's voice onstage and somehow forget the terrible things she's been accused of. Now, this is where the theater community is divided: Should Lea Michele be playing Fanny Brice?  
Many people have hopes that Michele has changed, and that's there is no reason to dislike the casting. "All I really know is that she was Rachel in Glee (and apparently there are rumors she can't read). Nonetheless, Funny Girl is an awesome show, and I have high hopes for Michele," said sophomore Gianna Longo. However, there are also some people who believe that she was cast based off her star power alone. "Lea Michele, while obviously talented and an amazing fit for the role, was commercialized on a completely different level than Beanie Feldstein, the original Fanny Brice," said senior Lola Sokolskiy. "You could say that's because she's a Glee star, but they advertised understudy Julie Benko just as much. In fact, during the time of the original release of the revival, no one can find solid clips of Feldstein's singing. The producers knew, or they tried to take Feldstein out of the picture. Regardless of press or opinions, you hired her. You can't just betray her the way you did. It's not right to Feldstein, someone who vocally might not match Michele or Benko, still worked insanely hard to get her name out there." 
This is the biggest Broadway scandal the theater community has seen in years. Everyone asked has a different answer, a different side to take. If anyone books their ticket for Funny Girl, they will know where to give their review.  
About the Contributor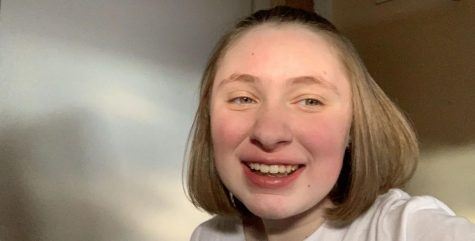 Kerry Cullen, Driftstone Editor-in-Chief
I am a member of the Class of 2024 as well as a managing editor for Horizon. I like to write, read, sing, and act. One fun fact about me is that I love...