Defense Leads Owls to Season Opener Win Against Glen Cove
In their first game under new head coach David Yaker, the Lynbrook Owls fully showcased their new playbook. With the offense firing on all cylinders, along with the defense pouncing on opportunities to take the ball back, Lynbrook cruised to an easy win on Saturday, Sept. 10 against Glen Cove, ending the game with a final score of 37-14.
The game started exactly the way that Lynbrook would have liked, as the football team scored 14 unanswered points from two Michael Fagen rushing touchdowns in the first quarter. Glen Cove got on the board in the second quarter but failed the two-point attempt to lower the deficit. When Lynbrook got the ball back, the team was able to drive down the field and convert a field goal to increase its lead. With a Jaylin Walker receiving a touchdown on the next drive, Lynbrook went up 23-6, and a Chris Lucchese interception kept the score the same heading into half-time.
Lynbrook's dominant performance continued in the second half. Even though there was no scoring in the third quarter, Lynbrook put the nail in the coffin during the fourth. Fagen scored his third touchdown of the day to start it off, and as soon as Glen Cove got the ball back, Ryan Shapiro picked off the first pass they threw of the drive, which set up a 1st and goal for the offense.
Lynbrook was able to convert the Glen Cove turnover into points with– yet again– Michael Fagen. Fagen scored his fourth touchdown of the game, giving Lynbrook a 31-point lead. Glen Cove subsequently scored a touchdown and converted the two-point attempt for the final points of the game.
Lynbrook's goals were simple: compete on every play, every game. That's exactly what they did. "The boys have worked extremely hard the past three and a half months. Many have sacrificed quite a bit in order to be successful this season," stated Yaker, who has been at a loss for words ever since Saturday. "Having grown up here, played here, and now have the chance to lead the next generation of Owls has been nothing short of incredible. Everyone from the boys to the community has had overwhelming support and it has been all that I could have asked for and so much more. When Coach LoCicero first began coaching, he walked onto the Marion Street field and worked with a bunch of 17-year-old kids and helped lead them to a county championship. I was one of those boys, and now I have the opportunity to follow in his footsteps and continue building on the great work he has done here." Yaker has never felt more prepared and cannot wait to get to work.
With 180 total yards and four touchdowns, Fagen carried the offensive load for Lynbrook on Saturday. When asked about Fagen's performance, Yaker expressed, "When the ball is in his hands, anything is possible." Fagen showcased just how quickly he can learn a new offensive system, and through that process he learned how to "elevate the play of those around him, which is the number one job of any great quarterback," noted Yaker.
Even with his outstanding performance, Fagen took no blame for the win: "As a team, we were fully prepared for Glen Cove and knew exactly how to attack them. Huge shoutout to the lineman as without them I do not know what I would do." Considering his impressive performance this game, Owl fans should look forward to much more of him this season.
The defense was also a huge part of the win, as a total of 5 Glen Cove turnovers gave the offense tons of opportunities to put points on the board. "Our defense played lights-out last Saturday and everyone played their hearts out. Defense wins games and you can definitely see that," said Fagen.
Someone that stood out in that dominant defense on Saturday was Senior Ryan Shapiro, who was named Owls Player of the Week for his performance on Defense and Special Teams. Overall, the defensive gameplan was clear; "We focused on certain players that played good for them the previous year and made sure to slow them down," explained Shapiro. "Our coaches had a great gameplan for their offense, and it was a key part in our performance."
The Owls hit the road to face the Manhasset Indians on their homecoming, who dropped their season opener to the Carey Seahawks, 21-14. Manhasset is historically a skilled football team, so the Owls will have a challenge to face. "They run an old-fashioned offense that will be a new look for our defense," said Shapiro.
The Lynbrook football team has been preparing all week to spoil Manhasset's homecoming. "This is nothing new to us and we are ready for anything," affirmed Fagen.
About the Contributor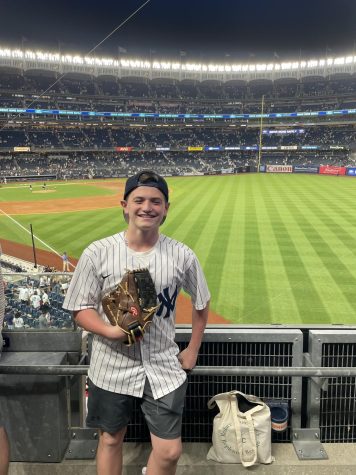 Sean Strohofer, Managing Editor
My name is Sean, and I am a member of the Class of 2025. I have a deep desire for sports and writing, so you might see me at sports events around town!