Johnny Depp & Amber Heard Trial
The disputes between Johnny Depp and his ex-wife Amber Heard culminated into a very public trial that spanned several weeks, catching the attention of millions. The 58-year-old Pirates of the Caribbean actor sued the 36-year-old actress for $50 million, alleging defamation after an article she wrote for The Washington Post claims he physically and sexually abused her. Heard is countersuing for $100 million, claiming he also defamed her when she was referred to by his legal team as "fake" and a "sexual violence hoax." Heard is most prominently known for her role in the DC Comics film Aquaman. 
This trial is only one of several legal battles involving  Depp and Heard. According to Newsweek magazine (www.Newsweek.com), the pair began divorce proceedings in 2016 after getting married the previous year. In those divorce proceedings, Heard first accused Johnny of domestic violence. In 2020, Depp lost a libel case against the publication The Sun in which he tried to sue them for calling him a "wife beater" in reference to his relationship with Heard. Throughout these trials, details of their unhealthy relationship and unusual lifestyle were aired to the public. 
The 2022 trial began on April 12, when opening arguments were made at the Fairfax County Circuit Court in Virginia. According to The New York Times, "Ms. Heard painted Mr. Depp as a controlling husband […] In his testimony, Mr. Depp described Ms. Heard as a [unpredictable] partner who sought to instigate fights."
The court of public opinion has most vocally sided with Depp. Freshman Noah Kamal said, "[I'm on team Johnny] because I don't think he should have that much being put on him without any evidence." During this trial, Depp's legal team provided evidence that appeared challenging to prove false, such as the accusation that Heard broke Depp's finger. According to the same New York Times article, "Depp testified that Ms. Heard was angry about a meeting she had with a lawyer about a potential postnuptial agreement and threw a handle of vodka, which shattered onto his right hand." Heard had also been diagnosed with borderline personality disorder and histrionic personality disorder by Forensic Psychologist Shannon Curry. 
Heard's testimony was what some would call "conflicting," as much of what her team said has been proven otherwise. One such event that made Heard look bad is when she claimed she used a color-correcting palette from the brand Milani to cover up bruises Depp had inflicted. A Milani representative testified that the product launched in December 2017, a year after Heard and Depp filed for divorce on May 23, 2016. 
Senior Noelle Demasi said, "I think they ruled in favor of Johnny because he had stronger evidence and Heard lacked it." Freshman Miles Sokolskiy agreed and added, "Amber Heard didn't really have evidence, and Johnny had a better team representing him." 
About the Contributor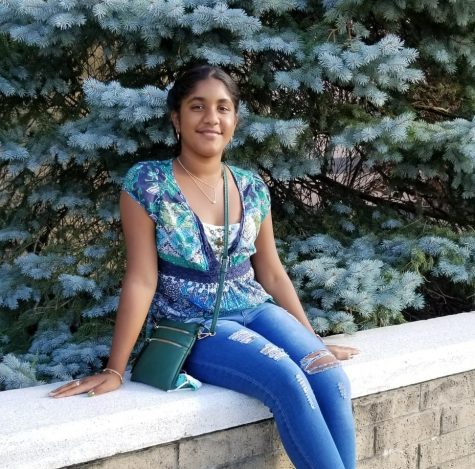 Miranda Mangru, Assistant Editor
Hi! My name is Miranda N. Mangru. I am a member of the Class of 2025 and an assistant editor for the Horizon newspaper. I am also a member of the Italian...