Artists and Mental Health Awareness
In height of May, Mental Health Awareness Month, many of the most well-known celebrities showed their support for the #BreaktheStigma movement. Baring the pain of mental illness in a private space is exhausting for individuals and their families; the purpose of the #BreaktheStigma movement is to break that barrier and encourage those who need help to speak up and seek treatment. As artists with massive platforms speak on the issue, they not only raise awareness for mental health but also inspire their fans to break the stigma alongside them. 
While on his Justice tour, Justin Bieber is spreading love and mental health awareness, one city at a time. Bieber aims to help his tour crew and fans navigate the long pathway to emotional and mental wellbeing smoothly with his collaboration with BetterHelp, which provides free access to online therapy. 
Bieber heavily advocates for mental health awareness and is very vocal about his past struggles with addiction. After leaving the spotlight in 2017 to put his mental wellbeing first, he re-emerged into the music industry with his fifth and sixth studio albums, Changes and Justice. As Bieber continues with his tour, at every performance, he takes the time to explain the meaning behind the Justice album and the message he aims to convey with it. "When we first decided to name this the Justice tour, we wanted it to be a tour and a moment where people all felt a moment of unity; where they all felt like they belonged," Bieber explained at his Atlanta show. He continues to recite the "Welcome to the Justice Tour Speech" every night to further promote his message. "I follow Bieber on social media, and he is a constant promoter for mental health awareness. He frequently posts videos of him reciting the 'Welcome to the Justice Tour' speech, and it is so empowering every time I watch it. I can only imagine how it is seeing him recite it live," sophomore Grace Loiselle shared.
Since being diagnosed with bipolar disorder in 2015, Demi Lovato has made it her mission to break the stigma about this condition. She became a mental health activist and began the Mental Health Fund, which provided free counseling during the pandemic. Lovato is open about her struggles with mental health and frequently speaks on her experiences with addiction, eating disorders, bullying, and more. She also has released a documentary called Dancing with the Devil and songs like "Sober" to further express her pain. Sophomore Marisa Parco commented, "Lovato heavily disagrees with the negativity and weakness surrounding seeking help and thoroughly preaches against it."
After the release of Shawn Mendes's song "In My Blood" in 2018, he has completely transformed his platform to advocate for mental health. Mendes has increasingly opened about his struggles with anxiety and works to break the stigma, especially among men. "In My Blood" gives a raw experience of struggling with anxiety, which is also reflected in the recent updates Mendes has been posting on his social media platforms. He has shared in interviews that he wants to feel "free" and be able to be his "100% true honest unique self" on social media. He wants to tell his fans the truth to show them that they are not alone in their battles. 
Avid Shawn Mendes fan, sophomore Samantha Martellaro, shared, "Celebrities are glorified and are portrayed as almost surreal people. I think seeing celebrities like Shawn Mendes in a different light can help fans who are struggling, as it allows them to see their favorite celebrity in a different light. It makes them seem more 'real' and lets people know they are not alone." Since becoming a mental health activist, Mendes has begun his own philanthropic foundation, The Shawn Mendes Foundation, that supports youth causes, especially relating to mental health. 
Rapper Kid Cudi has been named one of the most influential artists, as he is very transparent in his music. Cudi revealed that he used music to work through his inner turmoil, and by doing so, he has inspired other rappers to use their music to bring awareness to mental health; in fact, Cudi's work encouraged esteemed rappers like Logic to release music that expressed their struggles. "He was the dude that was like, 'It's okay to be sad, it's okay to talk about these things and go through these things,'" Logic said in an interview with Pop Sugar. Cudi aims to break the toxic masculinity that surrounds male artists, especially rappers. 
Since the launch of her charity, the Born This Way Foundation, in 2012, Lady Gaga has been a true advocate of mental health awareness. After revealing her traumatic past, she speaks about her deep-rooted struggles with mental wellbeing. To help others feel not alone, she shared the details of the mental and physical toll struggling with mental health took on her. Sophomore Charles Reis shares that he is a huge Lady Gaga supporter because of her emphasis on mental health awareness. "I am a fan of her music but love that she uses her platform for awareness. I think it is so important that she gives back to her fans and helps them not feel alone," he said. 
The aim of the Born This Way Foundation is to help teens seek help by putting their needs, ideas, and voices first. The foundation has heavily supported the LGBTQ+ community alongside her hit song, "Born This Way." Gaga was also a part of the Grammy-winning movie, A Star is Born, where she shared in her speech that she was so proud to be part of a film that touched on mental health issues. "We gotta take care of each other. So, if you see somebody that's hurting, don't look away. And if you're hurting, even though it might be hard, try to find that bravery within yourself to dive deep and go tell somebody and take them up in your head with you," she said.
About the Contributor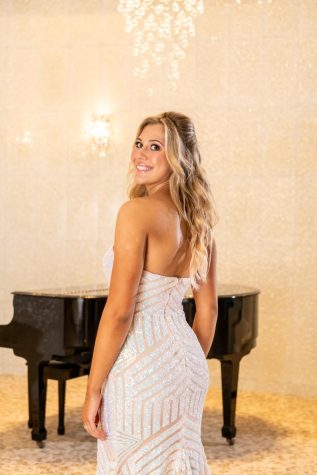 Alexis Raynor, Print Editor-in-Chief
Hi! My name is Alexis Raynor, and I am a member of the Class of 2024 and a managing editor for Horizon. I love to dance and hang out with my friends. I...