LHS Bids a Fond Farewell to Principal Rainis
LHS Principal, Joseph Rainis, is retiring at the conclusion of the 2021-2022 school year. Rainis is a 1979 LHS graduate and has remained a loyal Lynbrook Owl ever since.  
After high school graduation, Rainis furthered his education in New Hampshire, where he began his teaching career. He stayed in close contact with his former basketball coach and the Assistant Superintendent of Lynbrook Schools, William Metkiff. When Metkiff notified Rainis of an open social studies teaching position at LHS, Rainis could not resist. "When teaching in New Hampshire, I wore many hats; I was assistant athletic director, and I was teaching. I was interested in my work in New Hampshire, but at the end of the day, I wanted to be closer to my family, and Lynbrook is my home," he explained.
Rainis began his Lynbrook teaching career in 1990, where he taught various courses in the social studies department. He began teaching Global 9, but over the course of his teaching career, he has taught US History, Economics, Government, and AP Government. He has also served as the junior varsity basketball coach and has coached varsity lacrosse alongside Bill Leighley and now-retired Larry Glenz.  
When it was announced that former assistant principal Bill O'Sullivan was departing from LHS to become the assistant principal at North Middle School, Rainis applied to be his replacement. He officially took on the role of assistant principal in 2000. Rainis eventually became principal in 2007 and has been working tirelessly for the benefit of LHS students and staff since then. 
Current Assistant Principal Sal Brescia shared, "When Mr. Rainis became principal, I was fortunate enough to replace him as assistant principal. I was extremely lucky to have been mentored by Mr. Rainis; I will forever be grateful for his guidance and support. More than that, I am grateful for the friendship we have built in the last 20 years." Current Assistant Principal Matthew Sarosy added, "It has been a privilege to work alongside someone whom I truly admire. I will always be grateful for all that I have learned from working together over the past 10 years." 
Outside the walls of LHS, Rainis enjoys all activities near or on the water. He often goes boating, and he loves to sail, fish, and swim. He is an avid golfer and especially loves spending time with his family. He is looking forward to spending more of his time participating in these activities in his retirement, especially spending time with his family.  
Rainis has devoted most of his time this past year working toward the completion of the LHS building and claimed it was one of the biggest accomplishments of his career. "The new wing offers new opportunities for interdisciplinary collaborative activities and projects. It also promotes hands-on learning, something that has not been done in almost two years. This and the benefits of the students were the driving forces behind the finishing of the building," Rainis shared. He has been involved in several committees that primarily focused on the planning and completion of the new wing. "Seeing everything come full circle, especially during my last year, is extremely rewarding," Rainis added. It is Rainis' hope that the new wing of the building will be used to the greatest extent and that the community will embrace it in the years to come.  
Rainis is also heavily involved in school-related activities and works closely with the Student Government Association. He helps organize traditional LHS events such as Pep Rally, Human Relations Day, and more. SGA Slate President Emma Leighley shared, "Working closely with Mr. Rainis has shown me how much of a leader he is. SGA deliberately emphasizes the qualities needed to be a leader, and Mr. Rainis demonstrates just that. Mr. Rainis is a role model of mine and has been an incredible principal. I truly am sad to see him go but am grateful that his last year at LHS is also my last year at LHS." 
As Rainis concludes his journey with LHS, he leaves behind a legacy of long-standing values and traditions. He is known for his tremendous height, standing at 6'7", but he is also known for his steadfast morals. Rainis stressed the importance of building relationships between students, staff, and staff members. "Mr. Rainis opened my eyes in that much more can be accomplished if a solid foundation of relationships can be established first, not only in the workplace, but in life itself," Sarosy expressed. Even in the height of the pandemic, he found ways for students to connect with one another. "I have always seen myself as a facilitator and caretaker. If I leave LHS in a state better than when I first inherited it, then I have done my job. LHS will be here long after I am gone, so it was my job to keep it in decent shape for the next guy," Rainis emphasized.  
About the Contributor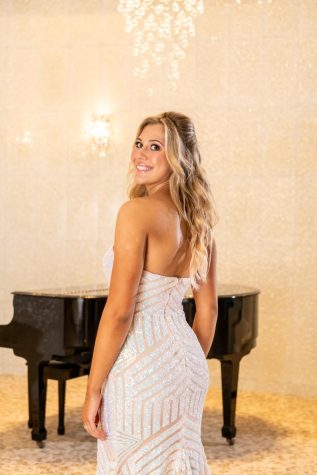 Alexis Raynor, Managing Editor
Hi! My name is Alexis Raynor, and I am a member of the Class of 2024 and a managing editor for Horizon. I love to dance and hang out with my friends. I...