Top-100 H.S. Athletes on Long Island: Cekic and Nembach Make the List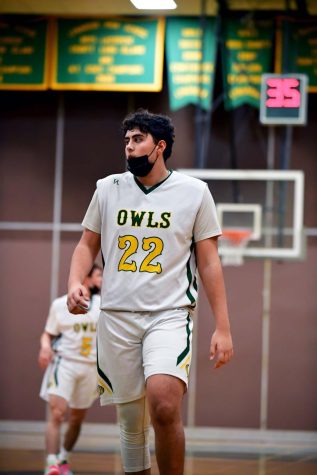 Kyla Nembach's and Haris Cekic's superior performances this season did not go unnoticed, as Newsday has named the two seniors "Top-100 Long Island Athletes." Both students are starters on Lynbrook's varsity basketball teams, and they have led their teams to success this season. 
Nembach said that practice is not the sole reason for her success."My parents and family were the most impactful," she shared. "They have been there through everything and have helped me become the player and person I am today." Nembach's favorite part about being on the team are the relationships and friendships she has formed with her teammates along with the "unforgettable memories" she has made over her four years at LHS.
Girls' varsity basketball head coach and history teacher Stephen Locicero said Nembach is a consistent player who has started every game since her freshman year. She is not only unique in her style of playing, but in her attitude on and off the court. Nembach is "unselfish and will do anything for the success of the team," LoCicero said. Nembach is a crucial asset to her team, and according to LoCicero, "Her athletic ability is rare, and she is one of the best student-athletes" he has coached in his entire career. Nembach will continue her basketball career next year at Mercy College.
Starting in every game, Cekic is another key member of Lynbrook varsity athletics. In games against Lawrence, Floral Park, Plainedge, and Bethpage, Cekic has demonstrated his technique and skill, serving as an advantage to the boys' varsity team. Cekic's teammates describe his skills as "impeccable" and "intelligent," as he plays a strategic game and is extremely conscious of his plays. Cekic possesses the ability of a Top-100 Long Island Athlete, which he proves constantly, with his points and wins. 
Playing a substantial role in Cekic's athletic career is boys' varsity basketball head coach Jamie Adams. Adams said he has "pushed Haris to be the best player he can be." Cekic's favorite parts of being on the varsity team are "the friendships and winning culture," which the team has curated over their years together. Lynbrook is expected to finish the season strong, with a current record of 11-4, aided by the effort and consistency of Cekic.
The girls' varsity team has been off to a great start this season, with a record of 8-3. This season, the girls played teams such as Floral Park, Mineola, Plainedge, and Bethpage. LoCicero said that the 2021-2022 team has cooperated excellently and has a "wonderful chemistry," playing on a similar level to the 2017 Conference Championship Team.
The LHS varsity basketball teams are not only successful in their wins on the court, but in their impact on the community. On February 2, the boys' team hosted a benefit game to donate money to the Nassau and Suffolk Autism Society. This organization aids people with Autism and their families, helping them achieve a higher quality of life with long-term support. On Feb. 3, the girls' team hosted a charity game to raise money for the Hoops for Hope foundation. Hoops for Hope has been raising money for cancer research for almost 30 years and has donated over $150 million to help find a cure for cancer. 
With Nembach's and Cekic's performances, the teams are successful on and off the court.