Artist Spotlight: Kyla Nembach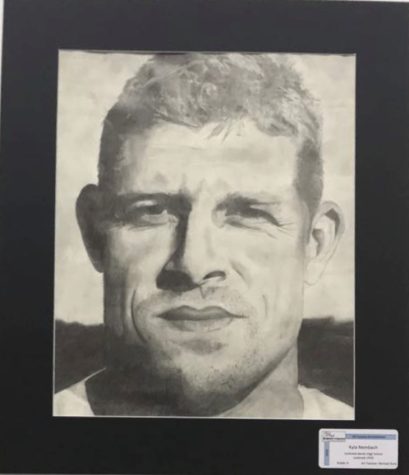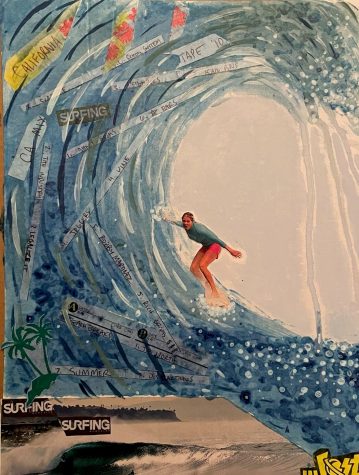 Kyla Nembach, a senior, has been interested in art ever since she was a child. Her first memory of diving into the art world is from kindergarten, when she was nominated for All-County for an original city-scape painting. 
"I loved seeing my painting along with all the other students' work," Nembach recalled. "I realized that art was something I really liked to do."
Nembach has several artistic inspirations, but she shared that Jean-Michele Basquiat – an American artist who heavily influenced the Neo-Expressionist movement – and Keith Haring – an American artist who created extremely impactful pop art and emerged from the graffiti subculture of New York City – were some of her favorite artists.
 "They were so unique and clever in their designs," Nembach said. She also expressed that nature, particularly the beach and ocean, is a great inspiration for her.
Nembach is multitalented. She has played trumpet her whole life and participates in many sports, including basketball, lacrosse, and swimming. Art teacher Tom Sena shared, "Kyla is one of those rare triple threats; she is academic, athletic, and artistic. I cannot wait to see what the future holds for her."
Nembach's preferred medium is paint, but she also enjoys shading with charcoal and pencil, as well. Her art has progressed over the years, and her tastes and artistic practices have also changed. "I have tried to open my abilities to new things such as abstract or surreal images," Nembach said. "My tastes and practices are always evolving because I see everyday art in life and am open to trying."
Other art forms such as music do not particularly influence Nembach's art, but her mother is a great inspiration for her and has been very influential throughout her artistic development. "My mother loves art and would always take me to museums and galleries," Nembach said. "She worked in the art, graphic, and photography field for many years, so she is very knowledgeable on what could encourage my artistic abilities." 
Nembach shared that although other subjects like science or math do not particularly overlap with her artistic creations, there are films that have stayed with her. "Moana is one of the most visually impressive movies I have seen," she said. "It represents many of my favorite influences: nature, the sea, and marine life."
Nembach was recently accepted into the business honors program at Mercy College, where she will be attending next year; this will allow for an artistic component to be added into her degree. Nembach said she hopes to use her artistic abilities in her future career, as well as in tandem with her skills in math and science. 
"My dream goal is to design sneakers or even create my own sneaker company, as I am very interested in the industry, and I often paint sneakers," Nembach said. The future is bright for Nembach, and there is no doubt her art will continue to develop as she moves onto college and beyond.