MLK Day + Black History Month: Living and Working Toward King's Dream
African American History Month is an annual celebration in which Americans take time to recognize the importance and depth of Black history. It was originally founded in 1926 by historian Carter Godwin Woodson, the so-called "Father of Black History," whose life goal was to show America how African Americans contributed to the history of the nation. He also wanted to teach African Americans about their history. "If a race has no history, if it has no worthwhile tradition, it becomes a negligible factor in the thought of the world, and it stands in danger of being exterminated," Woodson wrote. 
Originally, the celebration was only one week long and was named "Negro History Week." According to Texas A&M University (tamu.edu), it was turned into a month-long celebration and was renamed "African American History Month" in 1976. By this time, people across the  nation began to recognize the importance of Black history; additionally, the President began to issue an annual African American History Month proclamation. 
On January 31, 2021, President Joe Biden issued his second proclamation, which discussed the importance of honoring and recognizing African American stories and culture. He also reflected upon the centuries of struggle for African Americans and the commitment to fulfilling the American Promise: "all men are created equal."
"African American History Month is important because it is a month for celebrating all the people and the work they put in to help get closer to achieving the goals of freedom, rights, equality, and justice for African Americans," said senior Madison Denoon, co-founder of the Student Diversity Council. "It is a reminder for people to acknowledge and educate themselves on the struggles African Americans have faced." 
It is important to recognize the importance of African American history not just in February but all year round. According to the African American History Month website,  (africanamericanhistorymonth.gov), the Association for the Study of African American Life and History (ASALH) helps to promote the study of Black history throughout the entire year. The organization partners with corporations, schools, community groups, and publishers to promote, research, and interpret information about Black life, culture, and history. The ASALH and its partners are currently undertaking many projects such as African Ancestry and The National Education Association (NEA).
The annual celebration of African Americans and civil rights begins before February, however, on Martin Luther King Jr. Day. King was arguably the most visible and powerful spokesperson for the Civil Rights Movement, and his words were an inspiration to many. In 1964, at age 35, he became the youngest person to win the Nobel Peace Prize. From 1957 until his assassination in 1968, he made over 2,500 speeches, wrote five books, and authored numerous articles. 
Martin Luther King Jr. Day was signed into law in January of 1983 by President Ronald Reagan and has since been observed annually as a celebration of King's immeasurable contribution to not just African Americans but all of humankind. 
"Martin Luther King Jr. was an inspiration then and still is in the world today," said freshman Samantha Petrelli. "We can learn so much from him and how he helped to change the country for the better."
This year, Martin Luther King Jr. Day, held on Jan. 17, was packed with marches, tributes, and volunteer work, all in honor of King and his contributions to the Civil Rights Movement. According to Fox News (foxnews.com), many major events occurred in cities such as Atlanta, Tampa, Washington D.C., and Los Angeles. In Washington, D.C., King's family led a march toward the Frederick Douglass Memorial Bridge in King's remembrance. In Tampa, the annual Martin Luther King Jr. Day parade returned after being canceled last year due to COVID-19. The NBA also celebrated King with basketball games in honor of his life and legacy. Twelve games were played on Martin Luther King Jr. Day, some of which took place in King's birthplace, Atlanta.
King's "I Have a Dream" speech, which he gave in 1963, was a turning point in the Civil Rights Movement. In his speech, he addressed all Americans, not just African Americans, as he understood that for the Civil Rights Movement to be effective, the country must work together. To this day, people are moved by King's speech and the power one man's words can have. 
"Dr. King inspires many people, including myself, because he is proof that one person truly does have the ability to change the world," said social studies teacher Olga Zisel. The speech is a powerful symbol of Dr. King's commitment to freedom.
Zisel quoted King's "I Have a Dream" speech: "'We must forever conduct our struggle on the high plane for dignity and discipline. We must not allow our creative protest to degenerate into physical violence. Again and again, we must rise to the majestic heights of meeting physical force with soul force.'" Zisel feels that this quotation "is important and inspirational for any group of people, from all over the world, who feel that they are going through unjust circumstances." 
Zisel added, "Practicing and preaching passive resistance often seems to have a great impact that eventually leads to change and progress. I also find that historical figures who implement civil disobedience and non-violence go on to become legendary world-changers, even after their deaths."
"It is important to acknowledge and remember the history of African Americans and learn about both the positive and negative parts of the Civil Rights Movement," Denoon said. "Martin Luther King Jr. is just one example of the many people who worked hard for African American rights. It is important that all Americans acknowledge African American History Month because it is a way for the world to never forget the hardships and sacrifices made for equality and justice for African American people," she added. 
The fight for racial equality is on-going today, and dedicating a month towards celebrating African Americans may help to improve equality throughout the nation for years to come.
About the Contributor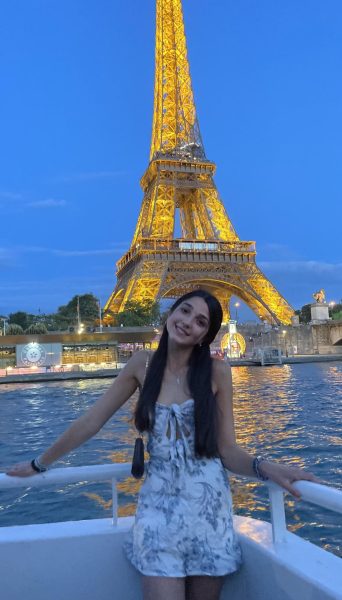 Emily Franklin, Managing Editor
My name is Emily Franklin, and I am a member of the Class of 2025 and an editor for Horizon. I am part of the Key Club, Birthday Wishes Club, and Mathletes....