How to Spread Love Throughout February
Valentine's Day: a day to celebrate love. Here are 10 fun ways to spend time on this special day with a significant other, family members, or even a pet.
Ice Skating:
There is no better way to break the ice with someone new than by spending time on the ice! Ice skating is a great activity for a Valentine's Day date, or for an outing with friends. There are many locations on Long Island where ice skating can be done indoors or outdoors, such as Grant Park and Tanger Outlets. 
Rom-Com Movie Marathon
No Valentine's Day can be complete without some romantic movies. One can snuggle up on the couch with a warm beverage and choose from an array of cult classic romantic comedy movies. Some popular choices are 10 Things I Hate About You, 13 Going on 30, and the To All the Boys I've Loved Before trilogy. Watching movies with a loved one is a simple way to spend time with a person by just being present. 
"I believe you can show your affection without doing anything too big," said freshman Gael Rivera. 
Valentine's Day Desserts 
Love and the smell of fresh-baked cookies are in the air. Valentine's Day is the perfect opportunity to whip up sweet treats for loved ones. One can even buy specially shaped cookie cutters, like hearts, as an efficient way to make baked goods. Other options to try are dessert pizzas with Nutella. Dessert pizzas can be shaped in any way that one likes, and there are endless choices for toppings: marshmallow, sprinkles, powdered sugar, and more.
Coffee Shop/Tea House Date 
There are many local coffee shops and tea houses that can serve as a location for a date or a gathering with friends.Some local spots to try include Kookaburra, Ground Central, Heavenly Coffee, or Chat Noir. New connections can be made over a delicious, warm cup of coffee or tea. 
Card Night/Exchange
Valentine's Day cards were all the rage in elementary school, and they still can be today. Invite friends over for a night to make homemade Valentine's Day cards for one another. Purchase construction paper, colorful writing utensils, and other embellishments for the cards such as small candies, and see who can make the most creative card! In a world of technology, a handmade card is a sentimental way to show one's appreciation.
Random Acts of Kindness
Valentine's Day is often seen as a day full of love, and this love can extend to people outside of one's close circle. Perform random acts of kindness throughout the day on Feb. 14. This can range from flashing a smile to strangers, to paying it forward at a drive-through line. It counts to make a difference in someone's life; something so simple can have an immense impact.
Valentine's Day Photoshoot
Red, pink, purple, and white hues can be found on many Valentines' Day items. Why not take those colors and have a Valentine's Day-themed photoshoot? This can be done by oneself, as a couple, or with a group of people. Phone cameras and editing apps will do the trick, as will a professional camera, a backdrop, and a ring light. Have fun with the photoshoot! Try different poses, backdrops, and filters. Once taken, those photos will serve as a reminder of the enjoyment of that day. 
"I love the thought of capturing the fun moments with that special person and having memories of that day to look back on and feel nothing but happiness," said freshman Jack Ceglie. 
Love Song Karaoke
Music builds a bridge and connects people, and karaoke provides a judgment-free way to forge those connections. Get together with friends and stage a karaoke night for Valentine's Day! Try singing songs like Love Story by Taylor Swift or L-O-V-E by Nat King Cole. 
Door Decorating
With permission from adults, door decorating is a creative way to show appreciation for someone on Valentine's Day. Decorate friends' bedroom doors with wrapping paper, hearts, and small gifts for them to enjoy.
"Palentine's" Day
Valentine's Day is not just for couples! Celebrate the day by gathering with friends, instead, and share the platonic love with friends for a "Galentine's" or "Palentine's" Day celebration. 
"I always say that friendship is the most important relationship," said freshman Shannon Mansfield. "I love spending time with my friends and doing fun activities with them especially because I consider them to be family. I share so many experiences with them, and I'd love to spend Valentine's Day doing something fun and memorable with them. Nothing makes me happier than enjoying my favorite people's company," shared Mansfield.
About the Contributor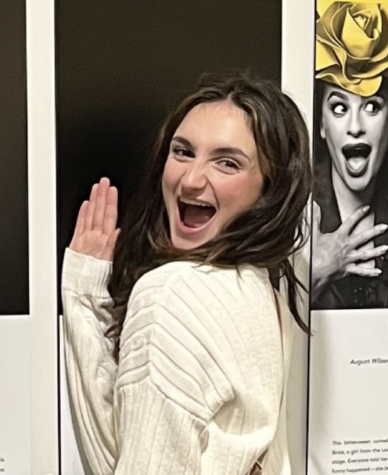 Gianna Longo, Editor
Hey there! My name's Gianna, and I'm a member of the Class of 2025, along with many clubs here at LHS. In my spare time, you can find me on the stage,...