95th Annual Macy's Day Parade: Back and Better Than Ever!
After a rare year of no spectators in 2020, the annual Macy's Thanksgiving Day Parade made a huge comeback just in time for its 95th anniversary. The parade debuted at nine in the morning on Thanksgiving Day, with around two million people lining the streets from West 77th street to Macy's flagship store on 34th street in Herald's Square.  
The weather was seemingly perfect, not very windy, allowing the balloons to fly easily and the temperature was warmer than past year, providing a comfortable experience for all involved and spectating.  
This year, there were 30 floats, seven balloonicles, 30 balloons, 19 performers, 10 marching bands, and over 25 types of clowns.
 Some of this year's new floats included "Birds of a Feather Stream Together," from the streaming service Peacock; "Celebration Gator," from the Louisiana Office of Tourism; "Colossal Wave of Wonder," from Kalahari Resorts and Conventions; and "Magic Meets the Sea," from the Disney Cruise Line.  
The parade also featured many new balloons this year. Ada from the popular children's Netflix series Ada Twist, Scientist was one of these brand-new balloons, as well as Grogu, better known as Baby Yoda from The Mandolorian on Disney+. 
"My favorite part of the parade was the Blue's Clues float because it reminded me of my childhood," said freshman Caitlin Liu. "I also loved seeing everyone come together again after a year of being separated."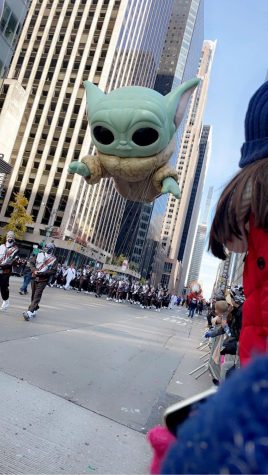 Some of this year's performers were Andy Grammar, country singer; Darren Criss, former Glee star; Jimmie Allen, the current Evan Hansen in the Broadway show Dear Evan Hansen; Jordan Fisher, R&B singer; Kelly Rowland, singer; Nelly, singer; and Josh Dela Cruz, Steve Burns, and Donovan Patton (Joe), Blue's Clues hosts. The featured marching bands came from all over the country, such as The Ann Richards Marching Stars from Austin, Texas; The Centerville High School Jazz Band from Centerville, Ohio; and the Macy's Great American Marching Band, which is nationwide.  
There were also many types of clowns such as the "Baseball All-Stars," "Funny Flurry Clowns," "Rag Doll Clowns," and "Funny Farm Clowns."  
Taliye Corley is a Lynbrook resident who escorted two bicycle riders down the parade route. "I had so many memorable moments marching in the parade, and some of my favorites were taking a selfie with Jimmie Allen, waving to Hoda Kotb high above in the NBC TV booth, and seeing my family in the crowd!" she said. "This was definitely an experience I'll never forget!" added Corley.
Brianna Lubrano, an eighth grader at Lynbrook North Middle School, who also marched in the parade and was dressed as a baseball clown. "It was so exciting being in the parade, and [it was] such an amazing experience!" Lubrano said. "There were tons of people there, and seeing everyone together felt like things were getting back to normal!" 
Overall, the parade was a success, and many appeared to enjoyed having a normal parade once again.