Shooting at Oxford High School
Tragedy struck the heart of America when fifteen-year-old Ethan Crumbley opened fire inside his high school in Michigan, killing four of his peers and injuring seven others, including a teacher, on Nov. 30. In an article written by Time magazine on Dec. 1, it stated that Crumbley was arrested and was charged the following day "as an adult with one count of terrorism causing death, four counts of first-degree murder, and seven counts of assault with intent to murder." He was also charged with twelve counts of possession of a firearm in a commission of a felony. The town of Oxford was heartbroken as citizens gathered for a vigil on Dec. 1, honoring the lives that were taken just hours before. Among the victims were Madisyn Baldwin, age 17; Tate Myre, age 16; Hana St. Juliana, age 14; and Justin Shilling, age 17, who passed away the following day in southeast Michigan.  
After Crumbley was taken into custody, Oakland County Sherriff Michael Bouchard addressed the media with evidence that "the weapon used in the shooting was purchased on November 26, four days [before the shooting] by the boy's father." An article posted by CNN on Dec. 4 said that after James Crumbley purchased the handgun for his son, Ethan then posted a picture of the gun on Instagram, with the caption "Just got my new beauty today. SIG SAUER 9mm" with a happy heart-eyed emoji. Even his mother, Jennifer Crumbley, showed enthusiasm towards the investment, saying it was "[Ethan's] new Christmas present." 
Preceding the attack, there were several warning signs captured by students and staff alike. In an interview with Time magazine, Oxford High School senior Treshan Bryant said he decided to stay home the day of the incident, after hearing threats of a shooting "for a long time now." Bryant also commented that an event like this "couldn't just be random." Additionally, Crumbley was caught by a teacher while searching for "ammunition" on his phone. After Crumbley was reported to school officials, his mother was notified of the internet search, but she never replied to the official's phone call; however, later that day, phone records show her texting her son nonchalantly about the encounter, writing "LOL I'm not mad at you. You have to learn not to get caught." On the day of the attack, another teacher member noticed Crumbley drawing pictures in his notebook, one of which depicted a person holding a gun and pointing at the words "The thoughts won't stop. Help me." Crumbley was promptly brought down to a school counselor, and his parents were notified of the issue. After it being requested by administrators that they take their son home, both parents outright refused to take Ethan out of school, and the administrators complied.  
After the shooting, the school's actions—or lack thereof—to prevent this tragedy from occurring, prompted action against the Oxford School District. According to a Fox News article written on Dec. 9, Jeffrey and Brandi Franz—parents of two Oxford High School students, one of which was shot in the neck by Crumbley— are suing the district for $100 million due to the lack of preserving student safety before the attack. Geoffrey Fieger, the lead attorney, is determined to defend this case for the Franz family and all students of Oxford High school. According to Fox News, Fieger addressed the media in a press conference and said that he plans on making the lawsuit "so costly that it hurts" to ensure that an event like this "might not happen again."  
Other evidence points towards the suspect's parents being involved in the shooting, evoking four counts of involuntary manslaughter against them. Oakland County Prosecutor Karen D. McDonald is certain that this incident was a planned affair: "I am absolutely sure after reviewing the evidence that it isn't even a close call; it was absolutely premeditated." Evidence from school surveillance cameras, social media posts, and more have convinced McDonald that Ethan Crumbley had an intent to murder his peers with a firearm that his parents "allowed him free access to."
James and Jennifer Crumbley must not have been prepared for the consequences of their son's actions: After news of the shooting was made public, Jennifer texted her son, saying, "Ethan, don't do it." Additionally, James Crumbley made a 911 call to report that a firearm was missing from his home, and to mention he believed his son to be the suspect of the attack. Three days after the shooting, James and Jennifer Crumbley, according to CNN, "were supposed to attend an arraignment Friday afternoon" where they would be charged with involuntary manslaughter; however, they were nowhere to be found, which prompted a search party to look for them. The next morning, police located the couple in Detroit, about 40 miles away from Oxford, in an industrial building. Detroit Police Chief James White commented that the couple was "very distressed" after being arrested. Later that day, charges were officially announced in court against the couple; they pleaded not guilty.  
In order to examine and sift through the evidence of the case, Ethan Crumbley will not officially be put on trial until February 2022. Eyewitnesses, many of whom were high school students, are still in the process of recovering from this traumatic event and are not ready to be interviewed. The effects of this shooting are palpable, as safety in school continues to be a pressing issue for students in the U.S.
About the Writer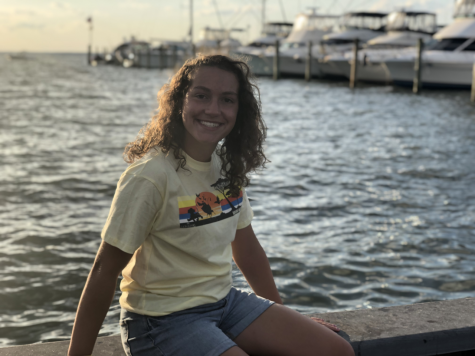 Alyssa Inserra, Managing Editor
I am a member of the Class of 2023 and the managing editor of Driftstone and assistant editor of Sports for the print edition. I enjoy singing, reading,...