Athlete Spotlight: Samir Souidi and Kaelynn O'Brien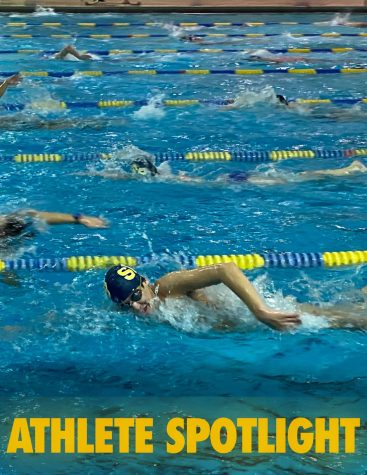 Samir Souidi 
Senior Samir Souidi is a dedicated and talented member of the Southbrook swim team; the LHS boys' swim team combines with the South Side team from Rockville Centre for the swim season. Though Souidi began at age five because he "copied everything [his] older sister did," he wound up falling in love with the sport and excelling in it. He is ranked 67 out of all high school boys in New York and has a power index of 39.41. 
Souidi's record time for the 200-meter backstroke is 2:11.31, which earned him 410 power points, and his record for the 500-meter freestyle is 4:54.25, earning him 598 power points. Since 2016, his times have been steadily cut down, and his swimming has improved greatly. In his most recent meet, Souidi swam the 1,000-yard freestyle in 10:07.39 and the 1,650-yard freestyle in 16:47.11. 
Souidi has a positive influence on his teammates, as attested by his teammate senior Brandon Torres. "Samir is a very dedicated swimmer and is always pushing himself in practice and wants to get better times," Torres said. "That energy really influences and spreads to the rest of the team and helps to motivate everyone, especially the unmotivated guys."
Souidi said that the pressure of a swim meet is both his favorite and least favorite part of the sport. "I love the drive of a competition, seeing new people I haven't raced before, and surprising myself by going personal best times," he said. However, Souidi begins to feel his nerves rise in the days leading up to a meet. "Almost every swimmer could agree that there is an immense amount of pressure going into a competitive swim meet," he said.
Despite the pressure he feels, Souidi has continued to perform extremely well and impress his teammates. Senior swimmer Hunter Brenneis shared, "Samir is an extremely talented swimmer. He puts the team, even the coaches, in awe of how fast he is."
Souidi said that everything he has accomplished so far "holds a special place in [his] heart," but he is most proud of an achievement from early on in his swimming career. "One memory that will always stand out to me was when I was 12 and made my first Junior Olympics cut and Zone Qualifiers cut in the same meet," Souidi said. "I didn't even know what it meant at the time, but that was when I realized I loved swimming." 
With his senior season beginning, Souidi said he is excited to break his records and bond even more with his teammates. Souidi plans on continuing to swim in the future and looks forward to committing to college for swimming at the end of December. 
Kaelynn O'Brien 
After making the varsity basketball team her freshman year, junior Kaelynn O'Brien has not failed to impress her coaches and teammates. She is a talented basketball player who started playing the sport in second grade and has continued to improve with each year.
In her freshman season, O'Brien averaged eight points, seven assists, and four rebounds per game. These numbers helped her lead her team to an incredible 13-8 season. Her sophomore season, even though it was cut short by the COVID-19 pandemic, O'Brian improved; she averaged 11 points per game, nine assists per game, and five rebounds per game. 
O'Brien is admired by her teammates. Senior Grace Bodian said she is inspired by O'Brien's work ethic. "If she misses a shot or gets the ball stolen, she hustles back to defense," Bodian said. "She also spreads positive and encouraging energy to everyone." 
O'Brien is extremely dedicated to basketball and loves to play the sport. "It gives me confidence, and I don't have to worry about anything else while I'm on the court," she said. She added that her favorite part about basketball is making "lifelong" friendships with her teammates, while her least favorite part of the sport is losing. 
O'Brien has been an outstanding player on the basketball team for years, but her proudest moment was making the varsity team as a freshman. "That is where my confidence began, even though I was going to be the smallest player on the team," O'Brien laughed. LHS U.S. History teacher and Varsity basketball coach Stephen LoCicero, "Loves [O'Brien's] toughness and energy." 
In addition to her talent, O'Brien is admired for being an excellent teammate and friend. Senior Jordan Glickman said that O'Brien always has a positive attitude and makes sure to include every member of the team. "We are always dancing and singing at practice, which makes practice so much fun," Glickman said. "Kaelynn's high-energy personality brings positive energy to the team during every practice and game." 
"Kaelynn makes me a better player on and off the court," said senior Kyla Nembach.
About the Contributor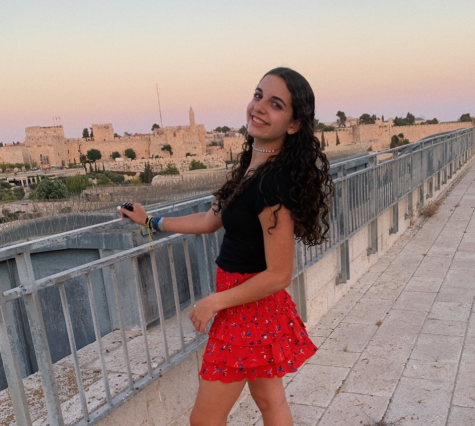 Sophie Ward, Managing Editor
I am Sophie Ward, and I am a managing editor for lhshorizon.com. I am a member of the Class of 2022. I love playing tennis and working out. I also enjoy...