"Class of '24"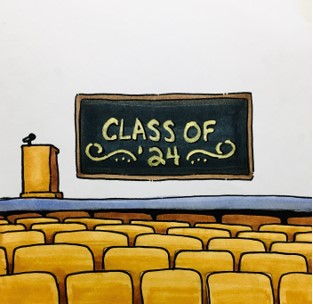 Dear Class of '24,
Is high school all you hoped for?
We expected to see familiar faces in unfamiliar rooms,
but smiles dissipate
when they are frowns trapped in plastic cubes.
But spring comes, and melts the snow.
From it, does normalcy grow? 
Now when unrest and tragedy are reality. 
Sadly, this is true.
Summer passes, like a comet in the sky.
Am I a meteorite? Will I fly?
Not until I see the sun,
blocked by all the papers
needing to get done.
Class of '24', did you know 
that when autumn came, so would the "No's",
to your health and happiness, 
leisure and time,
to spend with those you love
wasted on a deadline?
You abide by what you're told, 
"hard work, sacrifice."
You're still expected to play nice?
Winter is cruel, and it's coming.
A time to do what you love, 
and less grinding. 
But, what's the point?
Work comes like the mail. 
Why can't the teachers
see that we swell 
under the pressure that one has
when you're 15, and burnt out as hell?
Is there no sympathy for the living? 
No grieving for the missed
opportunities I could have experienced,
when work grew and grew like a cyst.
But here I sit, asking the impossible:
for my peers to comprehend the pain and 
high school experiences that are all too cruel.
But, hey, it's better than middle school!
About the Contributor
Olivia Lanteri, Managing Editor/Website Content Manager
Hey you! Thanks for checking out my profile. I am a member of the Class of 2024 and a storyteller at heart. I love to spend time with my family and friends,...