Working without Wheat: How to Master Gluten-Free Baking
Around the holiday season, more people pick up baking to make special treats for themselves and their family. Unfortunately, some beloved holiday food traditions can be interrupted by dietary restrictions. For example, cases of Celiac disease and gluten intolerance have risen in recent years. According to Forbes magazine, 3.1 million individuals in the U.S. do not eat gluten, which can be found in the most common baking ingredients like wheat, barley, and rye. Many with a gluten-free diet have limited options of holiday desserts, but thankfully, I have learned the ins and outs of gluten-free baking, collecting a few helpful tips along the way:
The less flour, the better. 
Gluten-free flour comes in a variety of brands and is often a mix of white or brown rice flour, xanthan gum, tapioca flour, cornstarch, and potato starch. Family consumer science teacher Lauren Reganato explained that several people in her life are wheat-sensitive, so she has had some experience with gluten-free baking. 
One of Reganato's tips is to find one's preferred flour brand. "The most popular one is called Cup4Cup, a multipurpose flour blend," Reganato said. "Some of the cheaper or alternative ones have a little bit of grittiness to them." 
Usually, gluten-free flour does not affect the taste of the treat as much as its texture. When using gluten-free flour in an oatmeal cookie recipe, my family found that the cookies spread out across the pan so that they were flat and difficult to remove. This recipe calls for about 1 ¾ cups flour. We experienced more success when substituting gluten-free flour in a monster cookie recipe, which uses only ¾ cup flour. The monster cookies maintained their shape despite the gluten-free flour, which can be attributed to the lesser amount of flour. For recipes in which flour does not play a main role, gluten-free flour substitutions may work better.
If it is in a pan, go for it!
I have experienced much success baking panned treats with gluten-free flour. Any kind of brownies or blondies that my family and I have made with gluten-free flour have tasted just as delicious as the usual version with gluten. Plus, the texture is barely affected, if at all.
Add liquids.
According to the Beyond Celiac website (beyondceliac.org), "Gluten-free flours need more liquids in order to produce the same results." An article on this website, titled "Gluten-Free Baking Tips & Tricks" suggests substituting brown sugar for white sugar to make a recipe more moist, or even using more oil or another egg, but this must be done with caution. The article explains that such techniques can "solve structure problems with products that come out too dense and crumbly."
Among the harder baked goods to make gluten-free is bread. My family has had little success substituting gluten-free flour into regular homemade bread. "Anything that is normally kneaded dough is way more challenging," Reganato said. She explained that for these foods, which include bagels and pizza dough, a "chewy" texture is desired; however, a lack of gluten makes such a texture quite difficult to create. 
When making a favorite banana bread recipe, my mom makes a gluten-free equivalent by simply using gluten-free flour and pouring it into muffin tins. The banana muffins taste just like the bread, and the texture works wonderfully because they come out fluffy rather than chewy, as muffins are supposed to.
Use already gluten-free recipes. 
Many websites provide baking recipes that are tailored to be gluten-free. Without having to figure out what changes to make to an existing recipe, one can look online for gluten-free recipes. Mel's Kitchen Café website (melskitchencafe.com) gives some tasty gluten-free recipes, including double chocolate banana muffins and homemade peanut butter cups. There are also many treat recipes that do not require flour at all, including Rice Krispies treats, fudge, and Scotcheroos, which are like Rice Krispies treats, but include peanut butter and a chocolate-butterscotch frosting. No-bake treats such as these often do not require flour. 
Additionally, Reganato suggested trying recipes from foreign places that traditionally use rice flour along with, or instead of, wheat flour. She recommends a Latin American cookie called an alfajor, which uses cornstarch and does not include gluten products. Reganato said that such recipes work well because they are naturally made without gluten, so when substitutes or alterations are not made, the treats taste how they are meant to.
Each gluten-free treat is different, and each recipe requires its own tweaks to create the desired flavor and consistency. It is important to be unafraid to make a less-than-delicious dessert because failures can provide ideas for a better product in the future. Each person has his or her own tricks to make the treats they love. 
Junior Giulia Lubrano, who eats gluten-free, said, "I found that adding more liquids and baking for longer helps to get the correct texture and density." Junior Erin Hynes agreed, saying, "The more liquids the better, and any chance that you can add vanilla extract, add extra. This gives it the extra flavor that it needs." Around any table, there is a variety of preferred tastes, so it is helpful to implement different techniques for different baked goods.
Though gluten-free baking can seem intimidating, demanding, or strenuous, it is very rewarding to make a treat that can be enjoyed by everyone around the table, including those with dietary restrictions. There are countless recipes and gluten-free products that are quite delicious, without being overly complicated. "My favorite gluten-free treat is the Pillsbury Funfetti Cake Mix," Hynes said. "The cake tastes and looks exactly like what a regular cake would look like. Another one of my favorite treats is the prepackaged Immaculate Gluten-Free Chocolate Chip Cookies, a quick and easy way to make cookies." 
Lubrano said, "I really like the King Arthur brownies. They have the perfect texture and taste just like normal brownies." Reganato said that gluten-free oatmeal muffins are highly enjoyed by her family members with gluten-free diets. 
Avoiding gluten does not mean missing out on dessert. It simply provides an exciting new challenge for bakers.
About the Contributor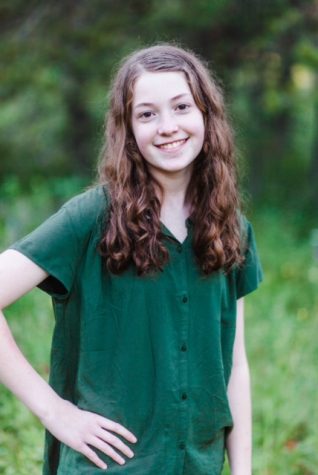 Madeleine Malinka, Editor
Madeleine enjoys reading, writing, and being artistic and creative. She has one dog and 11 siblings. She is a member of the Class of 2024 and is excited...