Transitioning Back to Holiday Traditions
No matter what one's holiday celebration looks like, whether it involves a large feast with a variety of delicious foods, giving and receiving meaningful gifts, or spending time relaxing on the couch, there is often one common element among celebrations: togetherness. A holiday celebration can feel incomplete without loved ones to spend it with. Unfortunately, such a scenario was experienced by many due to the COVID-19 pandemic last year. Holiday parties and large gatherings were viewed as "superspreader events," so many people had to change their plans and even alter special traditions. Many considered air travel to be unsafe, inhibiting distant loved ones from coming together. With the disheartening trials and distressing vicissitudes lingering in memories of last year's holidays, there is great anticipation to celebrate normally this year.
Creating the atmosphere of a normal holiday season was difficult without certain traditions last year. For loved ones who had separate celebrations, the dynamics of the holidays were drastically changed. 
"Last year, the holidays were very different and a little sad," said junior Marissa Cangemi. "Usually, my family hosts the holidays, and there are kids yelling and family all over, but last year, it was just my parents and my three siblings and I." 
Online shopping also became a more prominent option for gift purchases. Senior Olivia Gonzalo said that last year she purchased gifts through online shopping, or in-store "with masks and social distancing." In-person shopping was more of a hassle in 2020, with swirling concerns about the spread of COVID. 
 Junior Gabriel Amoruso also experienced unanticipated alterations in his holiday celebrations last year. "The large-scale Thanksgiving, Christmas, and New Year's parties that my family would host did not happen for the first time since I was born, and the general quietness around the house on days that were supposed to be filled with energy was something unique to me," he said.
As COVID-19 cases decrease and vaccines are administered, people may want to hurry towards normalcy and treasured holiday traditions. However, it is important to stay aware of the ongoing pandemic and make sure that the steps taken towards normalcy are gradual. The Centers for Disease Control and Prevention (CDC) suggests a continuation of caution this holiday season. An update published on the CDC's website (cdc.gov) provides advice on staying safe through the holidays. It advocates mask wearing; remaining in open, non-crowded areas; and getting tested or not participating in activities if one is ill or experiences symptoms. 
  The CDC also advises that those who are at greater risk take extra consideration about what is the safest option for them, and that anyone who will be gathering with those at greater risk wear a mask, even if vaccinated. Additionally, for those who will be traveling, vaccination is recommended, and masks are required. Junior Jessica Fowler described some of the precautions her family will take: "If we go out, we will make sure to have masks and be safe, even though we are vaccinated." 
Keeping these safety measures in mind, there is great hope for holiday celebrations to be able happen as usual this year. People are currently planning for their holiday celebrations to resemble more closely those prior to the pandemic.
 "My holiday celebrations this year are going to continue mostly the same as past years," Cangemi said. "My family is hosting, once again." Gonzalo added that her shopping this year will be mostly in stores, and the precautions she takes will be lessened. 
Amoruso explained some of the safety measures his family will implement: "Smaller family gatherings are now possible," he said. "For Thanksgiving, as well as Christmas, my close family and I are having four to five family friends over, that way the energy and excitement that the holidays entail can remain present, yet in a safe and cautious manner," he says. "My family and I are avoiding large gatherings entirely, sacrificing old holiday traditions in the name of safety and good health." 
For many, the holiday season is a time held close to the heart. When such a time undergoes extreme interruptions, sorrow and longing are commonly felt. This can bring even deeper desires to bring back beloved festivities. The cheerfulness usually felt during the holidays can be coupled with the relief of COVID-19 being more controlled, making for even greater peace and contentment this year. Perhaps as people return from last year's lonely, stifled holidays, they will have elevated appreciation for their cherished celebrations and the loved ones they spend them with.
About the Contributor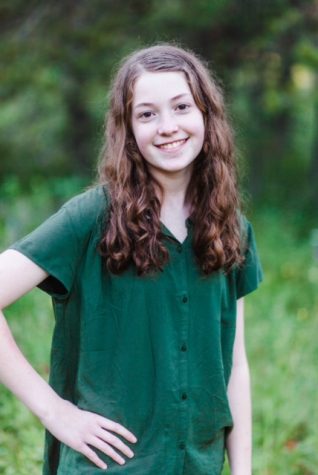 Madeleine Malinka, Editor
Madeleine enjoys reading, writing, and being artistic and creative. She has one dog and 11 siblings. She is a member of the Class of 2024 and is excited...