Top-10 Ways to Spend Winter Break
Holiday Movie Night: 
A fun, relaxing way to get together with friends and family over break is to have a holiday movie marathon. Each person will pick their favorite holiday movie, and together, one can dedicate a day to watching movies and eating snacks; holiday pajamas can be a great addition as well. This is a great way to get into the holiday spirit and spend time with loved ones while staying warm and cozy.
25 Days of Desserts: 
Compile a list of classic holiday desserts, or experiment with new recipes, and bake a different dessert every day until (or after) the holidays. This is a delicious spin on the classic advent calendar, and one can make it their own. Desserts can range from cookies, to cakes, to brownies, and more. Desserts could even be substituted for savory foods! Twenty-five days of desserts will strengthen baking skills and make waiting for the holidays even more enjoyable. 
Venture Outdoors: 
Although the temperatures are beginning to drop, there are still plenty of outdoor activities to do this winter. Gather your friends and family and head to the nearest ice-skating rink. When it begins to snow, sledding, skiing, and snowboarding are great activities to attempt instead of remaining indoors. Make sure to wear your warmest clothes and make the most of the winter season. It only comes once a year!
Brainstorm New Year's Resolutions: 
The new year is approaching, and this is the perfect opportunity to generate goals for the upcoming year. This could be made into a gathering and include loved ones in brainstorming ways for improvement. After the rough year that just passed, the new year will hopefully bring positivity. As 2021 ends, new beginnings approach.
Secret Santa:
Secret Santa is a fun way to promote gift giving and can be a chance to make a new friend. First, assemble a group of people. Next, write the names of all participants down on paper. Each participant should draw a name, and the name they draw is the person they will purchase a gift for. This challenges the gift-giver to become "Santa" and get their person a gift anonymously. The fun of the game is the secrecy, and all will share a laugh when they find out who their gift was from. Secret Santa can spark new friendships and emphasize the value  of giving. 
Experiment With Crafts: 
Winter Break could be the time where one finds a new hobby. With all the time off from school, one can pick up a craft they have been meaning to try, or even just complete an old project. One could even learn a difficult task, such as crocheting or knitting, and make handmade gifts for loved ones rather than purchasing a gift. Whether something big or small, it is important to stay productive over the long break.
Decorate:
It is certain the holiday season is approaching when decorations are spotted throughout the neighborhood. The sight of lights, Christmas trees, and menorahs comes once a year and is highly anticipated. The holiday season can be busy, and many may not have the time to decorate, but the break gives people plenty of time. If not completed already, dedicate a day to put-up last-minute decorations. Having holiday music playing in the background can help pass the time, and make sure to involve loved ones as well. Nothing shows holiday spirit more than spirited decorations!
Create an Ugly Sweater: 
Nothing spreads smiles and holiday cheer like ugly sweaters, and they are even better when the sweaters are handmade. The materials needed are a sweater and some decorations like pom-poms, tinsel, glitter, and bows. No artistic ability is needed, as "ugly" is in the name. This can be made into a competition or party, and family and friends are sure to laugh whilst decorating their sweaters. Ugly sweaters are a staple of the holiday season, and there is nothing better than homemade. 
Last-minute Holiday Shopping: 
It is never too late to purchase a gift, and the holiday break is a perfect time to do so. Take advantage of holiday sales and snag a nice gift for someone special. Leaving the house is optional, as the world of online shopping makes it even easier to get holiday shopping done.
Go on a Short Excursion: 
There is no time of year better than winter break. It is the time for one to pack a bag, grab a loved one, and travel somewhere new. The excursion does not have to be far; New York City is a drive or a train ride away and is full of holiday cheer. Seeing the Rockefeller Center Christmas tree is an outdoor activity that allows tourists to stay socially distant. The tree is only on display once a year, and no charges are needed to view it. There are many more places in a close vicinity and many places to travel to. Visit a new place this winter and explore the environment; one might even discover new, hidden gems.
About the Contributor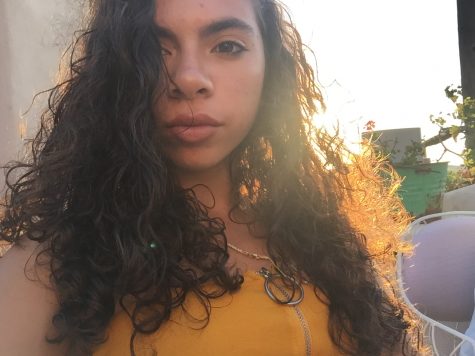 Amintta Ragavanis, Editor
I am a member of the Class of 2022 at LHS. I love to draw and paint. I look forward to contributing and writing articles for Horizon.