The Nobel Peace Prize 2021: Keeping the Free Press Alive
This year, the Nobel Peace Prize was awarded to two journalists — Maria Ressa from the Philippines and Dmitry Muratov from Russia — who have fought to keep freedom of the press alive in their respective countries. Both are recognized "for their efforts to safeguard freedom of expression, which is a precondition for democracy and lasting peace," states the Nobel Peace Prize's website. This year, the Peace Prize ceremony is the only Nobel Prize ceremony being held in person. It will take place on Dec. 10, in Oslo, Norway. 
Senior Sophia Napolitano shared her thoughts on what she feels the Nobel Peace Prize represents: "When I think of the words 'Nobel Peace Prize,' I think of not only the importance of the honor and respect that it beholds to its recipients, but the great things that they must do to receive such an honor."
After graduating from Princeton with a Bachelor of the Arts in English, Ressa became bureau chief for CNN in Manila and Jakarta. She has been reporting in Asia for over 30 years, and in 2012, she founded and became the CEO of Rappler, a free-press news outlet in the Philippines. Throughout her profound journalism career, she has worked to secure freedom of expression in the Philippines. 
Ressa's efforts have put her in danger many times as she has faced countless "legal and physical threats," CNN explained. According to CNN, the president of Princeton University, Christopher Eisgruber, commented on Ressa's impact: "Maria Ressa's courage, creativity, dedication, and values are an inspiration to the Princeton community."
Ressa's reporting, both independent and through Rappler, have worked to expose the corruption of the Philippines government, including their murderous anti-drug campaigns and the many killings the government facilitated. Fake news is also something Ressa constantly works to abolish. She explained the mission of her company as "continuing the mission of journalism." She works to spread facts without "anger and hate." 
Ressa has been recognized for her works in many ways. She was TIME magazine's "Person of the Year" in 2018, and she won the Golden Pen of Freedom Award from the World Association of Newspapers and News Publishers. Along with these achievements, she has authored two books: Seeds of Terror: An Eyewitness Account of al-Qaeda's Newest Center of Operations in Southeast Asia, and From Bin Laden to Facebook. She has made a significant impact on keeping the media in the Philippines free.
Muratov, founder and editor-in-chief of the Russian newspaper Novaya Gazeta, has worked his entire career to safeguard Russian freedom of the press. He attended Kuibyshev State University, and, after a short time in the military, began his career in journalism. After working at the Russian publication Komosomolskaya Pravada, he and other editors left and founded Novaya Gazeta, which translates to "New Gazette.'. His publication has worked to keep Russians in the know about current events, focusing primarily on investigative journalism and stories about war and wealthy Russian leaders.
In Russia, Muratov's line of work is extraordinarily dangerous, and six journalists from Novaya Gazeta have been killed. Muratov, who was editor-in-chief from 1995 to 2017, and again from 2019-present, credits the Nobel prize to his newspaper: "It is for those who died defending the right of people to freedom of speech." He, just like Ressa, has faced legal and physical threats, and, just like her, has worked even harder because of them. 
In America, many feel gratitude for the freedoms granted to the people in the Constitution, especially freedom of the press. In many places all over the world, the press is silenced and oppressed by governmental regimes. 
Senior Connor Rogan explained that if America lost its free press, he would "fear for the public" since "it would be much easier to publish false information." Junior Alexi Deninno echoed this sentiment: "If free press was taken away, I would feel that my voice and freedom would be taken away." 
The other Nobel Prize recipients will not receive their awards in person, but their achievements are all extremely noteworthy. Sykuro Manabe, Klaus Hasselmann, and Giorgio Parisi all claimed a Nobel Prize in physics. The Chemistry Nobel Prize was taken home by Benjamin List and David W.C. MacMillan. David Juluis and Ardem Patapoutian received the 2021 Nobel Prize in Physiology or Medicine. The Nobel Prize in Literature was awarded to Abdulrazak Gurnah. Finally, the Nobel Prize in Economic Sciences was won by David Card, Joshua D. Angrist, and Guido W. Imbens.
About the Contributor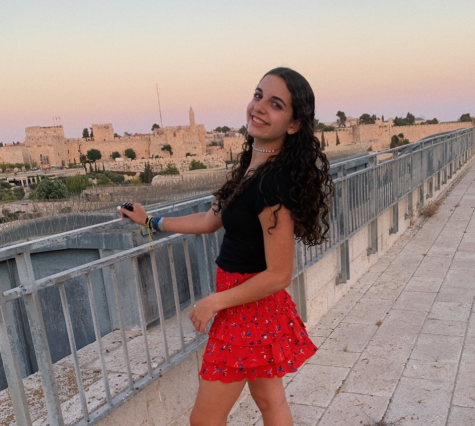 Sophie Ward, Managing Editor
I am Sophie Ward, and I am a managing editor for lhshorizon.com. I am a member of the Class of 2022. I love playing tennis and working out. I also enjoy...