Alec Baldwin Shoots Loaded Prop Gun, Killing Cinematographer
On a sprawling ranch just outside of Santa Fe, New Mexico, Rust, a low-budget Western movie was being filmed. Alec Baldwin, an actor, writer, comedian, and film producer, was starring in the movie as main character Harland Rust. While a church scene was being filmed, Baldwin drew his prop: a .45 Long Colt Revolver. Although it was supposed to be "cold," meaning it should not contain ammunition, the gun fired with what witnesses say sounded like the crack of a whip and then a loud popping noise. Hayla Hutchins, the 42-year-old cinematographer of the film, was standing just feet away from Baldwin. She was shot in the chest and killed. Director Joel Souza was shot and injured, as well.
Live ammunition is normally forbidden on a movie set, so this type of incident is usually unheard of. There is speculation surrounding whether proper procedures and protocols were followed on set. Inquiries about the loaded gun and ammunition are still unanswered, although according to Fox News (foxnews.com), digital utility technician Jonas Huerta recently spoke out against Dave Halls, the assistant director of the film. Huerta explained that he was feeling anxious on set because of Halls' fast-moving pace, claiming Halls "skipped over important protocols" and "often refused to shoot."
Social studies teacher David Rabinowitz feels that workplace safety and security should be the main priorities on a movie set. "If guns are being used for movie scenes, I see no reason for live ammunition to be anywhere near the set," Rabinowitz said. "Regardless, I feel terrible for Hutchins and her family. I hope that a full investigation occurs to discover the truth behind the incident." 
The gun supervisor working on the movie was 24-year-old Hannah Guiterrez Reed, who is relatively new to the business with Rust being only the third film she has worked on. A warrant stated that she inspected the guns the day of the shooting to be certain they were cold. Reed claims she had no idea about the ammunition. According to Fox News, Reed has a history of breaking safety protocols; there have been previous complaints about Reed's prior films, many of which were about the use of unsafe weapons on set. 
Freshman Gianna Longo commented, "I do not think it's okay that the production team let her work on this set. Background checks and screenings of employees of many companies recently have been less invasive, which is the main cause of unsafe or unqualified people being hired." 
Witnesses of the shooting recalled that either the armorer or armorer's assistant brought the gun onto the set and handed the gun to Baldwin. Other witnesses say that Halls and other crew members checked the firearm before handing it over. A warrant from authorities says that Halls handed Baldwin the gun after declaring it was cold. Although it is too early to be certain of the potential charges of this incident, there are rumors that Baldwin could be charged with involuntary manslaughter. 
According to CNBC (cnbc.com), Santa Fe County Sheriff Adan Mendoza argued that there was not any clear organization of the ammunition on the set, claiming that the incident was preventable. "I feel that Baldwin should be charged with involuntary manslaughter, as well as the gun supervisor," Longo shares. "While Baldwin had no intention to kill Hutchins, she's still dead, and he's responsible, as is the gun supervisor." The clear breach in safety protocols could lead to Halls and Reed being charged with involuntary manslaughter, as well.
On Oct. 30, Baldwin spoke publicly about the shooting. He refused to speak about the investigation, due to orders from his lawyers but said he was worried about Hutchins's son and husband. He doubts the shooting of Rust will ever resume, calling the incident a "one-in-a-trillion" event.
About the Contributor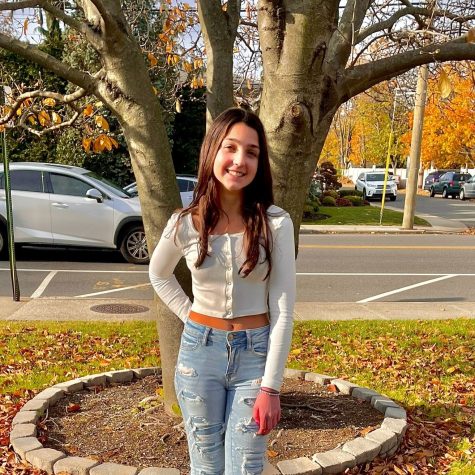 Emily Franklin, Staff
My name is Emily Franklin, and I am a member of the Class of 2025 and a writer for Horizon. I am part of the Key Club, Birthday Wishes Club, and Mathletes....