Hurricane Ida Wreaks Havoc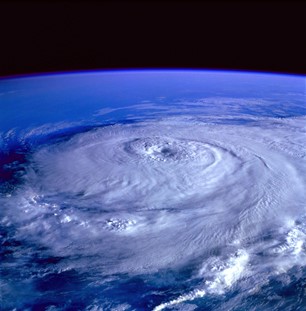 Hurricane Ida made landfall on Aug. 29, 2021, leaving devastating effects, and displacing many people. 
Sixteen years ago, Hurricane Katrina made landfall in Louisiana. Many got a sense of déjà vu when Hurricane Ida struck. Ida made landfall as a category-4 storm and later weakened to a category-2 storm, according to The New York Times (nytimes.com). Ida's wind speeds reached 150 mph., putting it seven mph away from being a category-5 storm. This made Ida the fifth-strongest hurricane to hit the mainland of the US. 
Powerful winds ripped roofs off homes and broke through the storm reinforcements that were put in place after Hurricane Katrina. The storm arrived just as Louisiana was dealing with a COVID-19 outbreak, so the hospitals were already overrun. The storm struck at night, leaving many people afraid about what morning would hold. One million people were left without power across Louisiana. According to The New York Times, a power company, Entergy, made a statement saying that it was unclear when power might be restored. 
The storm also brought tornadoes to areas in Louisiana. Flash flood warnings were sent out across Louisiana as people were warned that waters could reach as high as 16 feet above high tide. Many residents in Louisiana evacuated before the storm hit, but those determined to ride out the storm stayed. The biggest problem these residents will face is prolonged power outages.
Sophomore Gianna Taverna witnessed the horrible effects of the hurricane in Louisiana through her uncle, who works for Con Edison. He works in New York but had to go to Louisiana to help repair the damage. She stated, "He had to stay there for at least a month after the damage since the conditions were unstable." 
Taverna was devastated by the effects of the hurricane and stated, "We never really think about not being able to have resources like electricity and running water. Just seeing so many communities with tremendous damage is truly heartbreaking, especially since it will take time for communities to get back to normalcy."
Hurricane Ida also devastated New York and New Jersey. Ida was reported to be the worst natural disaster to strike the area since 2012's Superstorm Sandy; Ida caused at least $50 million in damage in New York. The death toll was at 45 in New York and New Jersey, as of Sept. 6. At least one-third of the people who were killed in New Jersey drowned in vehicles that got caught in flash floods. Many of the people who were killed in New York got stuck in basements during the flooding. 
A record 3.5 inches of rain fell in Central Park in just one hour. The weather service reported that rainfall totaled 4.5-7.0 inches in some areas. There were also tornado warnings in some areas. New York City's transit system was also knocked out completely by the storm. Train cars were inundated with water and six trains were stuck in flood water leading to passengers having to evacuate. This left many passengers stranded. The day after the storm, the transit system continued to struggle to operate. States of emergency were declared in both New York and New Jersey with a travel ban set in place until five a.m. in NYC.
Many officials met to discuss the damage in New York including Governor Hochul, NYPD commissioner Dermot Shea, Mayor Bill de Blasio, Senator Chuck Schumer, and Queens Borough President Donovan Richard. They were all shocked by the damage that occurred and agreed that this was a wake-up call for something to be done; officials assured residents that they would reach out for federal aid. President Biden later approved federal aid for both states.
Sophomore Amelie Duch commented, "My grandparents were affected by the storm as their basement flooded. Seeing the devastating aftermath of the hurricane truly makes me feel for all the people living in Louisiana as many homes were destroyed, leaving some people homeless."
Climate change was a bigger factor that helped Hurricane Ida gain its dominant strength. Just as it made landfall, it moved over the abnormally hot waters of the Gulf of Mexico. According to NPR (npr.org), the ocean waters are about 85 degrees Fahrenheit, which is a few degrees above the average. Heat gives hurricanes such as Ida more energy, increasing their wind speeds and causing larger storm surges. Abnormally hot water also increases flood risk because the hurricane sucks up moisture and then dumps the moisture as rain. The hotter the water, the more water vapor that is sucked up. 
Scientists predict that as the Earth heats up rapidly, intense hurricanes are more likely to occur. Hurricanes like Ida are more dangerous because they leave less time for people to evacuate even though these storms have incredible power. Many people are realizing the severity of climate change through watching natural disasters such as hurricanes. Sophomore Amelia Doyle said, "My heart goes out to the people who were affected by Hurricane Ida."