Olivia Vuotto: The Female Football Phenomenon
     Opportunity: Olivia Vuotto and Stephen LoCicero would not want to live in a world without it. 
     Vuotto, a senior and girls' varsity soccer team captain, recently made Lynbrook history as the first female to ever join, and score a point for, the LHS varsity football team. What Vuotto described as "one of the coolest things [she's] ever done" is setting new community records and establishing precedents for female athletes across Long Island.
     The idea to recruit Vuotto to the team was originated by LoCicero, the varsity football team head coach. LoCicero has coached football for a total of 32 years — as the Lynbrook assistant coach from 1990 to 1996, in Oceanside from 1996 to 2005, and back again in Lynbrook as the head coach from 2006 to the present. He has also coached girls' varsity basketball for eight years. 
     "One of the reasons I love football is because it brings people together from all different cultures, religions, ethnicities, backgrounds," LoCicero said. "From this diversity, you create a strong, united team."
     LoCicero said that he had always dreamed of bringing a female athlete onto his football team, and he had attempted to do so twice in the past. The first time was in 1994, when an LHS female athlete expressed a desire to join the team. During this time, there were strict rules for girls joining male teams, so the student needed to pass several physical exams in order to be considered to play. However, the athlete ultimately decided not to join the football team due to personal reasons. 
     These rules and regulations have since been eradicated, so girls no longer need to pass a test to be eligible to play on male teams; instead, they are considered through the same try-out process as boys. "Lynbrook was never against girls on boy teams," LoCicero said. "Girls just weren't offered the same opportunities that they are now… I always believe my job is to give everyone an opportunity."
     Last school year, LoCicero recruited then-senior Leanna Sullivan; however, Sullivan injured her leg playing basketball and was no longer able to play in either sport. Additionally, the coronavirus pandemic resulted in the temporary cancellation of all school sports, so the football team was on a hiatus. 
     Vuotto and LoCicero's personal relationship extends beyond this exciting new venture. LoCicero actually coached Vuotto's father in 1991; he coached Vuotto herself on the girls' basketball team for years, in addition to being her teacher for AP United States History and 21st Century Economics.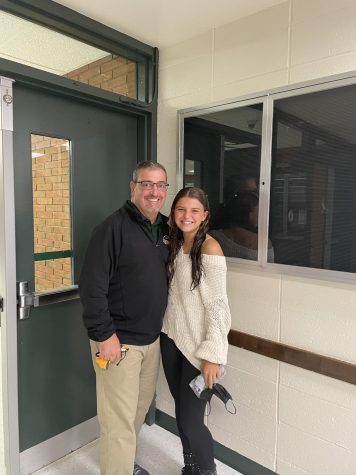 Though LoCicero's search for a female player had been previously unsuccessful, he never lost hope. The football team was in need of a kicker, and LoCicero knew just the person to ask. In late August, he saw Vuotto at a soccer practice and made his proposition. "When he came up and asked me to play for the football team," Vuotto said, "I thought he was joking. It didn't feel real until I put the uniform on." 
     Though she found it comical at first, Vuotto quickly took LoCicero's offer into serious consideration, and just one week later, she was on the field for her first practice with the football team. Vuotto described the initial experience as "weird" and "uncomfortable," but she expressed her relief at the immediate acceptance of her teammates, who welcomed her with open arms. "I wish I'd known before how supportive everyone would be," Vuotto said. "It would've saved me a lot of worry and anticipation."
     The support of her fellow football players was not enough to ameliorate all of Vuotto's nerves, however. She described her first kick, which took place at the season's first home game on Sept. 11, as "the scariest moment of [her] life." 
     "First, I was scared to get hit by one of the boys," she said. "Then, I was terrified of missing the ball… At that moment, I would've rather gotten tackled than miss my kick." But, these nervous thoughts were no match for Vuotto's athletic instinct. Her first kick travelled clean through the goal posts, and no one was more excited than her teammates. "They all hit my head so hard," she laughed, recalling the team's riotous victory huddle.
     Although she is new to football, Vuotto is certainly no rookie when it comes to kicking. She has been playing soccer since she was four, and she is currently the LHS varsity team captain and center midfielder for the East Meadow Soccer Club. Vuotto is also no stranger to standing out: her freshman year, she was the only girl in her grade to make the varsity soccer team. She has won several athletic accolades, including being named an All-Class athlete in her sophomore and junior years.
     Vuotto said she loves soccer for its team spirit, and she is accustomed to working toward a team effort. Kicking on football is different in this respect: the responsibility rides on her shoulders alone. The technique in which she kicks both balls, however, is identical. "Most kickers line up, take two steps back, then step out," Vuotto explained. "I stand there and kick, just how I would kick a soccer ball." Though not the traditional method, Vuotto pays no mind to the ordinary.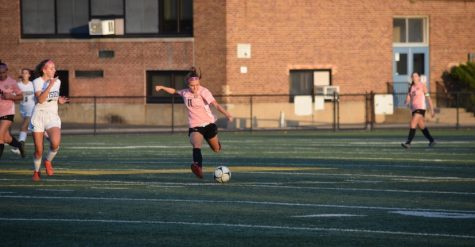 "She earned it because she's good, not because she's female," LoCicero said. 
     Vuotto explained that her determination to go after her dreams is a product of her parents' support. She and her three sisters, all of whom are active athletes, have been taught to "realize [they] are working just as hard as every male athlete," Vuotto said. Though she has always had this mindset, Vuotto explained that LoCicero's faith in her to join the football team made her truly believe it, and truly believe in herself.
     "Girls can do anything guys can do," Vuotto said. "No one should be limited in the sports they play because you can do whatever you set your mind to." 
    This experience, LoCicero shared, had been "the most rewarding" of his coaching career. "Olivia shows that as long as you seize the opportunities in front of you and work hard, you can succeed at anything," LoCicero said.
About the Contributor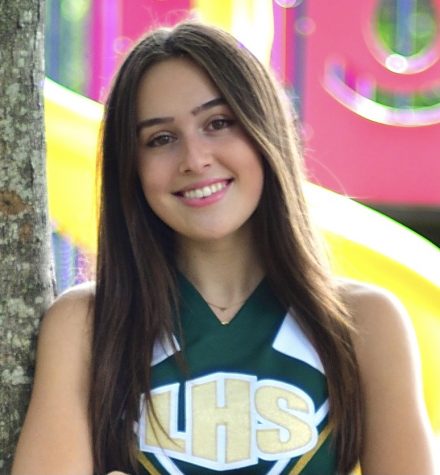 Julia Swerdin, Editor-in-Chief
I am the editor-in-chief of the Horizon newspaper and a member of the Class of 2022. I am also the captain of the LHS Speech, Debate, and Model Congress...