A Remote Learning Option: A Solution to Achieving Normalcy
School is finally back in session. Though this is a welcome return for many students and staff, it has been difficult for some to adapt to their newly busy schedules. After learning via remote instruction, returning to in-person learning is no easy task. Therefore, LHS must provide its students a remote schooling option for the 2021-22 school year.
         With the coronavirus vaccine, the risks of catching the virus have lowered, but some dangers still remain. Some students have used their vaccination status as an excuse to ignore COVID-19 restrictions, putting others at risk. Cramming 25 students into a small classroom can only exasperate this issue.
         Some may say that the benefits of returning to in-person learning outweigh the health risks: going back to school ensures students a better and more proactive social life, time to bond with their classmates, a better learning environment, and a less confusing schedule. But in some cases, a student may not want to risk going back to school. Providing both remote and in-person options allows students to choose and decide which they feel more comfortable with. This would benefit people on both sides of the issue.
Science teacher Jon Zaccaro believes that students learn better in school since teachers are more accustomed to this format of instruction. However, he acknowledges the benefits a remote option can provide for students worried about the health risks of learning in-person and teachers. "But," Zaccaro said, "the schools have done an amazing job of providing a safe environment, preventing the spread of COVID-19 in the building." 
         Others agree that a remote option would be very beneficial. Senior Yarilis Pancho-Rivera said that contracting coronavirus was "one of the worst things" that ever happened to her. "I would hate to see anyone have to go through that," she said. "A remote option for students would be a good idea, especially for smaller schools who have a large student population," Pancho-Rivera added.
   In addition, LHS students are not required to be vaccinated, so the risk of contracting COVID-19 has not been lowered for many. Children five and up may soon be eligible to get the vaccine, but since this has not yet been approved, it will take a longer time for children this age to be fully vaccinated. These parents may not want their children to return fully to school just yet. 
         During in-person learning, most schools require students to always keep their masks on, except when eating or drinking. But, not all students follow this rule. Without social distancing in school and some students not following the rules, coronavirus can quickly spread between classmates, especially between those who are unvaccinated. 
"I think we need a remote option," said senior Olivia Gonzalo. "You cannot expect everyone to be completely comfortable with going back to school, especially if someone is high-risk."
It is clear that all students should not be required to go back to school. With so much concern, it is only reasonable to provide a way to satisfy both parties. The remote option would ensure that no student is forced to go into school, and no student is forced to stay at home. This allows for a balance between sides and generates a safer way to go about returning to normalcy.
About the Writer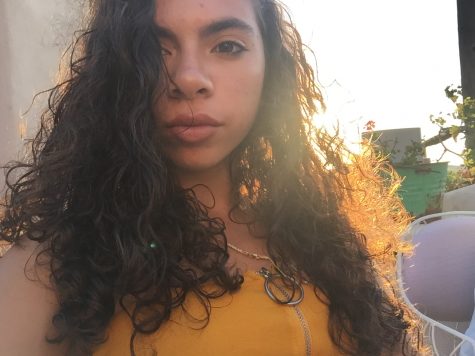 Amintta Ragavanis, Editor
I am a member of the Class of 2022 at LHS. I love to draw and paint. I look forward to contributing and writing articles for Horizon.