Fall Fashion Forecast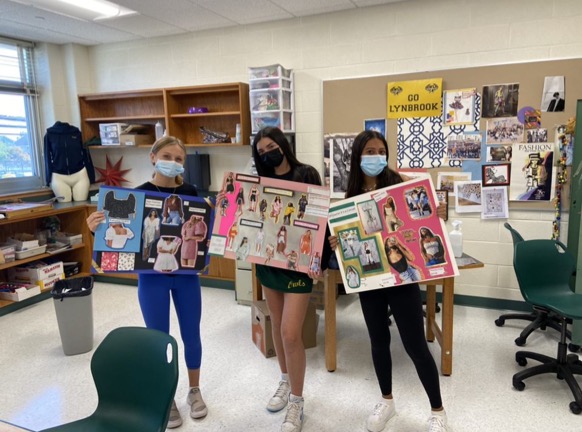 Autumn has arrived, and chilly weather is fast approaching. With this change of the seasons, new fashion trends are on the rise, as seen on red carpets, runways, city streets, and even in the halls of LHS.
Old fashion trends from the '90s have been brought back to life with a modern twist. Denim, a timeless material, has remained a staple overtime; however, 2021 fashionistas are changing the style of popular jeans. Say goodbye to skinny jeans and hello to flare jeans! Baggy and oversized clothing is back, including sweatshirts, tees, and even accessories like bulky chains and stacked bracelets. This is reminiscent of 1980s style.
Corsets have also recently come back into style. Sophomore Dea Pulatani said, "I participated in the corset trend the most because I really love how vintage they look." Trends from the early 2000s are also back and better than ever; sweater vests, cardigans, and layering are guaranteed to be seen. Baby tees, or shrunken tee shirts, are also coming back. When asked her favorite fall fashion trend, fashion design teacher Karen Goulet said, "The baby tees remind me of my youth. I love them the most!"
To keep warm in the fall, stylish jackets are here to help. Anything can be easily paired with a cropped jean or leather jacket. A quick-selling trend is cropped North Face puffer jackets; this look is inspired by celebrities like supermodel Kendall Jenner and social media fashion influencer Emma Chamberlain. 
Chamberlain has brought back many of the trends being worn today, such as flare leggings. With flare leggings, comfort and fashion are easily attainable. Printed pants are also perfect for the fall and can be found either online or in stores by retailers such as Shein, ASOS, and Zara. These pants can be paired with almost any shoe including platform shoes. Platforms can be seen on sneakers, heels, sandals, and boots, and they come in many different styles and heights.   
Fashion design student Jesse Bodian shared her opinions regarding fall trends: "I think sequin dresses will become a trend again in the fall because I've seen a lot of them in stores, and I think they are so cute."
Fashion trends tend to come and go, but with the revival of '90s and early 2000s influences, these trends are bound to stick.