Concert Choir Culture
As any LHS student walks past the auditorium during fourth period, he will surely hear the euphonic harmonies— usually followed by bouts of laughter and cheering— emanating from within. These joyous noises can be attributed to the concert choir, LHS' selective chorus ensemble under the direction of chorus teacher Barry Wyner. The group is known around town for its elite vocalists who know how to wow a crowd with a solo, while maintaining a safe, supportive, and caring environment for all students. 
Over the years, many concert choir traditions and games have emerged to develop fun, new methods of memorizing lyrics, fostering bonding, and creating a safe space to share emotions and experiences without the fear of criticism or backlash. "I just love that sometimes we're very serious and emotional, and sometimes we're very silly and wacky, and that that pendulum can swing so far both ways," Wyner said. "My students are able to just roll with it, whichever way the pendulum is going to swing," he added. These traditions have become an integral part of the choir's makeup, and according to members, make the class both enjoyable and memorable. 
 WOOSH! That is just one of the many catch phrases unique to LHS chorus and concert choir students, which comes from a fun game played with an imaginary ball. ZAP! If the ball comes to one person too quickly, and he is not able to pass it— or 'woosh' it— along, he is eliminated. "Some of the games we do in class are kind of theater improv games, which kind of encourage the creative side to come out," Wyner explained.
Now that most of the choir has returned to full-time, in-person learning, Wyner decided to bring back another tradition: Friday Shoutouts! Whether on a sheet of paper, or typed digitally through a Google Forms, choir members are given the opportunity to give a kind shoutout to another member in the group each week. The shoutouts span a vast array of compliments: doing an amazing job on a solo, successfully leading their section in warmups or through a song, making someone feel included, or even as simple as being kind or making people laugh. These types of activities help to foster "group chemistry" as Wyner calls it. "Group chemistry is very important to performance, especially with choirs," he said.
And just recently, the concert choir, along with the orchestra and the wind ensemble, performed in the first live musical events since December of 2019; one of the songs performed by the concert choir was "You Learn," by Alanis Morissette. Because of the deep emotions connected to the lyrics, Wyner decided to give his students a written prompt responding to a verse and connecting it to a life experience they went through. Wyner believes that these discussions are a very effective way for members to bond.
Performance Friday is one of the traditions that has become a staple across all chorus classes, and Wyner is very pleased to see its growth and development as the years progress. What started off as a simple challenge to his students, evolved into something much more memorable and enjoyable for many.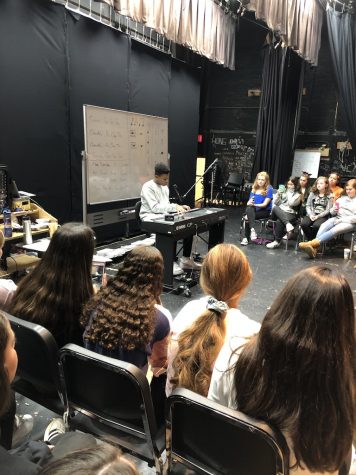 "The first year, I gave kids the 'Wyner Challenge': you let me choose a song, and you have to perform it within two weeks; no ifs-ands-or-buts. Then, after a while, it just became a tradition that people were performing on Fridays, and I no longer needed to officially challenge them," Wyner explained. It is here that the concert choir continues to stand high above the rest: Not only is the musicianship of the members incredible, but their support for every performer that walks onstage is something truly special. 
Another tradition that evolved organically is the Senior Speeches, which has been ongoing for the past ten years. "It's just a chance for seniors to give their last words of wisdom, their regrets, and their last words to the group before they depart; that's a very emotional thing at the end of each year," said Wyner.
Due to the Covid-19 pandemic and its restrictions on social gatherings, a fan-favorite tradition of the concert choir had to be put on hold: the annual trip to see a Broadway musical. Despite that, the choir decided to bring Broadway home to Lynbrook as they viewed the Broadway hit Hamilton over a series of class periods and completed a creative project afterwards for reflection. 
And, just like Alexander Hamilton who did not throw away his shot, Wyner has followed his heart and his passion to teach teenagers the trade of music and performance, while supporting them along the way. "I feel like it's my calling to be a supportive adult, and sometimes a friend or a father figure in the lives of my students," Wyner said. "I try really hard to just be there for the students and give them a positive experience, a community, a place where they feel at home and feel supported," he added.
As the school year comes to a close, this will be the final curtain call for senior members of the concert choir, who all agree that the familial bonds that have developed over their three years together will last a lifetime. Senior Emma Guttman said, "Everybody gets along really well always, and it's such a supportive environment. And Mr. Wyner is the best!"
One thing that resonates with senior Ricki Rizzo, who is a member of this year's NYSSMA All-State, is that "the sense of community, especially when it comes to performances" never goes unappreciated. "They just cheer for you no matter what, and that's something that feels like a sense of family, and I feel like we have that in this little community," she added.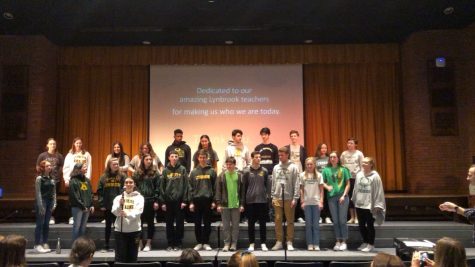 Senior John Kelhetter, also a member of NYSSMA All-State, sees the aspect of community as an ever-present part of concert choir. Additionally, he added, "Since the group is only limited to 40 people, you get close with everyone during your time together. I also love that every year there are returning members, so you're with the same people for quite some time, but you also get to meet new people when the sophomores arrive each year."
The introduction of new members is something that the choir members are especially good at because they help to foster an accepting environment. Senior Finn Boyle thinks similarly to Kelhetter: "I love how everyone gets to learn about each other over several years of being together."
Senior Tori Donovan considers these bonds to have emerged out of the difficult times that the performing community has endured. She remarked, "The one good thing in everybody's day is concert choir, and it's just been a constant for the whole year, so I think that made us all bond very closely." And, for senior Luke Zaromatidis, it is the act of singing that unifies the concert choir family: "There's something about singing together, y'know? In order to be unified, and make a beautiful sound, you need to really come together; if you don't have that, you're not going to get the sound you want."  
The traditions of concert choir, as wacky as they may be, are loved by its members and will continue to remain a big part of the choir's identity and goal: to create a fun, safe environment for music-making, and to share memories that will last a lifetime. "Some of them are weird, which is something I encourage, too, because I believe weird is good," laughed Wyner. Although this was not the year they had hoped for, Wyner and his concert choir traditions will still live on for years to come.
About the Contributor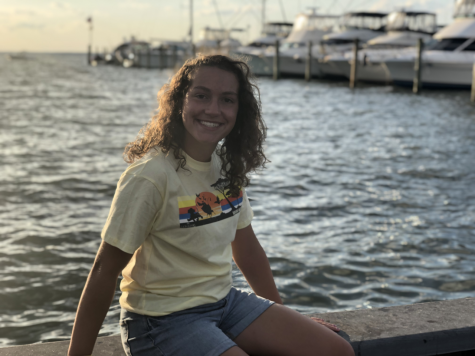 Alyssa Inserra, Managing Editor
I am a member of the Class of 2023 and the section editor of Arts and Entertainment and Driftstone for the print edition. I enjoy spending quality time...