Mr. Pallotta's Farewell to Lynbrook
Lynbrook School District's Director of the Fine and Performing Arts, Joseph Pallotta, recently announced his plans to retire at the end of the 2020-21 school year. Pallotta has been a Lynbrook owl for 18 years, and has worked tirelessly to improve the district's arts programs over his time in administration. 
Pallotta was born in Queens, New York, in 1956 but moved to East Meadow at a young age, where he grew up and received his early education. Although his passion for music and the arts certainly stemmed from an innate interest, baseball was his first love. "I wanted to pitch for the New York Mets!" Pallotta said with a chuckle. 
His parents encouraged this exploration in varied interests and fostered his artistic inclination at every opportunity. "At six years old, my mom thought I was going to be the next great Italian accordion player," said Pallotta. "It turns out my dad and I had something else in mind," he added. At the age of seven, his father bought him his first instrument, an electric guitar, which he still owns to this day. In middle school, Pallotta joined the school band and took up clarinet and saxophone.
Pallotta has also been passionate about the fine arts for as long as he can remember. As a child, he loved to draw and paint, and he took a variety of art classes to feed his interest. He believes this love for art is why he is so drawn to theater. "Theater combines all of my favorite elements. It gives me a foot in both the art and music worlds," he said. 
Pallotta later attended college at SUNY Brockport and Nazareth College, where his passions magnified and cemented into serious life goals. He joked that it "took me a while to get to that stage — no pun intended," where he felt comfortable performing for an audience. Once he overcame those hesitancies, however, he plunged into the world of theater and began conducting pit orchestras. 
He completed his masters degree at the Aaron Copland School of Music; he later taught there as an adjunct professor and directed the school's musical productions. Although his degree is in classical clarinet, Pallotta is a man of many talents. He approximated six instruments with which he would feel confident performing for an audience, but as a music teacher, he said he learned to play every instrument at an educational level. 
After leaving the Copeland School of Music, Pallotta became the band director for Holy Cross High School in Queens. He explained that in the '70s, it was extremely difficult to find work in the field of music education. As the only music teacher at Holy Cross, he was not handed much and needed to solve challenges solo, which he believes taught him the basis of "how to survive." In 1990, he became the band director at H. Frank Carey High School in Franklin Square, and then in 2003, was hired by Lynbrook as the Director of the Fine and Performing Arts.
Pallotta's favorite part of his job is watching students perform. He would often cross the street from the administrative building to the high school just to sit in the back of the auditorium and quietly observe choir or orchestra practice. "Nothing made him happier than seeing students give a wonderful performance and feel proud of themselves afterward," concurred chorus teacher Barry Wyner. Over the years, Pallotta forged close relationships with students, many of whom he has known since kindergarten. As a whole, Pallotta describes his years in Lynbrook as a "true learning process and a real joy." 
Pallotta's peers respect and look up to him as a role model. "As an administrator, Mr. Pallotta struck the perfect balance between stepping back and allowing us to do what we do best in the classroom, while also knowing exactly when it was necessary to offer his support and guidance," said art teacher Tom Sena. "His level-headed approach to leadership has been an integral part of our program's success, and has left a lasting, indelible mark on it as we move into the future," added Sena. 
Pallotta takes most pride in the great advancement of the fine and performing arts department over his years as its leader. "Our level of performance has steadily climbed, which is evident in our repertoires, students' accolades, and the titles awarded to the district," he said. For eight, going on nine, consecutive years, Lynbrook has won the Best Communities for Music Education Award, an accolade bestowed on communities nationwide.
"Under Mr. Pallotta's leadership, the Fine and Performing Arts Department of LHS has reached astonishingly wonderful heights," said Principal Joseph Rainis. "For the entire Lynbrook Public School District, Mr. Pallotta has benefited both individual students and the community at large, leaving a wonderful legacy of accomplishment and allowing our students to make memories that will last a lifetime," added Rainis.
Pallotta also feels great joy when he recalls the transformation of the Lynbrook arts staff over the past 18 years. Of the 27 music and art teachers currently in the district, Pallotta hired 19 of them. He has had the pleasure of watching many young teachers blossom into veteran educators, grow their families, and welcome new teachers as the years passed. When asked what his best moment in Lynbrook has been, Pallotta struggled to name just one. "Wow, there are just so many," he said. "There really are."
Wyner said that there are many moments he will cherish from his time working under Pallotta's leadership, but that his favorites are from the winter concert each year, when Pallotta directs the chorus' rendition of "Hallelujah Chorus." "There is a long pause at the end of the song, right before the final word," Wyner explained. "To me, that pause was always a few seconds that felt like a few years. Mr. P. always had a particular look on his face that seemed to simultaneously say, 'Isn't this great?' and, 'You BETTER not go on until I cue you!' All past and former music students know exactly what I'm talking about. It was special and definitely something I'll miss," Wyner added.
Pallotta said he is awed by the artistic talent of students in Lynbrook's arts department. "Just take a look at the number of scholarships and awards earned by our art students each year," he said. "This is a product of incredible staff, and not to mention, supremely talented Lynbrook students," he added. Pallotta also gloated over the kindness of Lynbrook students in every school across the district. "Our kids are the nicest guys in the world, you know that?" he said. "And, I've taught in a lot of places!"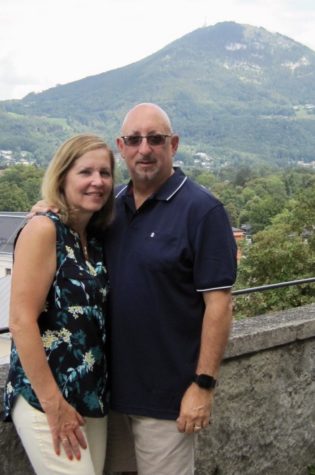 Pallotta said that for all arts administrators, keeping the arts alive and strong within the school district is a challenge. "We're lucky to have such an incredibly supportive community," he said, "but even with that, there are so many other factors that create a lot of worry." He shared that through these challenges, he has learned to be more tolerant of hardship and has developed a deeper understanding of those he works with. 
Pallotta admitted that the restrictions placed on the music and art departments by the coronavirus pandemic have been the greatest obstacle of his career. "Anyone who tells you we knew what we were doing when this virus first hit is lying to you," he said. One positive to come out of the pandemic, however, has been the novel approaches which teachers have taken to adapt their educational strategy, and the strengthening of bonds between students and staff.
The most difficult part of leaving Lynbrook, Pallotta said, is the simultaneous expansion of the music and art wings. Over the past year, the LHS building has been under construction to create new classrooms and practice rooms, specifically for programs in the arts. Pallotta explained that he has been extremely involved in leading this expansion initiative for more than 10 years, and he still has files stuffed with plans, and even swatches of fabric, for the renovation. 
While he will not be able to oversee the program's final product, Pallotta had a revelation that this may be the most optimal time to leave. "I will miss having the fine and performing arts across the street," he said, "but opening up a brand-new wing for the department and bringing in a new director at the same time might be the best situation of all because they can grow with it together."
Pallotta feels confident that the department will continue to climb even after his departure. "I really feel it's in a good place because of where it is now and where I know it has the ability to go," he said. "Whoever comes in and takes this job will have an opportunity to take a really great program and make it even better," he added.
When asked what he does in his free time, Pallotta joked, "What free time?" He shared that as an administrator, his job is all encompassing, but in the best way possible. When he does have a minute to spare, he is spending quality time with family, practicing music, or conducting orchestras in parks across Nassau County. In his retirement, Pallotta hopes to do more of these things, in addition to travelling with his wife and friends. He also looks forward to enjoying time with his five grandsons.
Pallotta's hopes for the future of the Lynbrook Fine and Performing Arts Department are, in sum, "bigger and better." He said that his journey with the Lynbrook schools has been amazingly fulfilling. Although he entered the administrative position in 2003 with some doubt, thinking, "I wonder if I can handle this job," Pallotta has certainly handled his administrative duty with superior competence and grace.
"Someone will have to tell me on my way out how it went," he said. 
Mr. Pallotta, it went perfectly.
About the Writer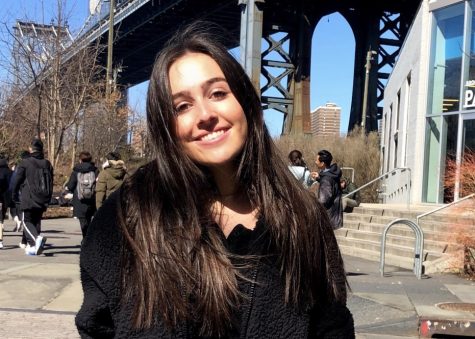 Julia Swerdin, Print Editor-in-Chief
I am the editor-in-chief of the Horizon print edition and the managing editor of our online features section. I'm a member of the Class of 2022 and the...