Virtual Enterprise Reaches New Heights with Fit Kit
Virtual Enterprise (VE) is among LHS's most beloved classes. Taught by Dr. Benedict Tieniber, students are assigned professional roles, and, together, the class creates its own product to be entered into national competitions. This year's product, Fit Kit, was recently recognized as the top VE business in the United States for international sales, one of the top 15 international VE businesses, and the highest scorer in overall performance out of hundreds of schools that participated in the Virtual Enterprise International 2020-2021 online competition. 
Fit Kit is a product that combines at-home stationary cycling, workout videos, recipes, and meal plans into one easy-to-use platform. Senior Carly Tucker, Fit Kit's vice president of human resources, explained, "Fit Kit is an at-home stationary bike including videos and live classes, so you don't need to go to a gym. People have the comfort of working out without even leaving their homes. Also, Fit Kit provides meal plans specialized for each individual."
Inspiration for Fit Kit stemmed from the unusual circumstances created by the Covid-19 pandemic. "Everyone during quarantine missed their gyms, workout classes, and their everyday lifestyles," Tucker said. "So, we decided to bring the gym to you!" Senior Natalia Leszczak, Fit Kit's CEO, added, "Throughout quarantine, due to Covid-19, at-home workouts and healthy eating have become mainstream. The demand for this product is immense in the United States because many Americans prefer convenient at-home workouts as opposed to a gym." Fit Kit has completed more than 2,000 transactions. The company's hope is that people will continue to turn to Fit Kit in order to maintain a healthy lifestyle.
Both Leszczak and Tucker explained their positions as CEO and VP of human resources, respectively, and reflected upon their time in the class. "As C.E.O of the company," Leszczak explained, "I make sure everyone is on task and doing their job. I make sure our work gets in by the due date and is sent to me first, so I can further edit and make sure it incorporates everything on the rubrics."
Tucker's job at the beginning of the year, she said, was to get to know the staff. She had to collect everyone's files and resumes, among other important documents, and create a 30-page handbook that received an honorable mention. "The handbook included our mission statement, Fit Kit policies, anti-discrimination and harassment, compensation, employee benefits, and Covid-19 policies," she stated. Later into the year, Tucker made sure everything was running smoothly and that all of the employees were working to the best of their abilities, sending out employee evaluation forms multiple times a month. "Besides this," she added, "I keep track of attendance and progress reports. Since earning the title of this position, I have learned how to work with all different types of people, and it has been the greatest pleasure and experience. Also, quick shout out to John Carver, our manager of human resources. None of this would have been done without you!"
Fit Kit has provided its team with not only overwhelming success but also amazing experiences that will last a lifetime. Tieniber believes that the course is highly effective in preparing students to enter the business world after college. "Virtual Enterprise is essentially an in-depth look at business practices and the ideas behind them. With VE, students build their businesses from the ground up," Tieniber explained. "It is a great opportunity to see what the business world is like, and it helps students see what they would like to do in the future. Students also participate in trade shows where they interact with other high school firms. They learn about other companies, while working out deals to buy and sell domestically and internationally." He added, "Virtual Enterprise also teaches students about public speaking, writing checks, taxes, and many valuable things that will help any student in the future."
Leszczak offered her opinion on the class as well. "As a seventeen-year-old, you are often not exposed to what business really entails," she explained. "However, VE gives you a sense of it. You have to plan out everything just as if it was a real business, you have to make sure all the employees are being 'paid,' that they are 'under insurance,' and are doing their jobs. We communicate with companies all around the world to make connections, which is a life skill all of us will bring into our futures," she added. She concluded that VE has been her "favorite high school class I have taken throughout my four years."
Tucker is also thankful for the experiences VE has given her. "Virtual Enterprise has taught me many life lessons that I will remember forever. It is a great class for students who think they want to do something with business in the future, as we get to understand what it is really like," she stated. She also appreciates how close-knit the VE students have become. "Our VE class is our own little family, and I have made many new friends because of this class. You learn how to work together as a team, and even about public speaking. Before this class, I would have never wanted to go in front of a room to read a speech, and now it comes easy to me! Also, Dr. T is the greatest teacher, and all of us students can agree that he makes this class so worth it!" she exclaimed.
Tieniber, likewise, only has good things to say about Fit Kit's team this year. "Virtual Enterprise's backbone is its students. You could have Bill Gates come down and design your product and marketing strategy, but it means nothing if your students are not up to the challenge VE brings. Fortunately, here at Fit Kit, we have no such problem," he stated. "My students have shown a remarkable aptitude for cooperation and leadership, so much so that our company has gone far beyond what we ever thought was possible, and it's a part of what makes us stand out. Every one of my students are charming, charismatic, and have an incredible work ethic, which makes us stand head and shoulders above the competition," he added.
About the Contributor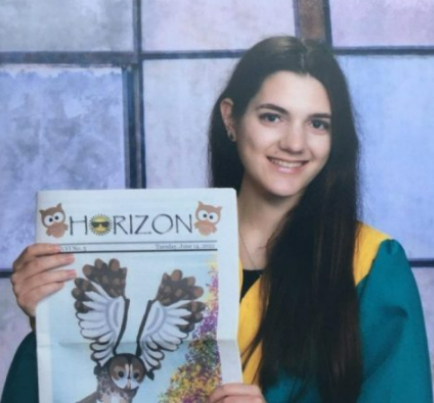 Kate Chiulli, Print Editor-in-Chief
I am a member of the Class of 2023 as well as one of the editors-in-chief of the print edition of Horizon. I enjoy reading, playing the violin, and using...