A "New Beginning:" Class Night 2021
In a tight-knit community that cherishes school events, Class Night has always been an integral part of Lynbrook's fabric. The coronavirus pandemic created many restrictions for both the students of LHS and the Lynbrook community as a whole, but, as always, the show must go on. For Class Night 2021, safety precautions were put in place and changes were made. However, one thing was for certain: Class Night would go on, and the LHS seniors and juniors would work very hard to make their dreams a reality.
The seniors and juniors, specifically the Class Night chairpeople, spent weeks preparing for the big event. The themes were announced in late February, and planning began that day. Senior chairperson Maeve Mooney said she was "extremely excited" when she heard Class Night would be held this year. "Ever since last March, it is all that I could think about," Mooney shared.
The overall theme, as per tradition, was chosen by the senior chairs. Mooney and her co-chair James Gilmartin said they were stuck between two options: "Silver Linings" and "Beginnings." Mooney said, "We felt that both of these were amazing choices because of how much they relate to everything going on today." They wrote two skits, but finally decided to go with "New Beginnings." The seniors' individual theme was Toy Story, and the junior chairpeople, Emma Leighley and Jaden Harvin, chose Cinderella.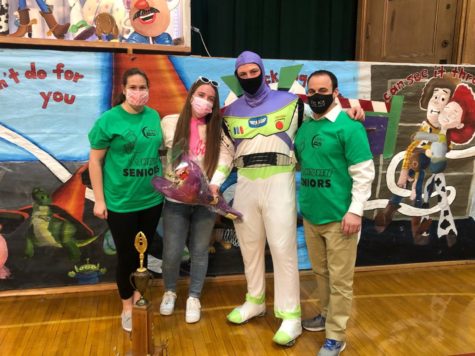 The LHS staff and administration has tried to provide its students with a sense of normalcy. For this reason, Assistant Principal Matthew Sarosy explained, "It was an easy decision to hold Class Night." Because of the pandemic, only the junior and senior classes were able to participate, and Sarosy explained that though it was a "difficult" choice, the school knew "that if we were going to hold Class Night at all, we had to make those tough choices." Many other pandemic restrictions were put in place: masks were worn at all practices, the daytime show was cancelled, participants were socially-distanced at the event, and no outside spectators were allowed. To make up for the lack of parents and community members invited to watch in person, the event was live streamed to the entire Lynbrook community. 
In the seniors' Toy Story skit, different toys were split up into teams by Woody, played by John Bertolini, to figure out how to make children want to play with them instead of playing with video games. Many dance numbers were performed throughout. By the conclusion of the skit, the toys realized that sometimes good things have to come to an end, which symbolized an emotional final Class Night for the senior class. The skit ended with a performance of "You've Got a Friend in Me," performed by Alicia Villadiego and accompanied by the entire cast. 
Both the senior and junior classes had difficulty preparing for the Class Night, seeing as most of their casts were in quarantine or contact traced up until two days before the show. "I was very nervous about the performance, especially because the majority of my grade will get out of quarantine on the day of dress rehearsal," Mooney said. "But, I know we will be able to push through it like we always do. We have worked so hard and refuse to go down without a fight!"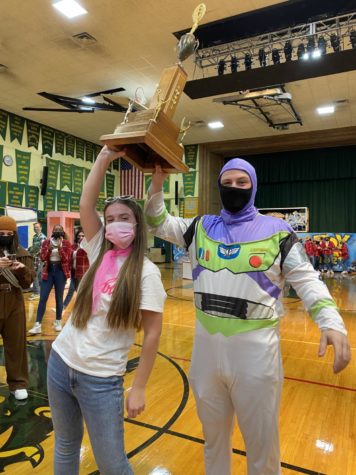 The seniors practiced outdoors for hours the Wednesday before the show and worked hard during their final dress rehearsal on Thursday. And, they were victorious. They beat the juniors in every single category — skit, dances, costumes, and art — making it a senior sweep.
Though the juniors did not come out on top in any of the categories, their chairpeople said they put in a lot of hard work to put on the best performance possible, considering the circumstances. Junior chairperson Emma Leighley explained, "Finding places outside of the school to practice was definitely difficult and a challenge. A lot of places have regulations regarding the pandemic, so it was hard to work around that." Because of these challenges, the juniors held skit practices via Webex and outside. In their skit, Cinderella, played by Danielle Vito, went back in time and one again fell in love with the Prince, played by Zack Cohen. The fairy godmother, played by Jess Healey, sent Cinderella back in time after Cinderella sent her to a nursing home. In the end, a ball was held, and the happy couple rejoiced.
The junior art chairs worked for hours each night and for weeks in order to create the scenery. Junior art chair Manaka Ogura shared her favorite part about being involved in Class Night: "I loved coming into school every night to paint! It was really nice getting to see people I have not seen in almost a year due to the pandemic. The way Class Night allowed students to interact again in a fun way was definitely my favorite part." Ogura said she loved being able to express her creativity for a school tradition that she, and the entire community, loves.
This year, the weeks leading up to Class Night were even more hectic than usual. Two of the chairs were contact traced, and many people in the skits and dances tested positive for coronavirus. Sarosy explained that because of this, students had to be "more imaginative than ever before." He added that he felt both grades "equally prepared and equally unprepared." Sarosy also said that both grades' performances were not as well-rehearsed as normal and had to be perfected on the fly. Despite that, both grades were able to bring their themes to life and put on a show, albeit virtually, for the community.
Although many students missed the packed gym of a typical year on Class Night, the junior and senior classes, as well as the administration, worked hard to make the best of the current situation. Many Lynbrook Owls have just one hope: for Class Night 2021 to truly be a new beginning. 
About the Writer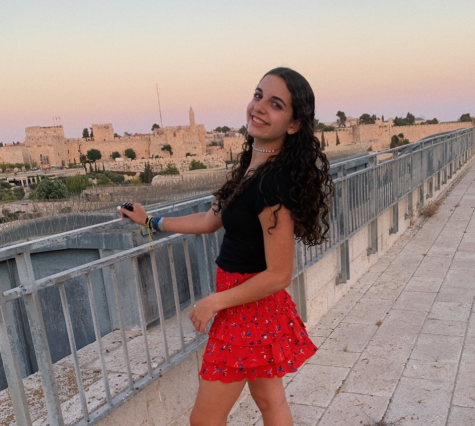 Sophie Ward, Editor
I am Sophie Ward, and I am a managing editor for lhshorizon.com. I am a member of the Class of 2022. I love playing tennis and working out. I also enjoy...