Founders' Week 2021
The Lynbrook Parent Teacher Association (PTA) and Special Education Parent Teacher Association (SEPTA) continues to uphold the Founders' Day tradition, a celebration where selected community members receive honorary lifetime PTA memberships; this year's theme was "Perseverance with Purpose." Founders' Day usually takes place in the LHS auditorium, where short speeches are read about each honoree, followed by refreshments in the cafeteria. However, due to Covid-19 regulations, this year's event was unable to be held in the typical fashion. Instead, the PTA organized a week-long celebration from Apr. 6 to Apr. 9, and honorees were celebrated in a different way each day.  
Each year, prior to Founders' Day, the PTA asks for nominations of people deserving of the honor and selects honorees for their service to the Lynbrook schools and community. This year, the LHS PTA chose to honor Vicki Boyle, mother of senior Finn Boyle, and Virtual Enterprise teacher and Key Club advisor Benedict Tieniber; the LHS SEPTA chose to honor one-to-one aid Debra Geiser. 
Founders' Day representatives and PTA council presidents of the district met to brainstorm how they would celebrate their honorees this year, and they decided on daily celebrations over a week involving gifts, food, and social media posts.  
Boyle is an active member of many community organizations. During her eight consecutive years of being an LHS parent, she has been the vice president of the Compact committee, a role under which she has organized the back-to-school night for parents and the Thanksgiving food collection for the Mary Brennan Inn. She volunteered with the Friends of Lynbrook Robotics Club, bringing food to competitions, and with the Friends of Lynbrook music, organizing the plant sales; she regularly helps these groups whenever she is needed. Boyle has been a den leader and committee member for Cub Scout troops, as well. She also served breakfast at the senior post-pool breakfast as a junior parent last year. 
Boyle commented, "I enjoy my time volunteering for the Lynbrook schools and was truly honored to be this year's parent recipient for the high school." LHS PTA Founders' Day Chairperson Julie Bergin commented, "Vicki Boyle is a senior parent who has volunteered at every opportunity, in practically every organization, from the moment her family entered the Lynbrook schools about 16 years ago." 
Boyle greatly enjoyed her week of Founders' Day celebrations. She commented, "Founders' week felt like a 'special-me week.'" Boyle was honored online with a Facebook post, showing photos of her and her family with a caption about her and a YouTube video collage of her friends and family congratulating her; she also received a congratulatory card with a free lunch, flowers, and a box of donuts from Doughology. She expressed, "It was an honor to be nominated this year, especially since it is my last year in the Lynbrook schools. I have always volunteered in any way to assist the PTA and other organizations who are 'doing good' for the kids. I enjoyed this year's recognition since it was very subdued, and I was celebrated behind the scenes. I am thrilled I didn't need to be on a stage in front of a crowd of people." 
Tieniber teaches Virtual Enterprise, accounting, and Senior Seminar, and advises the Key Club at LHS. He also coaches the middle school baseball and wrestling teams. Tieniber has led Virtual Enterprise classes in carrying out extremely successful virtual businesses for the past four years. He has also organized many fundraisers through the Key Club that have done a lot of good for the community, including popcorn fundraisers, blood drives, book drives, and clothing drives. Tieniber ran 206 miles at the end of last year's hectic school year to show his appreciation for the graduating class of 2020, running one mile for each graduating senior. 
Throughout the week, Tieniber was delivered lunch, gifts, and refreshing drinks and cookies from Sunday Morning, along with the PTA social media posts honoring him. He commented, "I am very honored and truly humbled. The PTA did an incredible job getting the word out to everyone about all of the winners to the community at large." Bergin explained, "Dr. Benedict Tieniber was nominated for all that he does for the students. Last year, he ran 206 miles in honor of the class of 2020. He is a much respected and well-loved teacher and mentor to all his students." 
Geiser is a student aide at LHS who has been heavily involved in community events and has had an impact on many. She has been in the Lynbrook School District for 19 years, and in that time, she has been involved in Challenger basketball games and the Corner of the Sky production; she has also chaperoned dances, band trips, concerts, and Class Night. Additionally, Geiser helped to distribute food to the Lynbrook community during the 2020 pandemic.
LHS SEPTA Founders' Day Chairperson Karen Edelstein shared, "We honestly thought that Mrs. Geiser would have already been chosen due to her long-dedicated service to our special needs students. When we inquired, we found out that she had yet to be recognized, so it was long overdue, and she was unanimously approved. We all just love and appreciate her." 
Geiser was ecstatic to be honored for Founders' Day. She exclaimed, "I was so thrilled to receive a phone call to let me know that I was the 2021 Founder's Day honoree for SEPTA. I was so honored to accept it." During her week, Geiser explained she was given "a gift card to Savino's and Dunkin Donuts, a beautiful pink hydrangea plant, an amazing photo array made by Shutterfly, and a SEPTA lifetime membership and beautiful written cards of thanks." She shared, "With Covid still in existence, it couldn't have been a nicer way to honor me. Instead of one night, it was a whole week! Thank you once again to SEPTA for this honor. It is greatly appreciated." 
Edelstein commented, "I have personally witnessed many acts of kindness done by Mrs. Geiser, so it was my absolute pleasure to be involved in honoring her. She is incredibly passionate about our students. She humbly makes an enormous positive impact for her students and our Lynbrook community." 
Overall, this year's Founders' Day, or Founders' Week, was a success. Although the typical night celebration could not be held, the honorees enjoyed their week of gifts and recognition. Edelstein shared that the PTA may want to maintain some of the new aspects of this year's celebration in the future, too: "I think in the future, we should still continue using in school announcements and social media. This would inform the general public so that they can extend their own congratulations, even if they cannot be in the audience during an evening celebration." 
About the Writer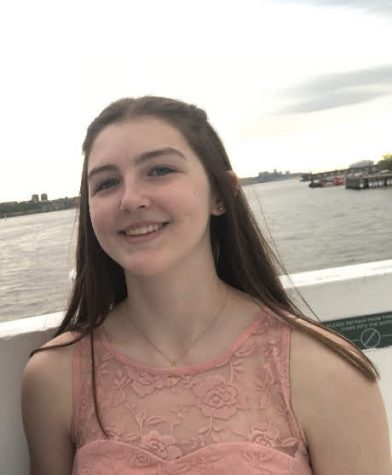 Emily Bergin, Online Editor-in-Chief
I am the editor-in-chief for Horizon.com and a member of the Class of 2021 at Lynbrook High School.  In my free time, I like to swim, run, and play music.