Who's Running for the Board of Education?
The Board of Education (BOE) elections are being held Tuesday, May 18, from 7 a.m. to 9 p.m. at North Middle School, South Middle School, and Lynbrook High School. Three seats are being contested. Robert Paskoff, Lesli Deninno, and David Yaker are running for reelection, and Nicole Aroksaar and Sean Murray are seeking to be newly elected.  
Paskoff first ran for the board 15 years ago. He shared why he wishes to continue to serve on the BOE: "I have been a lifelong volunteer and a firm believer in the future. What better way to help out then by being on the school board? Even though I no longer have children in the district, I do have a house. The value of your house is a direct correlate to the quality of the school and the community. This has been a very tough year, trying to balance all issues. I believe experience is necessary to help steer the district out, and back to normal. I decided to step up and once again run." 
One of Paskoff's main focuses is for the district to help students use technology to learn more efficiently and teach them to recognize misinformation. He elaborated, "Education is in the process of the 'Google' revolution. Students will have less to memorize and there will be more critical thinking. I believe this will help upcoming students to change the world." Paskoff shared that he believes critical thinking and the ability to weed out misinformation is important in how students learn about social issues. He commented, "Good discussion is necessary, but it should be fact based." 
Deninno first ran for trustee of the BOE eight years ago. She was a former PTA president, and said, "[Running for the BOE is] another way for me to serve my community and make an impact on not only my children's education, but our entire community." Deninno shared, "I feel my work isn't finished and that I have a lot more to offer. I hope to continue as a trustee on the Lynbrook Board of Education." 
A main interest of Deninno's is curriculum, and she hopes to assess the needs of the district's elementary schools in terms of reading programs. She would also like to take a closer look at the district's secondary level course offerings. She explained why she feels she is fit for this position: "My background in education and administration has afforded me the opportunity to preview and pilot programs. This sets me apart from the other perspective candidates." 
Yaker has been a trustee for six years. He explained that with the challenging year the community has had, "having an experienced board member to help guide the district through uncharted territory is more important than ever," which is why he hopes to be reelected, as he feels he has "the experience, the understanding, and the passion to continue this pursuit and look forward to the challenges that lie ahead." Yaker shared, "We have all suffered great loss, both personally and communally, and been asked to do things beyond what we thought we were capable of. Now more than ever, we must remain steadfast in our mission to nurture our children's love for learning, teach them to become critical thinkers, have pride in their community in the hope that one day they may choose to return to Lynbrook and raise their own families here."  
Yaker shared that he feels "a BOE is at its best when supporting the educational leaders who our district has hired, serving as a checks and balances, being transparent in its dealing with all members of the community and remaining fiscally responsible to all its taxpayers, and most importantly giving our children all the opportunities and more to be successful in the 21st century." Yaker highly values the importance of working together as a board and listening to each other and the community. He hopes to continue to be "a voice of reason, one who listens twice as much as I speak, and someone who has made himself available to the concerns of all community members." Yaker believes that students should be encouraged to debate civilly about pressing social issues and to respect and appreciate varying perspectives. He commented, "School is a place where we should be teaching students how to think, not what to think, how to be kind, empathic, and lift one another up." He also aims to focus on overcoming the challenge of balancing advancements in technology without being completely reliant on it; as a classroom teacher, he has witnessed both the benefits and detriments that technology in the classroom can create. He discussed what he feels the board needs to work together to do: "We also must remain vigilant of the long-term effects that this pandemic will have on our children. We must be prepared to tackle the social emotional tolls that our students will be facing. Finally, we will need experienced board members in order to handle the potential fiscal challenges that we are sure to face in the coming years." 
As someone who has been involved in the PTA for a long time, Aroksaar said she has "always known how important the role of the board of education members are to the students, staff, schools and community." She explained that when schools closed last March, she worked remotely, and her four children were home. Her children in college started remote learning right away, but her secondary students struggled with the synchronic model and hybrid learning. She explained that the effects of this prompted her to run: "I saw what a toll the shutdown had on my children educationally, socially but most of all emotionally. During zoom PTA meetings and while talking to friends and other members of the community, I realized that this was a widespread issue. Out of concern about the mental health of our students, I decided to run for the board of education." 
Aroksaar aims to "make sure that all students have the mental health support that they need and to open the lines of communication between the BOE and the community" if elected. She also feels that a Diversity, Equity, and Inclusion (DEI) plan needs to be introduced to the district with approval from the administration, BOE, and community. Aroksaar explained, "I believe teachers political views shouldn't matter and students should feel comfortable to express ideas on opposite sides without judgment. I believe with proper training, teachers will be able to bring social issues into the classroom for discussion." 
Murray shared that many factors led him to run for the BOE: "Service to the community has always been an important part of my life. I am a volunteer in a number of other community organizations. Combining that call to service with my passion for education led me to seek this role. I want to help guide the decisions that will make the Lynbrook schools a better place for my own three children as well as all the children of the community." 
If elected as a new board member, Murray's plans include "getting to know the other trustees, the district administrators, and the existing policies and practices" and bringing "a new perspective to the conversations the board has regarding issues facing the district." He feels that his "years of experience leading conversations about instruction and learning in three other districts" are what sets him apart from other candidates. Murray believes that schools "have an obligation to teach students how to engage in civil, honest debate around issues where multiple and diverse viewpoints are valued for how they push others to think critically." He shared that he thinks the optimism, keen insights, and creativity of young people are what are needed to address social issues, and one of the primary purposes of public education is to "nurture and develop citizens capable of civic engagement," which is best accomplished through engaging in real world issues. 
The PTA Council hosted its annual Meet the Candidates Night moderated by the League of Women Voters (LWV) on Tuesday, Apr. 27. Candidates were asked questions that had been submitted to the LWV prior to the event, and the event was held virtually and streamed via YouTube. 
Candidates were pleased with how the event went and felt it was a good opportunity for them to share their ideas with voters. Deninno commented, "Although I would have loved for Meet the Candidates Night to have been in person, I was very happy with the outcome of the evening. It is hard to know how I was received being that I couldn't see the audience. I felt well prepared and confident in my answers. We are fortunate in Lynbrook to have five caring candidates that want to volunteer for our schools." Paskoff added, "It was tough to judge the meet the candidate's night in the format we used this year without a live audience. Most feedback I received was very positive, though." 
Yaker explained that he believes a good board member should "be willing to listen twice as much as you speak," and he hopes that people saw this in him at Meet the Candidates Night. He shared, "Meet the Candidates Night is always a great opportunity for the candidates to showcase who they are, what they believe, and what their vision is for the Lynbrook School District. I believe it is an important part of the campaign process. When you are honest and transparent about who you are and what you believe, I believe that the community responds to that type of candidness. The feedback that I have received has been positive."  
Aroksaar and Murray also had a positive experience. Aroksaar shared, "I believe I was received pretty well at Meet the Candidates Night. I had a lot of people reach out to me afterwards to thank me for running and let me know I had their support." Murray commented, "The feedback that I have received about Meet the Candidates Night has been very positive. I feel that I was able to clearly share my 'why' for running for the school board and that I was able to respond meaningfully to each of the questions asked. People I've spoken to since have told me that I came across as prepared and knowledgeable. Those were two of my main goals." 
About the Contributor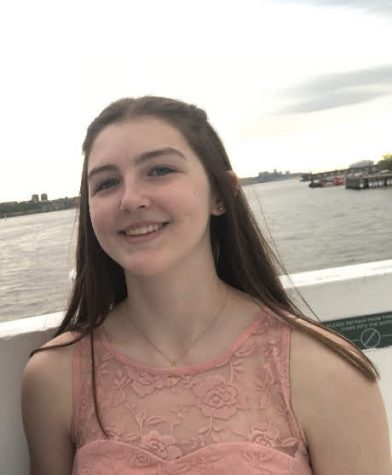 Emily Bergin, Online Editor-in-Chief
I am the editor-in-chief for Horizon.com and a member of the Class of 2021 at Lynbrook High School.  In my free time, I like to swim, run, and play music.