They're Back! Student Body Fully Returns to LHS
The world has been in the midst of a global pandemic for slightly over a year now. The year has been filled with few highs and many lows, and people have never experienced anything like it. Most people are anxious to see the end of mask-wearing, quarantining, and social distancing, and many wish to never hear the words "Covid-19" again.
The pandemic and its strict restrictions forced people to rethink the way they lived their regular lives and to constantly focus on maintaining safety. One aspect of life that was greatly affected by the pandemic was education. It was considered unsafe for schools to remain open when the pandemic first emerged, and to minimize outbreaks, New York Governor Andrew Cuomo officially closed all schools on Mar. 18, 2020. Most students and teachers expected to return in a minimum of two weeks, or even a month later, but to everyone's surprise, schools remained closed for the rest of the school year. When preparation for the 2020-2021 school year began, many began to wonder: Would students and faculty ever be able to return to full in-person school?
After much deliberation, the Lynbrook Board of Education (BOE) made a decision regarding how students would return to school this past fall. Families of LHS students were initially offered two options and could choose their preferred learning method. The first choice offered was for students to be fully remote. Students would log in to Webex meetings daily for all their classes. The second choice offered was hybrid learning. This meant that students would alternate between attending classes remotely and in person. The student body was split alphabetically by last name (A-L and M-Z) and a special calendar was created to decide when each group of students would be required to attend in-person and when they would be remote. When students with last names beginning with letters A-L were in the building, the students with last names beginning with letters M-Z were remote, and vice versa. This was considered the safest way to have students return to school while minimizing the spread of Covid-19. Hybrid and remote learning continued to be students' only options until discussions began about the possibility of having students safely return to school fully in-person.
The hybrid learning program was not perfect and had many issues throughout the year. It began with great promise, as it allowed students to be social after being quarantined for many months prior. Although it was an adjustment, many students still seemed to prefer the traditional method of being in school full time. The pandemic not only greatly affected the social health of students, but it adversely affected their emotional heath as well. Students reported feeling anxious, having difficulty concentrating, and even having trouble remembering things. As our current world has no prior experience with a pandemic, the outcome remains unknown, and people feel as if there is no end in sight.
Social studies teacher Laura McCarthy shared her thoughts on the hybrid plan, its challenges, and its model for learning and teaching: "Some students handle remote learning fine; others struggle and are not learning as much as they would if they were present in school. I still have students at home and my in-person attendance every day in my classes is different for each period. I prefer having as many students in the building as possible in school." Social studies teacher Olga Zisel agreed: "It has been challenging teaching to two audiences. Teachers can never be sure what students at home are doing; we spend a lot of time asking students to keep their cameras on their faces. We feel guilty if we are not paying as much attention to the students at home, and in general, it's hard for students to learn. Whether in school or remote, we are basically behind a screen all period." Chorus teacher Barry Wyner shared, "There were, and still are, many difficulties in teaching students half present and half remote. Most basic classroom tasks — distributing a handout, soliciting answers from students, getting a parent signature — require you to design two different ways to do it, one for each group. Some things, like rehearsing choral music, just do not translate well to the home experience for a multitude of reasons."
The BOE created a comprehensive plan to slowly begin allowing students back to school for a five-day in-person learning week. Students were now given three options for how they would continue attending classes. Students could remain fully remote or hybrid, or they could return to school fully in-person. This small step felt like the beginning of a return to normalcy, and, for many students, put an end to remote learning. To ensure the safety of all students, the BOE decided to stagger the dates each grade could return. Seniors who wished to return fully in-person would go back on Mar. 1, followed by juniors on Apr. 12, sophomores on Apr. 19, and freshmen on Apr. 26.
Seniors went from having few classmates in each class to having full classrooms. All Covid-19 restrictions remained the same: masks were always required, clear barriers remained on all desks, etc. The only minor change was the distance between desks in classrooms. The six feet of space between desks was now reduced to three feet because of the need for more desks in the classrooms. This was still within CDC guidelines and regulations. In addition, students were encouraged to follow restrictions inside and outside of school so that schools could stay open and so that eventually, other students could return.
There were safety concerns when finalizing the plan to have students return. The hybrid learning program was originally put in place to ensure safety for students and faculty. LHS experienced few Covid-19 outbreaks throughout the year, even though some schools in the district had to shut down to control outbreak. When the senior class first returned, it was a smooth transition until more cases emerged amongst students. At one point, there were over 40 students quarantined, and strict contact tracing added more students to the quarantined population. There was worry that the other grades would be unable to return to school fully in-person. After the quarantine period concluded, students were back in school, and all seemed to be back to normal.
Senior Tess Rechtweg commented, "I think the transition of having everyone back was rushed. The district should have extended the period in between students coming back. Instead, we all came back way too soon." Students and faculty were worried about their own safety when students first made their return. Having all classrooms full and an open campus with students exiting and entering throughout the day can be concerning. Life is finally starting to return to "normal." Is the district rushing things? Should they wait until next year? These are all questions that have been running through the minds of Lynbrook residents since the plan was first introduced.
Freshman Kerry Cullen shared, "I was hesitant with the fluctuation of students. I remained on the hybrid plan. I think that if the school allows more students to be there, it must be safe. The transition was strange at first, with moving rooms, more desks, and a busier school. However, it is way more fun having everyone back on the days that I go into school." Junior Rachel Belmont added, "I was a little unsure at first with everyone coming back in the building as well. I was enjoying the smaller classes, but I am happy about the return of students. I love seeing my friends every day!"  There have not been any Covid-19 outbreaks in any school since seniors returned, and the district hopes to keep it that way.
As of Apr. 26, all LHS students who have chosen to be are back in the building full time. This change has made learning and teaching easier for many, and the remote learning that many had dreaded is no longer needed for students who are in the building every day. Rechtweg commented, "I go in person full time. I could not stay home anymore; I was going insane! Obviously, the school has not been full of everyone going full time for over a year now. I was just getting used to the emptiness of the school, and now it's full!"
Some students who had originally chosen to be fully remote have returned or are planning to return to the building. Freshman Loughlin Reid-Cleary was a fully remote student since the pandemic first arose. He commented, "It's been difficult to learn while stuck at home. There are always technical difficulties, and the influence of younger siblings and outside distractions only makes it more difficult. Students were isolated from one another for so long, and school gives them a chance to be social and be around people outside of their home." Chorus teacher Barry Wyner commented, "Having everyone back is easier in the sense that I know I'll always have over 10 kids in a class if I want to do a discussion or some other activity that requires a certain minimum amount. This is nice after those dark weeks in January and February when I sometimes had six or seven kids in class and 30 on Webex. But what is still challenging is that you never know who will be in your class. Because students can choose their own instructional model daily, it often feels random who is in class on any given day. A-L, M-Z, full-remote, full in-person… it has all blurred at this point. When taking attendance, I'm sure many students have heard me say, 'This is the 'box of chocolates' school year. You never know what you're going to get.'"
Many LHS students and faculty have agreed that the BOE made the right decision in allowing all grades to return. There is more face-to-face contact, and some students were even able to meet each other for the first time. Having everyone in the building full-time is a step on the long road back to normalcy. Zisel commented, "I love having a full classroom and seeing the kids together again. It makes me happy seeing students from the A-L group having lunch with their friends from the M-Z group. It's another step closer to the normalcy we all want back, and I think it helps the kids have a better high school experience." Freshman Parker Sloan agreed: "This is my first year being in the school. Having everyone back is so fun; I have never seen the school so full!"
About the Contributor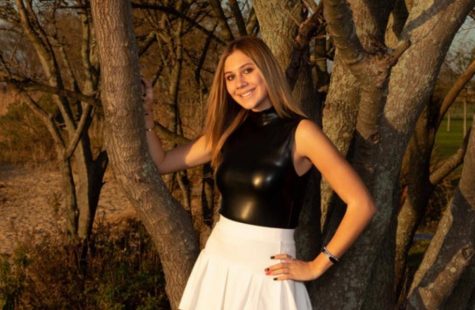 Alexis Raynor, Editor
Hi! My name is Alexis Raynor, and I am a member of the Class of 2024 and an assistant editor for Horizon. I love to dance and hang out with my friends....