Meghan and Harry's Interview Takes World by Storm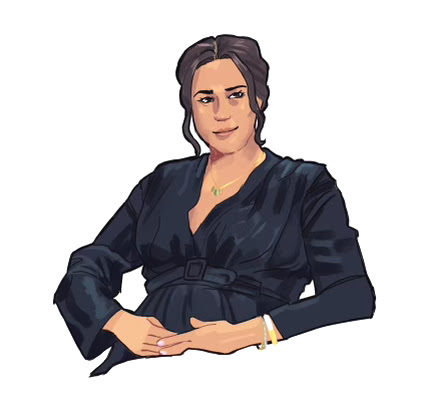 Ever since their fairytale wedding in May 2018, Britain's Prince Harry and his wife, American actress Meghan Markle, have been under close watch by the entire world. They assumed the titles of the Duke and Duchess of Sussex, and for a handful of months, they seemed to have been living lives similar to those of most royal couples. In the beginning of their marriage, the media portrayed them as part of a happy family, but in reality, the public knew very little about what was going on in Buckingham Palace.  
The tides quickly turned in terms of the British media's attitude toward the couple. This change began with a reported incident between Meghan and her sister-in-law, Princess Kate. The seemingly small incident quickly snowballed into constant criticism of the couple. Meghan claimed to have suffered greatly from this, as she felt that she was being picked apart by the media for everything ranging from cradling her baby bump to eating avocados. 
Due to many factors, Harry and Meghan decided to step back from their royal obligations and leave the U.K. in early 2020. They moved to Canada with their newborn son, Archie. Since then, they have relocated to Meghan's home state of California to start a new life. 
The couple has claimed that they are enjoying their move and have found a new sense of freedom to say and do as they please. Meghan is now pregnant with their second child, following a recent miscarriage. 
New details behind the royal couple's tumultuous lives, the press, and the British monarchy were shared in a highly anticipated prime-time interview with Oprah Winfrey on Sunday, Mar. 7. Winfrey interviewed Meghan, who shared shocking stories of racism and neglect from her time in Buckingham Palace. 
Before the interview addressed the sensitive and controversial topics surrounding the Duke and Duchess of Sussex, Winfrey made some disclaimers. Viewers quickly learned that Prince Harry and Meghan were not briefed on the questions that would be asked prior to the interview, they were not paid for the interview, and no topic was off-limits. Harry later joined Meghan after she had time to talk with Winfrey one on one. 
When Meghan sat across from Winfrey to be interviewed alone, she addressed the questions surrounding the royal wedding. While Meghan had savored her televised wedding day, and she described the day as an "out-of-body" experience in the interview, she also explained that she and Harry were aware that the wedding was very much not their day. She revealed that they enjoyed an intimate wedding ceremony in their backyard officiated by the Archbishop of Canterbury three days prior to the televised event.
The bitter tabloid story about Meghan making Princess Kate cry and how it was a "turning point" in the public perception of Meghan and Harry was also discussed. Meghan said that, in reality, the opposite of what was reported had happened; Princess Kate had made her cry. Meghan did confirm, however, that the tabloids were right about what the conflict was about: the argument was over flower girl dresses, and Kate later apologized and sent Meghan flowers. The conflict with Kate seems to have been the beginning of what would soon be constant negative press and false accusations. 
According to Meghan, her ability to carry out fragments of her previous life in America was significantly strained. She talked about how she would stay locked up inside the royal walls for weeks, and she couldn't go shopping or out to lunch with her friends due to the institution forbidding her. She even said that she felt it was ironic that she was a strong advocate for women's rights, yet she was silenced for the past four years. 
Meghan also told Winfrey about her experience upon hearing that her first child, Archie, would not receive a prince or princess title, and he would not receive the protection that comes with that title. She implied that this decision likely occurred because she is half Black. However, viewers did not consider that one of the most shocking moments in the interview. Meghan's next revelation was what really captured the attention of most viewers: she revealed that there were conversations of concern regarding what the color of Archie's skin would be before he was born. "In those months when I was pregnant… [there were] concerns and conversations about how dark his skin might be when he was born," Mehgna said with an uncomfortable look on her face. When Winfrey pressed her about who instigated those conversations, Meghan refused to reveal, saying how it would be "damaging" to them. Junior Elizabeth DiFiore thinks that this was the interview's most shocking segment: "As a lover of everything royal family, it was shocking to hear the comment about Archie's skin tone and how that will affect his royal status."
Meghan also elaborated on the effects of Archie's lack of status. When she was informed that his security would be revoked due to his lack of royal title, she and Harry knew that this was unacceptable and that they could not live without having their son protected. "Hold on a second," Meghan said, "he needs to be safe." When Winfrey inquired about how she felt about Archie's lack of title, Meghan said, "If it meant he was going to be safe, then of course. All the grandeur surrounding this stuff is an attachment I don't personally have." Apparently, Archie was not the only member of the family who was to have his safety and security threatened. Soon after they moved to Canada, Harry and Meghan were told that all of the palace-provided security for the couple was to be taken away. This put the family in a compromised position since their Canadian home's location was public information to the world thanks to a Daily Mail tabloid. They had little to no choice but to move to California, where Meghan had once resided. The interview certainly made clear how vitally important security is to the couple as public figures and that it has largely influenced their decisions. 
Meghan was not done addressing the heavy topics. She then revealed that she suffered from suicidal thoughts during her pregnancy with Archie. The constant backlash from the media had driven her to develop such thoughts, and she explained that she "didn't want to be alive anymore." She said she was ashamed to reveal her thoughts to Harry, given his own mental struggles following the tragic death of his mother, Princess Diana. Meghan had shared her feelings with Harry on the night they were attending an event, and when asked by Harry if she would stay home, she refused, saying, "I can't be left alone." She approached the palace's human relations team for help, but she was turned away after they had responded saying that it would not look good for the institution. When asked about her opinion on Meghan's revelations, a teacher who wishes to remain anonymous said she was shocked and dismayed by her suicidal thoughts. "Like she had said during the interview, [the palace] portrays what they want you to see but really what goes on is completely different," she said. "You really thought everything was okay. And, obviously, not everything is okay all the time, but to hear her so desperate, so sad, and that she had those thoughts…I felt so bad for her."
There was some good news to be shared in this interview, this time with Harry present: the couple announced that their second child will be a girl, and she is due this summer. The couple shared that they are very grateful: "Amazing," Harry said, "Just grateful…to have a boy and then a girl, what more can you ask for? We've got our family."
Now together, Harry and Meghan tackled the definitive reason why they stepped back from their roles and duties: "We never left the family," Meghan said. "We said specifically, 'We're stepping back from senior roles to be just like several [other royals]'…. We weren't reinventing the wheel here," she said. "We were saying, 'Okay, this isn't working for everyone. We're in a lot of pain. You can't provide us with the help that we need. We can just take a step back. We can do it in a Commonwealth country.'" Harry added that he and Meghan needed a break from the constant scrutiny of the press. He also added that he was most concerned about "history repeating itself," referring to the incident that resulted in his mother's, Princess Diana's, death. They went on to say that they received no assistance in this transition of their roles.
Prince Harry spoke more about the relationship between himself and his family: "I've spoken more to my grandmother in the last year than I have for many, many years." Prince Harry said his father is also now taking his calls. "There's a lot to work through there," he said. "I feel really let down because he's been through something similar. He knows what pain feels like, and Archie's his grandson. But at the same time, I will always love him. There's a lot of hurt that's happened, and I will continue to make it one of my priorities to try and heal that relationship. They only know what they know, and that's the thing: I've tried to educate them through the process I have been educated."
The couple's final question from Winfrey was about if they had any regrets. While Harry said he didn't, Meghan said she did have one regret, which was believing the institution when they said she was protected. Other than that, she emphasized how grateful she was for Harry's presence: "I think he saved all of us. He ultimately called it…. He made a decision that certainly saved my life and saved all of us."
Freshman Nora Kane believes that the couple's negative experiences are valid: "I think Meghan and Harry's complaints about the royal family are completely realistic and valid because the way in which Meghan and Harry have accused members of the royal family acting is completely believable given their history." Kane also shared her thoughts about the perception of the Duke and Duchess of Sussex and the royal family: "I think the public's view of the royal family will change after this interview because people who do not follow politics may have had neutral opinions on the royal family, but after seeing someone so popular outside of politics speak negatively about them, some may develop dislike towards the royal family."
While the interview has shed a lot of light on Harry and Meghan's perspective and their experiences, the royal family has since responded to clarify their perspective. Prince William and Queen Elizabeth have addressed the racist claims Harry and Meghan had supposedly witnessed. In an official statement from the Queen, it was said that "while some recollections may vary, they are taken very seriously and will be addressed by the family privately," according to CNBC (cnbc.com) on Mar. 9. William addressed the racist concerns by responding to a group of reporters on a public outing with Princess Kate. "We're very much not a racist family," he said and added that he has yet to speak to Prince Harry but plans to, as stated by USA Today (usatoday.com) on Mar. 11.
About the Contributor
Olivia Lanteri, Managing Editor/Website Content Manager
Hey you! Thanks for checking out my profile. I am a member of the Class of 2024 and a storyteller at heart. I love to spend time with my family and friends,...