How to Find the "Perfect" College During a Pandemic
Searching for the "perfect" college can be a daunting task, but trying to complete this process in the midst of a global pandemic is even harder for many. As current high school juniors begin searching, many are finding that similar to many other aspects of life, the effects of Covid-19 are evident in the college search process. For almost a year now, a global pandemic has affected the way people live, and it is now affecting how high school juniors prepare for their futures. Juniors are not alone in this stressful and new task, but that does not change that, just like Covid-19, this search process is unprecedented. 
Current juniors are missing out on numerous parts of the typical college search process. Typically, many students visit schools and go on guided tours with other prospective students and their families. These tours help to give a sense of what kind of people attend the college they are looking at; they see the students walking around campus and socializing, and they meet the other prospective students they are on a tour with. Junior Olivia Ackerman expressed how it has been difficult to "figure out the environment of the college and how the campus is when all the kids are at school" without being able to visit the campus. However, guidance counselor Melissa Marr assured that students "can still get a good feel for the opportunities presented by a college/university" under the current circumstances. 
During a normal school year, representatives from various colleges come to local high schools to meet with students. This helps to give students a better sense of the college, and students get to connect with admissions counselors on a personal level. 
Fortunately, many colleges have created ways to accommodate high school juniors in their search process. Schools have been offering live-streamed and pre-recorded information sessions along with student panels so that prospective students can connect with current ones. Also, some school websites have virtual 360-guided campus tours that feature pictures and informational videos. Guidance chairperson Laurie Mitchell revealed some of the ways students and their parents can learn more about a school: "In-person events, tours, open houses have gone virtual or are limited with how many students/families can participate live. Local college planning events like HOLLER and NCA College Expo are being done virtually as well." She added, "[The guidance department] would encourage students to visit the websites for colleges they are considering. This will provide the most current, updated information directly from that college. Take advantage of virtual tours, visit the campus if you can, connect with colleges on social media, and take advantage of locally sponsored events." Like many others, junior Leah Curra has been adapting and researching different schools by "looking at all of the majors, clubs, and sports [a college I am interested in] offers," adding she has found "…that going straight to the schools website or social media helps the most."
Not only has the college search process changed, but also the college application process has been altered. Last year, most colleges created a "test optional" policy—students did not have to submit an ACT or SAT score if they did not want to. Mitchell revealed, "Many colleges have been test-optional for years. Due to Covid-19, many more colleges have become test-optional since SAT/ACT testing was disrupted or unavailable for so many students across the country…Currently, half of all US Colleges are test optional for the freshman class of 2022. Again, the best advice is to check the individual college websites for the most accurate information for students applying for fall 2022 admissions." The College Board also cancelled the SAT Subject tests because, according to their website (collegeboard.org), they are "…reducing demands on students. The expanded reach of AP and its widespread availability means the Subject Tests are no longer necessary for students to show what they know." The College Board also cancelled the optional ACT essay. Mitchell does not think the cancellation of these tests will have "a significant impact." 
Guidance counselors have presented information that displays the impact Covid-19 has had on the admissions process. Guidance counselor Jonathan Spector noted that there has been a visible "change in admissions this year." He explained, "Applications are on the rise with some schools seeing as much as 30% more applications because schools are now test-optional. There are thousands of more applications for fewer spots. It's become very competitive. Early Decision numbers have increased too, and some schools are taking more students from the ED pool of applicants. Boston University received 5,663 applications for admission through ED and ED2. This is a 12.2% increase over last year and they expect to enroll 53% of our freshman class through these binding programs. Tufts had a rise in ED applications as well." Marr revealed, "Schools going test-optional has helped students with strong grade point averages and academic rigor. SAT Subject Tests were not used by many schools for admissions purposes and typically were used in consideration for admission into specialized programs of Ivy League schools. This will require schools to look more closely at a student's academic performance within particular subject areas."
Looking for the right college has always presented a formidable challenge for many. Now, more than ever, high school juniors are taking on a new process that is not only foreign to them, but also new everyone around them, to an extent. However, colleges have found ways to accommodate students on their journeys, offering virtual tours, information sessions, and student panels. Further, many colleges' websites provide detailed information about courses, majors, extracurriculars, housing, and financial aid. Guidance counselors are experienced and will help students as they begin this process.
About the Contributor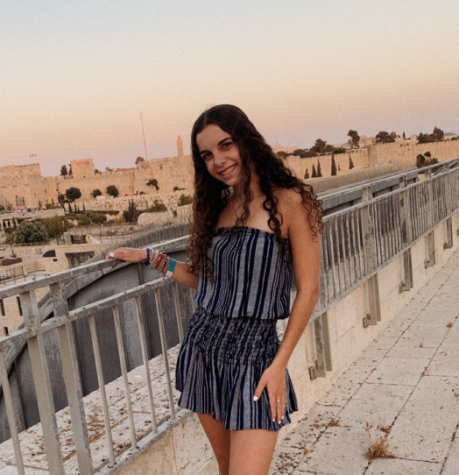 Emma Ward, Editor
I am Emma Ward, and I am the News and Opinions online editor for Horizon. In my free time, I enjoy playing tennis, working out, and hanging out with my...