Good News by the Month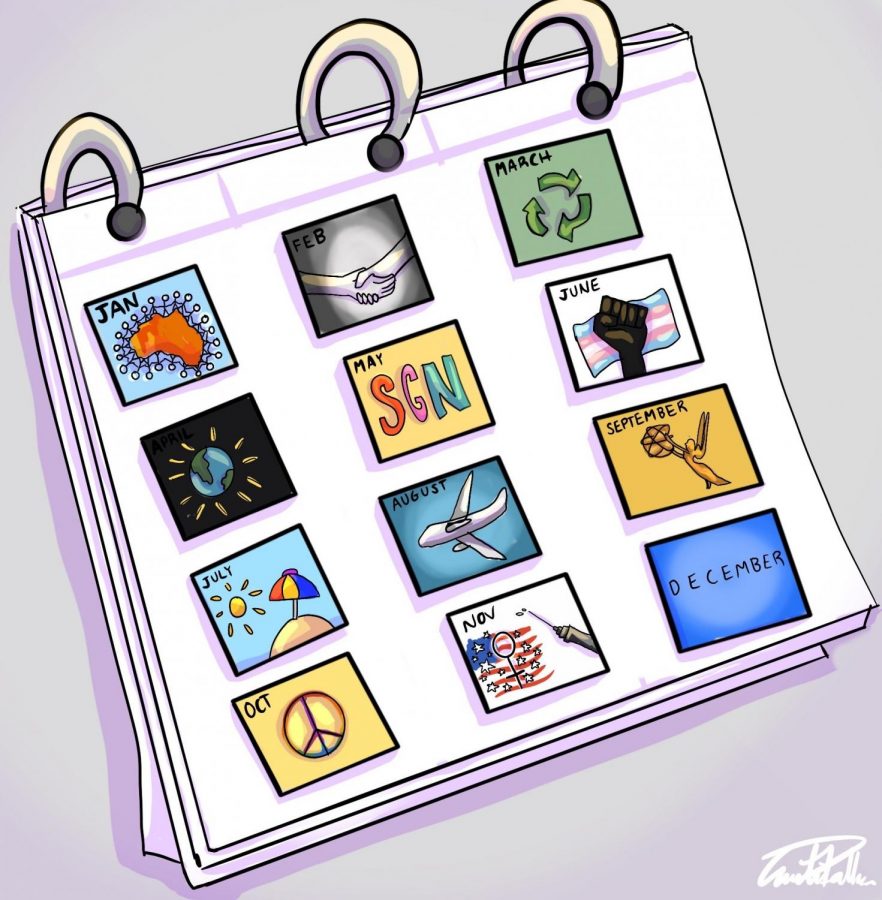 In a year when so much chaos and awfulness took place, it is important to remember that goodness still exists. Life was not just fires, coronavirus, and death. On a large and small scale, each month this year brought something to celebrate or smile about. 
In the most difficult times, human strength and bonds are tested and pushed to the brink. In 2020, the difficulty began in January, as wildfires burned Australia. Nations from all over the world sent in rescue teams to quell the blazing beasts. Along with this, many celebrities donated money to support Australia and the climate crisis. Nicole Kidman and Keith Urban donated half a million dollars to the crisis, Insider reported; TV personality Ellen DeGeneres donated to three organizations and started a GoFundMe page that raised close to two million dollars to support Australia. Corporations from all over the world also sent millions of dollars to the grieving nation: The Paul Ramsay Foundation, started by Australian businessman Paul Ramsay, donated 30 million dollars; and Leonardo DiCaprio donated over four million dollars through the Earth Alliance. The list goes on and on and on. This was the first time in 2020 that the world was put to the test, and humans responded in the best way possible: by helping each other.
For over 18 years, thousands of American troops have been deployed in Afghanistan. Tensions in the Middle East are constantly high, so in February, when the U.S. and Taliban signed a deal to end an 18-year war, it was a cause to celebrate. Not only did the US and NATO remove all troops from the region, but the two groups also agreed to a "prisoner swap," where prisoners from both sides would be released. The agreement orchestrated the agreement that the Taliban would talk to the Afghani government to work out a peace deal.
In March, people quarantined, and as a result, the environment was able to thrive. In New York, and all over the world, "Levels in air pollutants and warming gases over some cities and regions showed significant drops…" the BBC reported. Carbon emissions were slowed by 50% in New York, caused by a significant decrease in air and land travel. This also drew many people's attention to the global warming crisis and served to show how much a reduction in pollution can help the environment. The coronavirus also aided in the cleaning of Venice's famous canals. CNBC reported, "Venice's usually dark, murky waterways have turned noticeably clearer." Furthermore, oceans and beaches all over the world were cleaner and clearer than they had been in years. As the world grieved and stayed inside, the environment was able to heal a bit.
  "One World: Together at Home" was a virtual concert featuring artists from all over the globe. The World Health Organization (WHO) organized the event to "protect everyone's health and support brave healthcare workers doing life-saving work on the frontline," the organization explained. Lady Gaga orchestrated the event with the WHO, and many big names headlined the event, including Billie Eilish, Chris Martin, John Legend, and Keith Urban. The event raised $127 million for coronavirus relief, which went to charities such as food banks and housing providers, as well as towards finding a coronavirus vaccine.
In May, over 100,000 people donated money to Maasai Mara in Kenya to preserve its wildlife and provide income for its inhabitants. A salon owner in India was able to raise 500,000 rupees to feed over 600 families. Small, great moments like these often cause people to reflect on their own experiences. Senior Olivia Dublin shared, "An event in 2020 that made me happy was the first day of school. Even though it was not typical, it was exciting to get to see the teachers faces and my peers."
In the month of June, the nation made positive strides towards making America a more equal and inclusive place. Following the deaths of George Floyd and countless others, many people took to the streets to use their voices to inspire change. While violent protests made the headlines, most protests across the country were peaceful, The Denver Channel reported. The Washington Post shared that, after extensive research, it found that "The overall levels of violence and property destruction [of the demonstrations] were low." 
A new wave of life rushed into the nation as people fought for justice. A landmark law was passed in June:  CNBC reported that the Supreme Court ruled that "workers cannot be fired for being gay or transgender." The law was written by conservative Justice Neil Gorsuch who wrote, "An individual's homosexuality or transgender status is not relevant to employment decisions." The ruling was 6-3 and was a victory for members of the LGBTQ+ community all over the country and the world.  
Junior Isabella Sferrazza explained how her view on happiness has been altered because of this year: "Even through this horrible pandemic, there was more time for family to be together and grow closer than before. I've spent countless hours with my baby cousins and grandparents, supporting each other during tough times." Senior Leo Finkelstein said, "2020 has forced me to cherish my short time because unexpected events, such as a global pandemic, could occur."
The 2020 Nobel Peace Prize was awarded to the World Food Program "for its efforts to combat hunger and better conditions for peace in conflict-affected areas by seeking to prevent the use of hunger as a weapon," Good News Network reported. Serving almost one hundred million people, this organization changes lives every single day. It released a statement which said, "Until the day we have a medical coronavirus vaccine, food is the best vaccine against the chaos." The Nobel Committee praised the organization: "The work of the World Food Program to the benefit of humankind is an endeavor that all the nations of the world should be able to endorse and support."
In November, women all over the world celebrated as Kamala Harris became the first female vice president-elect in the U.S. She is also the first Asian-American to be elected on a presidential ticket. In her first speech as Vice President-elect, Harris made it clear that she "will not be the last woman in the White House." People were also able to gain hope this November as vaccine trials from two companies showed promising results. Aiming to get the first six million doses out by the end of the year, Pfizer's vaccine has been found to be 95% effective. Moderna, another leading company rushing to make a vaccine, reported that its vaccine "reduced the risk of Covid-19 infection by 94.5%," Stat News reported.
This year has shown even in times of extreme natural and human disaster, people were able to help each other. Peace treaties were signed, history was made, and hope was reinvigorated. Finkelstein said, "Covid-19 brought so much negativity, but it also showed how united people could be when forced to be separate. Everything, even small gatherings, became special because of how rare they could occur." Life was not easy this year, but each and every day, there was something to be happy about. If one can take anything away from this year, they should remember that there is always light at the end of the tunnel. 
About the Writer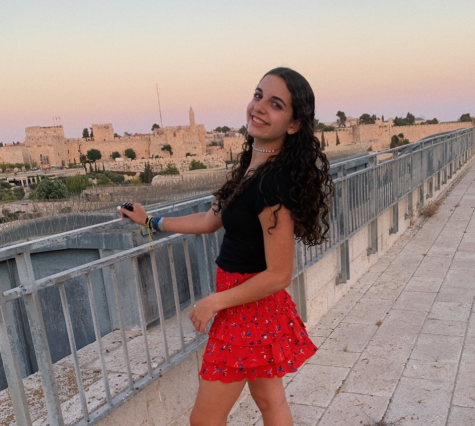 Sophie Ward, Editor
I am Sophie Ward, and I am a managing editor for lhshorizon.com. I am a member of the Class of 2022. I love playing tennis and working out. I also enjoy...