"The Sun is Gonna Shine Again" : Concert Choir Records Uplifting Song with Grammy-Winning Alumnus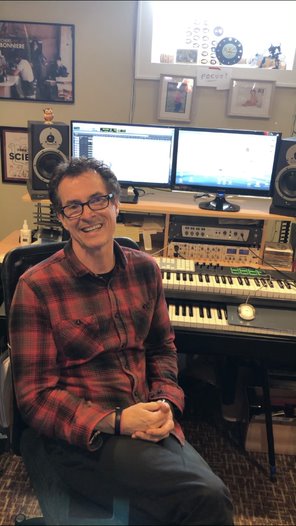 This year has been full of firsts for many LHS students, and as of Nov. 20, some can now say that they have recorded a song with a Grammy-winning artist. Daniel Weinkauf is a longtime Lynbrook resident, LHS alumnus, and two-decade bassist for the band They Might Be Giants. Weinkauf, upon hearing that the high school's music concerts would be cancelled due to Covid-19, reached out to Chorus Teacher Barry Wyner with a proposition: Would the concert choir like to record one of their songs in my studio? 
The idea originated this spring when schools across the country shut down as worries and cases of coronavirus spread like wildfire. Weinkauf texted Wyner saying, "I know it's been a difficult time for you guys. If there's anything I can do to help out, remember I have a recording studio here at my house, and I'm happy to lend my services." Although grateful, Wyner felt that it was too late in the school year to take on such a project. He kept Weinkauf's text in the back of his mind, however, and in October, decided to reach out and see if the offer still applied.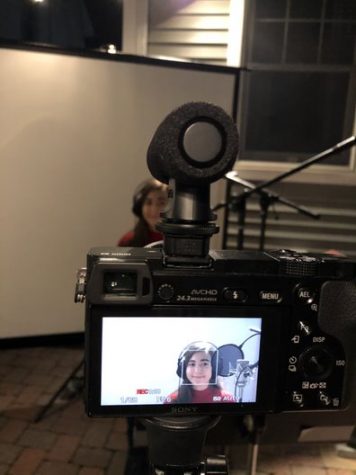 Wyner shared that he was inspired first by the song, "The Sun Is Gonna Shine Again." "It has this unrelenting optimism to it," he said, "and I immediately felt that the lyrics really applied to the situation. It just gave me an emotional reaction, and generally, my own emotions have been my best barometer for how the community will respond."
Despite Weinkauf and Wyner's enthusiasm, the project was not launched without obstacles. First, Wyner had to draft a safety plan for recording, which then needed to be approved by the Board of Education. Next, copyright permission needed to be obtained in order to lawfully record the song. Then, the high school shut down for a week to conduct contact-tracing. And, finally, with all other ducks in a row to begin recording, school district officials informed Weinkauf that he needed to purchase additional insurance on his home so the district would not be liable in case of emergency. 
At last, the fun could commence. Wyner arranged for the choir students to meet on the Kindergarten Center field, and with a drone, record footage for the music video. At an appropriate social distance, they danced and lip-synced to the song; then, a Kindergarten class came outside to join in on the fun! Together, the students played freeze dance and laughed in the bright morning sunshine. 
"I wanted the video to build to a very joyful ending, and five year olds dancing with high school students seemed like the perfect joyful image," said Wyner. "There's also just a normalcy for kids to be able to dance and play together, and this song is really a message that we will soon return to that normalcy."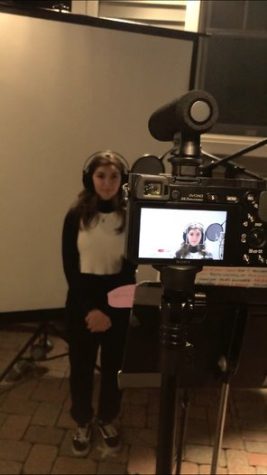 The next day, it was time to record the audio. Students arrived at Weinkauf's house at their designated time, and one by one, travelled into the backyard. Here, a microphone, headset, and camera adorned the porch, with wires fed from a window which connected to the basement's recording equipment. Each student had just one shot to perform their part with a background track. Later, Weinkauf produced the audio, along with the help of Wyner, and sophomore Max Cordes edited the video footage. 
Weinkauf shared that he loved working with the "admired" chorus teacher, who knows how to "bring out the best in each student." He added, "Everybody put their best foot forward at a time when it's very easy to feel down. When Mr. Wyner and I put the final mix together in my studio, I could feel the message of the song. The feeling of hope and optimism in the lyrics came through. It was truly a pleasure to work with Mr. Wyner and the LHS students, even from a good distance."
The choir students were equally delighted by their time with Weinkauf. Junior Danielle Vito said, "I was so excited to work with Mr. Weinkauf because Mr. Wyner spoke so highly of him. He was really welcoming, and it was so generous of him to let us use his recording equipment."
"Because of his experience with music and love for Lynbrook, I knew the whole experience would be incredible," said Senior Maeve Mooney. "The recording session wound up going seamlessly, and I am so grateful that Mr. Wyner organized this video to give us seniors a great last year in concert choir."
The finished product was originally projected to release around Thanksgiving, but because of the one-week school closure in early November, it was pushed back to two weeks after Thanksgiving, just in time for the winter holidays. It can be located on the district website and various social media platforms, including Instagram and Facebook.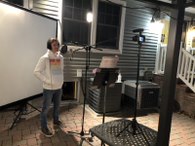 In addition to the music video, Wyner has other ideas in store for the year. In November, chorus students produced their own original songs with the SoundTrap app, and Wyner hopes to publish an album on Spotify with the students' projects. Additionally, the Tri-M Music Honor Society is organizing a virtual holiday cabaret night, and other virtual concerts are also being considered. For now, the LHS concert choir will continue to spread to the community its message of joy and hope: the sun will shine again!
About the Contributor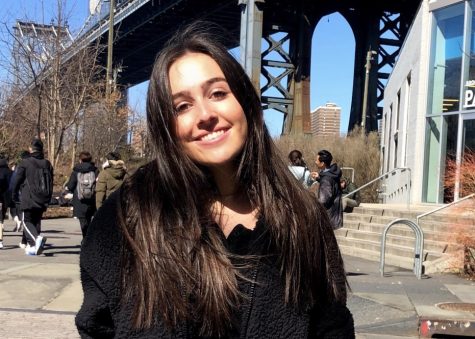 Julia Swerdin, Print Editor-in-Chief
I am the editor-in-chief of the Horizon print edition and the managing editor of our online features section. I'm a member of the Class of 2022, and I...