What Is 'EndSARS'?
Over the past couple of weeks, the hashtag "EndSARS" has been spreading. One may wonder, what is SARS? SARS, the Special Anti-Robbery Squad, is a police unit used to stop robberies in Nigeria. On the surface, SARS seems like a positive unit that will help the people of Nigeria. However, this has proven to not be the case. SARS members have been seen abusing people and accusing them of crimes they did not commit. According to the Washington Post (washingtonpost.com), over the past three years, 82 cases of abuse by SARS members, including beatings, hangings, mock executions, sexual assault, and waterboarding, have been reported. Many are unaware that this unit is corrupt.
A video surfaced on Oct. 4, 2020, that spread to many people. The video showed two men being dragged out by two officers, and one of them being shot. This video caught public attention very quickly and celebrities, including Beyonce, Cardi B, and Drake, began using the hashtag "EndSARS." Since the hashtag blew up, people have been protesting and posting about these events all over social media and all over the world. "EndSARS" got so much attention that it was a topic discussed by candidates during the US presidential race. "The United States must stand with Nigerians who are peacefully demonstrating for police reform and seeking an end to corruption in their democracy," said Joe Biden, according to MSN (msn.com). According to Aljazeera (aljazeera.com), the events shown in the video that went viral are not one of a kind. SARS members have been reported to be hostile and violent. Philomena Celestine, an interviewee in the Aljazeera article, had a run-in with SARS in 2018: "My four-year-old niece was in the vehicle, but they cocked their guns at our car and drove my brothers into the bush where they harassed them for over 30 minutes and accused them of being cybercriminals. They could see my graduation gown but that did not deter them. My sister was trembling and crying in fear."
The tactics SARS members use are viewed by many as harmful and harsh. Many Americans can sympathize with Nigerians because protests about police brutality occurred in America in 2020. LHS students voiced their opinions about the protests and SARS. Amelie Duch, a freshman, explained, "I think people need to be speaking out because police brutality is a major issue in Nigeria and in the U.S. If people don't speak out and protest when things are unjust, then they will forever stay the same." Like Duch, Ezekiel Callahan, a sophomore, believes "… that [SARS members] are definitely abusing their power when they have no right to. The detention centers that they have are an abomination since they are overcrowded and they [tend to] torture people there. It has been too long that they have gone without repercussions. I think we should bring it up to the United Nations… they need to agree to disarm SARS and the officers who unlawfully shot and tortured innocent people…" Grace Loiselle, a freshman, was not aware of the SARS unit and their crimes against civilians. Since she was not informed about this, she wants to make sure more people become educated and aware, and she believes people should "…continue to raise awareness and spread the word. I've never heard of it and this [interview] taught me about it. So, I would say just keep continuing to protest and spread awareness."
Due to many protests and riots all over the world, the SARS police unit was finally disbanded on Oct. 11, 2020. Cheers were heard all over Nigeria. This news is a testament to the power protesting can have.
About the Contributor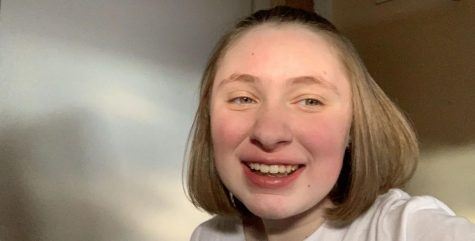 Kerry Cullen, Managing Editor
I am a member of the Class of 2024 as well as a managing editor for Horizon. I like to write, read, sing, and act. One fun fact about me is that I love...