The 72nd Primetime Emmy Awards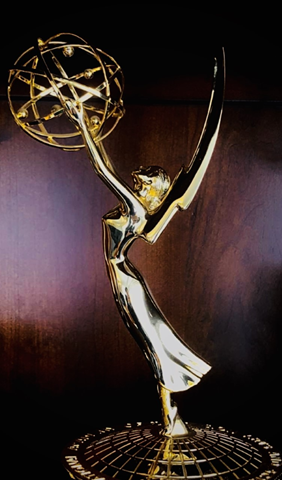 2020 has been a year for the history books. During the early days of the COVID-19 pandemic, life felt like it was on pause when people were forced to stay in quarantine, wear a mask, and social distance while outdoors. It was very unsettling in the beginning, but, as time has gone on, things have gotten better, little by little. When it was time for certain award shows to happen, many were not sure as to how they would be orchestrated, but they found their way. The ESPY's were held virtually, while the VMA's were in-person for some celebrities, but what about the Emmy Awards? Traditionally, the Emmy Awards are filled with glamorous TV stars walking the red carpet, paparazzi clamoring around them, and a funny host. Since there were many restrictions, producers had to get creative. In true theater fashion, though, the show went on. 
Jimmy Kimmel, host of Jimmy Kimmel Live!, kicked off the Emmy Awards on Sept. 20, 2020, from the Staples Center in Los Angeles, California. Kimmel started the show doing what he does best: cracking a couple of jokes. Fans at home saw celebrities laughing and having a good time in their seats. This would look perfectly normal, if it were not 2020. Fans most likely were confused as to why the celebrities were in the audience, not socially distanced, and not wearing masks. After his first joke, however, Kimmel paused to tell viewers that they were simply cardboard cutouts of nominees. The footage was from a previous year, when everything was normal. In reality, all the stars were home on Zoom, excluding those who were presenting the awards at the Staples Center. 
Though they were not physically present at the show, celebrities still got dressed up for the occasion. The best dressed female celebrities were Jennifer Aniston, who wore Dior; Tracee Ellis Ross, who wore Alexandre Vauthier; Yara Shahidi, who wore custom Prada; and Zendaya, in Armani Prive. Not all of the male celebrities decided to dress traditionally, but the best dressed men were Paul Mescal, in Louis Vuitton; Titus Burgess, in a Lee Rickie Collection shorts set; Dan Levy, in a Thom Browne Kilt; and Jeremy Pope, in Louis Vuitton. Michelle Langbart, a senior, commented on all the fashion choices of the night: "I thought it was interesting that all the celebrities got all dressed up, even though they were from home." Freshman Aubrie Wilkonski also shared her thoughts on the matter: "I think it was good that they got dressed up for the award show. They did not have to get dressed up because it was virtual, though. I thought the outfits were cool." Freshman Charles Reis was happy that most of the stars got dressed for the occasion, saying, "I liked that everyone got all dressed up because it is the Emmys, and it is their job to look nice at award shows. I really liked all the outfits. [I] loved both outfits Zendaya wore. [I] liked what the Schitt's Creek cast wore, too."  
A total of thirty-six awards were given out of 160 nominations. The sitcom Schitt's Creek broke a record by winning a total of seven Primetime Awards, two of them being in the Creative Arts category. Wilkonski added, "Well, I think it was a very funny show, so I think they deserved all those awards." Succession, a popular drama series, won the second most number of awards, taking home five Primetime Awards. Actress and singer Zendaya set a record for being the youngest female to win Best Actress in a Drama Series, for her role of Rue in HBO's Euphoria. Langbart noted, "I thought it was cool that Zendaya broke a record for Euphoria, and I thought it was very well deserved." Many Netflix shows like Schitt's Creek, Cheer, Ozark, and Unorthodox did well, and Netflix received 21 awards this year, six less than last year's 27.  Disappointing many of its fans, the hit Netflix series Stranger Things was nominated for eight awards this year and only took home one.  
Kimmel had a lot to say about the Emmys the following night on his talk show. According to Entertainment News (eonline.com), the TV show host went on to say, "We had a lot of fun given the difficult circumstances… The weirdest part of hosting the show was when it was over, you know, there'd usually be parties and everybody is carrying their Emmys around, everybody is happy, everybody is celebrating. This year, the show just ended, and it was like, 'Well, I guess I'll go into my car and drive home.' It was nothing."  Wilkonski said, "His jokes were okay; they didn't make me [laugh hysterically]. [I] thought he was a good host. I would give him a 6/10." 
Additionally, many celebrities had great acceptance speeches. Many of them encouraged viewers to vote in the Presidential Election this year. Reis caught onto this, and said, "Eventually everything had to be mentioned. [I] didn't mind them talking about politics and since it is a big election year…it wasn't inappropriate." Wilkonski disagreed, saying, "I don't think they needed to add in the political stuff because politics doesn't involve most of these celebrities shows."