The Highs of High School
High school is coming to a close for the Class of 2020. Even though there has been an abrupt end to their senior year, this is still a significant time in their lives, as it marks nearing the end of adolescence and coming closer to adulthood. It is natural for these graduating seniors to reminisce on the four years of memories and friendships they have built, and some decided to share some of their best memories from high school: 
Gabrielle Brown:
"I loved making everyone smile and helping them have a brighter day. I also loved morning talks with most of my teachers, hanging out in the library, and out-doing Mr. Brescia on the morning announcements. I'll forever cherish the wonderful people who shaped who I am today, and all the nicknames I've received from all my teachers. Everyone made my high school years amazing, and I'd do it all again if I could. One of my favorite memories would have to be a particular Friday known as 'Gabby Brown Day.' I walked into class one day and my friend exclaimed that it was 'Gabby Brown Day' and so did many other students. Although it went completely over my head, my wonderful yoga instructor, Mrs. McCarthy, led our traditional 'Circle Friday' activity where we focused on our mental health. As we went around the classroom talking about our highs and lows of the week (I didn't have many highs because I was stressed about the week), she exclaimed that she was about to 'change a student's entire week!' Mrs. McCarthy revealed that a student in a different class said I was the high of their week because I made them happy. Their class agreed and later shared how I made them happy in their own way and cheered for me when I came onto the announcements that morning. The class said that I should be celebrated because I try my best to make everyone happy. It was definitely an honor being a senior here at LHS; I hope my LHS family knows how much I appreciate them, and I'll absolutely miss them so much."
Delilah D'Amico:
"[One of my favorite memories] is cheering at the football games and riding in the truck at the homecoming parade. [What I'll miss the most is] probably going to football games."
Nicky Lopez:
"Softball season and homecoming games [are some of my favorite memories] and [I'll miss] Classnight."
Solange Silva:
"My favorite memory is the homecoming game, and the most I will miss from high school is getting F&L with my friends." 
Rocio Garcia:
"My favorite memories are doing Classnight and watching Sportsnight and going to cheer and doing stunting. I'm going to miss walking in the halls and seeing my favorite teachers and going out to lunch with my friends." 
Jane Hoeflinger:
"I would have to say I made some of my fondest memories on the Horizon field trips. Between winning first place Most Outstanding Newspaper, playing MASH, and receiving insight from brilliant speakers, the Horizon field trips were my favorite high school memory." 
Josh Blankstein: 
"My favorite memory from high school was the Disney trip my freshman year. I was lucky enough to march in the parade at Magic Kingdom. I'll definitely miss the tight knit community of Lynbrook." 
Gillary Cifuentes-Arenas: 
"My favorite memory from high school was meeting some great people and making new friends during Classnight. I will miss many of my teachers. High school has taught me that there may be moments where you struggle academically, but as you keep motivating yourself to come back up and to never give up, you will eventually achieve them." 
Charles Benami: 
"Participating in Horizon for the last three years [has to be my favorite memory]. I'll definitely miss the feeling of community in LHS." 
Christian Squitieri: 
"My favorite memory is taking pictures at football games and school events. I'll miss the teachers and seeing my friends the most."
Ethan Renz:
"So my favorite memory from high school is the music trip to Walt Disney World. I'll definitely miss all the friends I've made over the past four years, and my incredible teachers who did a great job bringing me to where I am today. High school definitely taught me that community is always one of the most important aspects of life, and, regardless of the situation, I feel Lynbrook can always come together as a community and be stronger than ever."
Andie Glanzer: 
"My favorite high school memory has to be Adelphi Press Day where Jane and I got to play games with Mrs. Sanders on the bus. I think I'll most miss the people in Lynbrook– my friends, teachers, everyone. Ending high school prematurely due to the coronavirus has taught me to never take anything for granted. I want all the current LHS students to savor every last moment before it's gone."
About the Contributor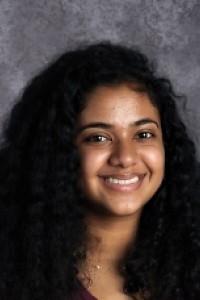 Faith Singh-Koobial, Contributor
I am part of the class of 2021 at LHS. I am in Key Club. I have a dog named Bandit, and I went to elementary and middle school in Queens.