Senior College Commitments Celebrated in Car Parade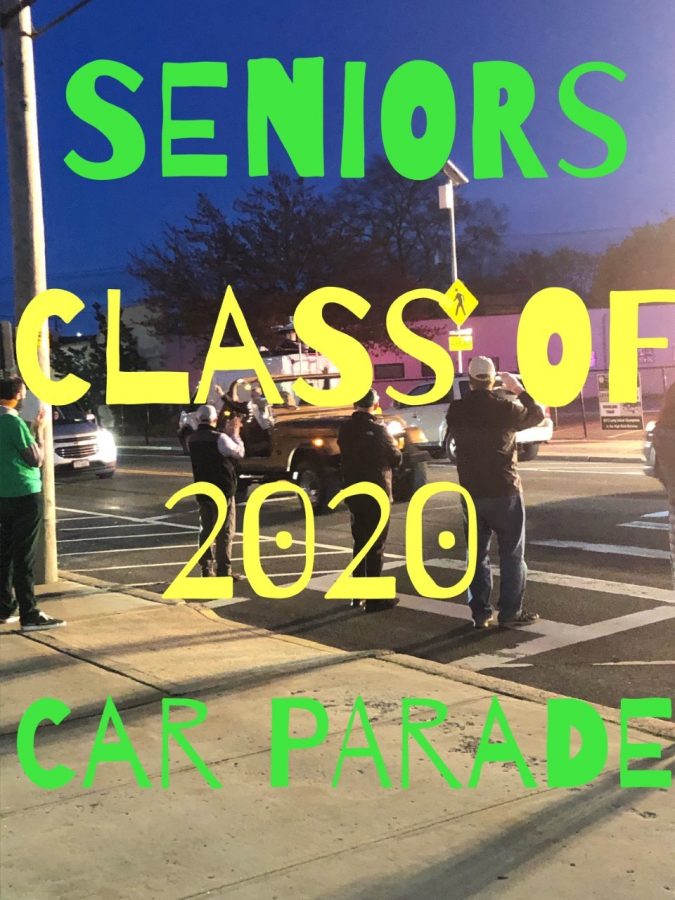 Lynbrook High School seniors, along with district administration, brought a new meaning to the phrase "Friday Night Lights" with a bright and loud car parade to show recognition for the graduating Class of 2020's college commitments. May 1 is National College Decision Day, the official day when seniors commit to and announce their college of choice. Normally, this day is celebrated by the senior class parading around the school, proudly sporting their collegiate merchandise specific to their chosen school. Because of the raging COVID-19 outbreak, LHS, along with every other high school in New York State, has been forced to get creative in celebrating their deserving senior classes.
Nassau County Executive Laura Curran announced that on May 1, 2020, stadium lights and field scoreboards would be lit up across Long Island to show support for the Class of 2020. The illumination of the fields would begin at 8:20 PM, which translates to 20:20 in military time. These symbolic "Friday Night Lights" are a way to pay tribute to the high school seniors who are missing out on the long-awaited end of their high school careers.
Although LHS does not have field lights or a scoreboard on campus, administration and faculty made sure their beloved seniors were appreciated for their college commitments by a car parade. Prior to the parade and when asked what prompted the idea, Principal Joseph Rainis replied, "This idea actually came out of the cancellation of spring sports. Across Long Island, the athletic directors said they want to do something to celebrate the Class of 2020. Lots of schools are lighting up their fields, but we do not have lights on our field! So, we have the Lynbrook Fire Department coming to light up Union Avenue and the front of the school. We have lights on around the entire building. As people drive by, we are going to light up Lynbrook High School!"
Extending from Sunrise Highway to Spencer Avenue, seniors and their families drove past the high school, beeping their car horns, holding up signs, and even waving brightly colored balloons at 8:20 PM. Spirits were high as excited seniors cheered out of their car windows and gleefully sported their college attire. Superintendent Dr. Melissa Burak explained, "Mr. Rainis, Mr. Graham, Mr. Pallotta, and I had a video conference, and we talked about what we can do [to celebrate the Class of 2020]. We said if we light up the high school, we can have seniors drive past. We just wanted to do something for all seniors, not just athletes, not just musicians, but all seniors. It has been a long time since we have seen each other."
Senior Maddy Doyle shared her feelings about the parade: "It was literally such an amazing thing. I am so glad that our school organized it and shows us support during this pandemic. I was happy-crying the entire time, as I'm sure all the seniors were, and I am so happy we were able to have something special, as most of the special events were unfortunately taken away from us this year."
This difficult time is made a little easier by Lynbrook's positive attitude and the ever-present feeling of community. Being able to create unique solutions to problems and keeping high spirits amongst the people in this town is what makes Lynbrook a special place to live. Even though graduating high school students are not able partake in many beloved senior traditions and moments, Lynbrook is working hard to maintain a sense of normalcy and happiness.