Athlete Spotlight: Kyle Serro
With winter sports winding down, it is safe to say that the Lynbrook wrestling team has been one of the most successful teams this season. Senior Kyle Serro is a key part to this success. Though the season ended with the Owls having a 7-12 record, multiple wrestlers this year, including Serro, achieved their own individual victories.
Serro has had an impressive season to date. He holds a 23-9 record this  year, with an impressive 22 pins. He also has had multiple top finishes in tournaments this season, including a first-place finish at Southside after he had pinned a Mineola wrestler for the win. Serro has also earned all-conference honors, while also participating in the Nassau County Tournament qualifier.
Serro is a captain, and has played a big role in the development of some of the younger wrestlers on the team. Fellow captain and senior Sean Curley explained, "Kyle has always been a leader on the wrestling team. He motivates the team in practice and is a great person to be a team captain with." Coach Rich Renz agreed: "Kyle is a positive role-model for the underclassmen, always helping them become better wrestlers." Serro's leadership this year has allowed Lynbrook to have multiple wrestlers finish in high rankings in tournaments, while leading the Owls to an overall successful season.
In addition to his natural talent, Serro's work ethic has also played a huge role in his success over the past four years. "The willingness to prepare to win and the support from my teammates and coaches has allowed me to be successful over the years," commented Serro. "[I am going to miss] the daily grind and the camaraderie with my teammates and coaches," he added. Curley added, "Kyle has always worked very hard, and even after a tough match, he always gets back up and continues to grind. The biggest contributor to Kyle's success is his ability to get back up after defeat. You couldn't stop him from working hard and continuing to make improvements."
The season is not over yet for Serro as he continues to strive for all-county honors. But as his last year of Lynbrook wrestling is coming to a close, Serro reflected on his greatest memory with the Owls: "Winning by a pin to clinch the conference title as a freshman with [my] brother" is a memory that Serro will cherish forever. 
His impact on the wrestling team has been felt by his coaches and teammates as well. "It's been great being on the wrestling team with Kyle… Being team captain with him has been a really great experience," commented Curley. Renz added "[ I will miss] the positive presence he has that gets passed down to the underclassmen. His leadership skills have benefited the team greatly. That's why he was picked to be a captain."
About the Contributor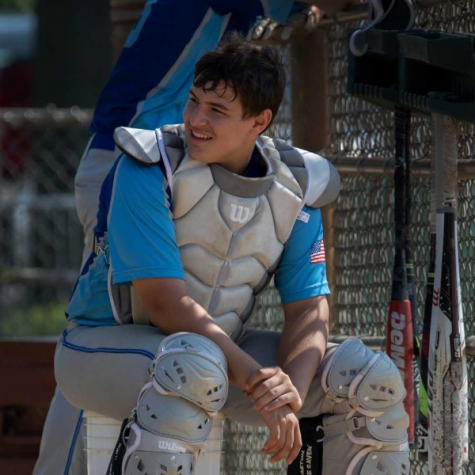 Dylan Burfield, Managing Editor
I am a student in the class of 2020. I have been writing for Horizon, both online and print, since my freshman year. I am now a managing editor on the...