Block on TikTok
TikTok, currently the highest grossing social media app on the market, has been banned by the United States military. Following guidance from the Pentagon, the U.S. government released a statement stating that the popular video app will be banned from government issued cell phones. Considered to be a "cyber threat," the banning of TikTok highlights growing tensions with its China-based parent firm. 
The popular video app has become a favorite for many American teenagers in recent months. TikTok is a social media platform designed for creating, sharing, and discovering short music videos. With time slots from fifteen seconds to a minute, a user could create a TikTok and become "TikTok famous" virtually overnight. The reason why most use the apps is not to lip-sync to music, but rather to enjoy quick, funny videos without having to search the Internet. 
The app has been addictive for many. Sophomore Bella Sferrazza said that she is completely addicted to the app: "I love TikTok. I could scroll through the app for hours on end. There is just so much funny and entertaining content on the app. Why wouldn't someone love it?"
The military does not generally issue policy measures on social networking apps, but this ban stems from something greater than inappropriate humor. The ban reflects deep-rooted concerns about the app's Chinese parent, ByteDance. BtyeDance is an Internet technology company with headquarters located in Beijing. The U.S. government has been led to believe that the Chinese company is using the app to gain American citizens' personal data. 
Just months ago, the U.S. Army was using TikTok as a broadcasting platform to reach a younger audience for recruitment. In late October, however, Arkansas Senator Tom Cotton and New York Senator Chuck Schumer asked intelligence officials to investigate whether TikTok presents a national security risk, fearing that the Chinese could gain access to Americans' personal information. As of December, the U.S. Army began to advise against using TikTok on government issued cell phones. The U.S. Navy has also recently put out a similar guidance, prohibiting the installment of TikTok on government issued phones. 
The U.S. Defense Department has recommended that service members be aware of the apps downloaded and installed on government-mandated devices. Also, service members should research the app developers' ownership company for any sign of suspicious foreign connections. Sophomore Lexi Capitali said, "TikTok being banned by the military is scaring me a little. What if TikTok is stealing our information? At least the government is being cautious enough and not willing to take any risks." In a report released by ByteDance, TikTok "did not receive any government requests to remove or restrict content or any legal requests for account information."
Social media companies today are some of the most powerful sources of private information. They contain all personal data, photos, and texts, possibly storing them in databases. Junior Ryan Marrione detailed his thoughts on social media companies and privacy: "I think it's a good idea for the U.S. [military] to ban TikTok. I barely want my personal information online, let alone our government's. I just think these companies have too much control over us," exlained Marrione.
Uninstalling TikTok will not prevent already potentially compromised data but could keep additional private information from being compromised. This banning of TikTok by the government should serve as a reminder to keep private information out of the grip of the Internet. Who knows where that information could be accessed? 
About the Contributor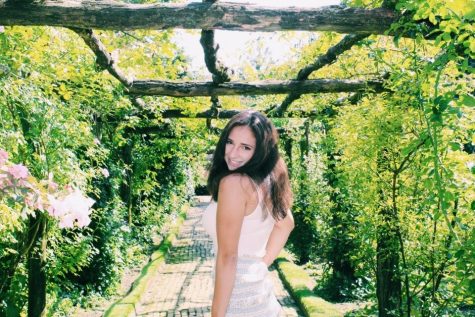 Elizabeth DiFiore, Managing Editor
I am a part of the Class of 2022. I am a news online editor and a managing print editor for the features section of Horizon. I am an avid reader and writer.