How Much Competition Is Disney Plus for Netflix?
By now, most people have heard of Disney's new streaming service, Disney Plus. On November 12, Disney released its own streaming service, competing with Netflix. Disney Plus features everything Disney owns the rights to, such as Marvel, Pixar, Star Wars, National Geographic, and, of course, Disney and Disney Channel. Disney Plus costs $7 a month or $13 per month for Disney Plus that also includes Hulu and ESPN. Netflix ranges from $9-16 a month, depending on which plan is chosen. According to Variety magazine (variety.com), since its release in November, over 10 million people have signed up for Disney Plus, and The New York Times says that Disney Plus predicts that it will have 90 million users by the year 2024. 
Since Disney Plus houses so many well-known movies and TV shows, many people will likely choose it over Netflix. Disney Plus also costs less than half of Netflix's premium plan. Freshman Shannon Monaco, who has both Disney Plus and Netflix, says, "I like Disney Plus because it has all of the shows that I liked when I was little, but I like Netflix better because it has newer shows." Freshman Samantha DeLucca said that she likes Disney Plus because it has all her favorite childhood shows. DeLucca also said that she likes it the same as Netflix.  
Many people would agree that Netflix has newer shows since Netflix has award-winning, original shows such as Stranger Things. Disney Plus also has original shows. One show that has gotten to become very popular, is called High School Musical: The Musical: The Series. The show takes place in the high school where the movie High School Musical was filmed and is "mockumentary" about the students who go there putting on a performance of High School Musical for the school's drama club.       
Even though Disney Plus is big competition for Netflix, Netflix does not seem to be worried. At the Dealbook Conference in New York, Netflix CEO Reed Hastings, said, "I'm not saying we worry about them; we admire them." Hastings even said that he will subscribe himself and that Disney Plus has great shows.  
Netflix has new shows and movies that are coming soon. Netflix recently announced its partnership with Nickelodeon. Victorious, Sam and Cat, and many Nickelodeon original movies were added. Netflix will come out with original series collaborating with Nickelodeon. The series will be cartoons, featuring new and old cartoon characters like SpongeBob. Freshman Christina Woessner said that she really likes how Netflix added all of her favorite Nickelodeon television shows. 
Disney Plus is not Netflix's only competition. Apple TV Plus was recently launched on November 1, and HBO Max is set to be launched in May. Hulu was never a big competition for Netflix, so this appears Netflix's first real competition.   
About the Writer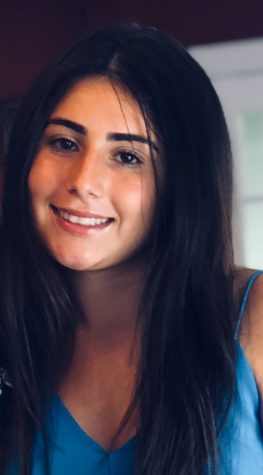 Marissa Cangemi, Reporter
I am a member of the Class of 2023. In my free time, I enjoy handing out at home with my family and friends.