The Secret Ingredient to a Successful Business
It is no secret that today the fate of small businesses is often less than optimistic; 20% of small businesses in America fail in their first year, 30% fail in their second year, 50% fail in their fifth year, and 70% fail in their tenth year according to an article from Fundera's website (fundera.com) entitled "What Percentage of Small Businesses Fail? (And Other Need-to-Know Stats)." A resident of Lynbrook or East Rockaway need not look far from home to notice empty storefronts with "For Rent" signs posted on their windows. However, these statistics show that not all small businesses are doomed to failure; in fact, some small businesses in Lynbrook, including the cooking school À La Carte, do extremely well.
À La Carte opened its doors in 1999 and has since been in operation for 20 years, making this past July its twentieth anniversary. The school offers children's classes for ages eight to sixteen as well as adult classes, private parties, and corporate teambuilding events. A wide variety of courses are offered, from baking to pasta making. While the classes are in progress, students, assisted by professional chefs, work together to create meals to be enjoyed at the end of the class.
Polly Talbott, À La Carte's owner and founder, was inspired to start her own business by her former career as a food stylist. "I used to do food styling for photography, and when I was at work, everybody was always asking me a lot of questions. I could see there was a real need for cooking schools," Talbott stated. "At that point, there weren't a lot of [cooking schools], and it was the beginning of teaching people to cook," she added.
So, what exactly is the "secret ingredient" to À La Carte's success? Talbott says it is simple: have a pure mission. "Start a business with the objective of making people happy and giving them something good for their hard-earned money," Talbott explained. "My mission has always been to help people see the pleasures of eating and cooking great food; the mission is pure." This, along with a lot of attention to detail, being respectful to customers, and being grateful for the business one gets is, according to Talbott, the recipe to a successful business.
Another key element to running a thriving company is getting positive feedback. "It feels good because I've had a lot of good feedback. It's probably what's kept me here so long," Talbott stated. A business with less-than-amazing reviews may turn off potential customers, making it hard to earn money. LHS students who have taken a class at À La Carte offered some of their own feedback. "It was a really fun experience," stated sophomore Sophia Sullivan. "It was really easy to follow along and understand. [I learned] to make sure to prep before you start cooking," Sullivan added. Genevieve Rolnick, a sophomore, stated, "I enjoyed learning how to make crepes so I could use them to make other desserts at home." Both students would like to attend another class in the future.
Although owning a business requires a lot of devoted time and effort, Talbott says that one should always try to have fun. Her favorite part about owning À La Carte is getting to design healthy menus with carefully chosen recipes that class-takers are sure to enjoy. "I love putting the classes together to make sure they're balanced. My secret mission is to make people feel healthy," Talbott stated. Anne Long, À La Carte's administrative assistant, also enjoys the experience of working at a cooking school. "I like being exposed to new and different foods, as well as seeing a lot of different people come in, especially schools," Long stated.
About the Contributor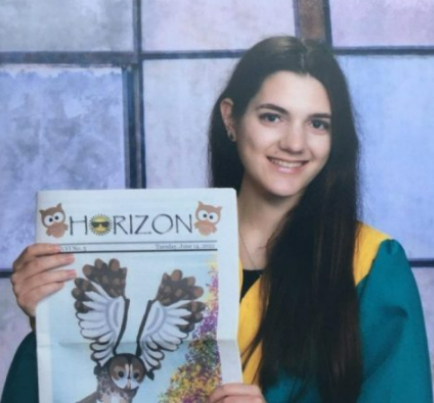 Kate Chiulli, Print Editor-in-Chief
I am a member of the Class of 2023 as well as one of the editors-in-chief of the print edition of Horizon. I enjoy reading, playing the violin, and using...