Festive Films to Watch by the Fire
It is that time of year again: The time to break out those cozy flannel pajamas, make some hot chocolate, and snuggle up with your dog or cat while watching the perfect holiday movie. Here are this year's top holiday movies to watch either by yourself or with your loved ones:
Elf: Directed by Jon Favreau and starring the ever-so-funny Will Ferrell, Elf  has proven to be one of the most beloved holiday movies of this generation. It covers the story of a "normal" man growing up in Santa's workshop, raised by elves, and how he comes to find his real family and learn where he truly belongs. This hit comedy will have you laughing your jingle bells off! It is perfect to watch with your family and to keep all ages entertained. From singing, to fights, to break dances in mailrooms, Ferrell will keep you full of enough Christmas cheer to power Santa's sleigh. 
The Polar Express: The Polar Express, directed by Robert Zemeckis and starring Tom Hanks, is the epitome of the classic childhood Christmas movie. Zemeckis and Hanks, the dynamic duo behind Forrest Gump and Cast Away, united once again to tell the inspiring adventure of a young boy who doubted the existence of Santa, but embarks on a journey to not only discover himself, but to show those who fail to believe the wonder of life. Sophomore Emmie Paladino called it her absolute favorite holiday film: "I love all the singing and dancing. I've been watching this movie ever since I was a little kid, and I continue to enjoy it every time." 
Last Christmas: Last Christmas is the newest holiday movie to hit theaters, and critics are already saying it is a must-see this holiday season. Directed by Paul Feig and starring Game of Thrones star Emilia Clarke and Crazy Rich Asians heartthrob Henry Golding, this story has all the makings of a timeless classic. Nothing seems to go right for Kate (Clarke), who works as an elf in an all-year Christmas shop. That is until she meets Tom (Golding) – who just seems too good to be true. It is a spirited Christmas romance with all the potential to be a new holiday movie staple.
National Lampoon's Christmas Vacation: Lampoon's Christmas Vacation, directed by Jeremiah S. Chechik, is an '80s family movie classic. As the holidays are around the corner, Clark Griswold (Chevy Chase) tries to have the perfect family Christmas, but to his surprise, he is in for one extremely wild ride of a holiday. From hick surprise cousins, campers, and squirrels in the evergreens, Chevy Chase will have you laughing all night. "This is my all-time favorite Christmas movie. It's my favorite movie to watch with my family during the holidays. Clark Griswold is one of the best characters ever made for the screen," said sophomore Hunter Brenneis. This movie is perfect to watch this season for the whole family. 
The Santa Clause: A personal favorite, The Santa Clause, directed by John Pasquin and starring the talented Tim Allen, is a joyous, illustrated story of Santa Claus. The story begins with your average divorced dad, Scott (Allen) and an accident that leads him to becoming the very new Santa Claus. Scott and his family both think he is going crazy when, in reality, he simply does not believe in Santa. This is a story of love between a father and son, and what lengths parents will go to to make their children happy. Pasquin brings the North Pole to life in this film with an imagination of a believer and a twinkle of holiday spirit.
Home Alone: Home Alone, directed by the brilliant Chris Columbus and starring Macaulay Culkin, is a holiday classic for people of all ages to enjoy. It portrays the tale of a bratty eight-year-old named Kevin McCallister who is abandoned in his house when his whole family goes to Paris for the holidays. After wishing that he never had a family at all, Kevin rejoices, thinking this is the best thing that's ever happened to him. But little does he know what will occur before Santa comes down the chimney.
A Christmas Story: A Christmas Story, based on the writings of Jean Shepherd, is a holiday tale cherished by many. This holiday comedy follows the wintry adventures of Ralphie Parker– played by Peter Billingsley– a boy who has a knack for trouble and dreams of his ideal Christmas gift: a Red Ryder air rifle. Frequently at odds with his cranky father and his doting mother, Ralphie struggles to make it to Christmas day with his glasses intact. This charming storyline lands A Christmas Story a prime spot on many top holiday movie lists.
Die Hard: Die Hard, directed by John McTiernan, is quite possibly the most controversial Christmas movie of all time. New York City policeman John McClane (portrayed by Brue Willis) visits his estranged wife and two daughters on Christmas Eve. He joins his wife at a holiday party when the celebration is interrupted by a band of terrorists. McClane soon realizes that no one can save the hostages – except him. "Die Hard is the most underrated holiday movie. This is a movie you can watch during the holidays or all year round. I love the action and the funny commentary," commented sophomore Matt Duch. An action-packed, hilarious, rememberable film that will have you entertained all 132 minutes!
About the Contributor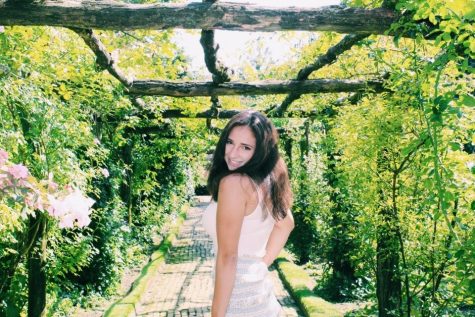 Elizabeth DiFiore, Managing Editor
I am a part of the Class of 2022. I am a news online editor and a managing print editor for the features section of Horizon. I am an avid reader and writer.