Kanye West's 'Jesus Is King' Album Review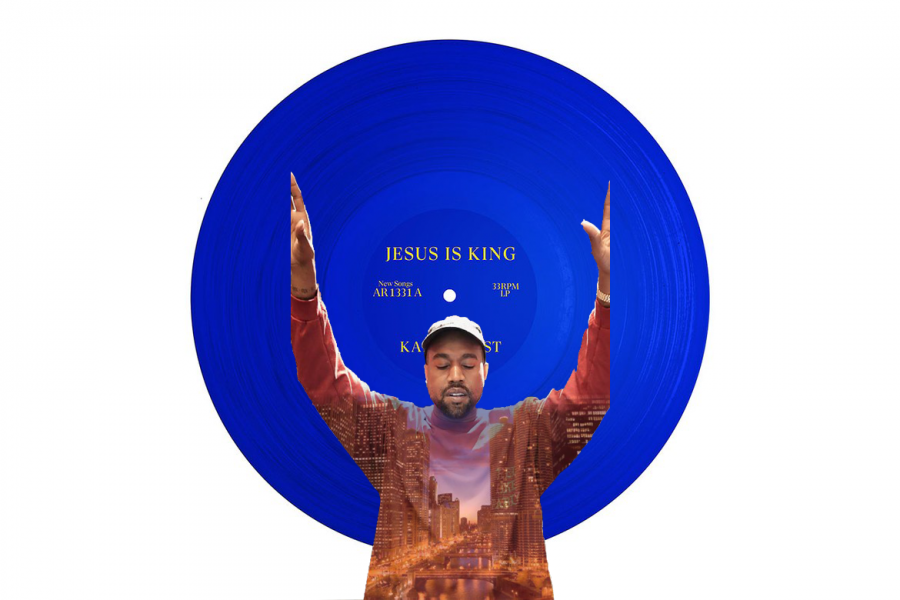 There was a time not long ago when uttering "Kanye West" and "gospel album" in the same sentence would be seen as preposterous. But on Oct. 25, the legendary, yet controversial hip-hop visionary released his highly-anticipated religious inspired album Jesus Is King, and critics had much to say, both positive and negative. This is a major change from the usual pop-rap style of music that he has become famous for, but a change welcomed by many hip-hop fans who were interested to see if West could successfully combine the two genres of music.
This album comes following his 2018 release of ye, and his joint project with fellow artist Kid Cudi titled Kids See Ghosts, which many considered to be one of the best albums of the year. Expectations were high for this album, which was originally promoted as an album called Yandhi, a play on the words "Ye" and "Gandhi." The album was supposed to be released in September of 2018, but was delayed numerous times before being scrapped and rebranded completely as the gospel album Jesus Is King.
The opening track is titled "Every Hour" and entirely features the Sunday Service Choir that West has teased snippets of and sampled in his music multiple times before. It is an upbeat, piano-driven song giving praise to God. This track is sonically appealing, but really just serves as a quick introductory piece, as the true opening track comes next with "Selah." 
Opening with West rapping over an organ and a bludgeoning percussion, "Selah" switches up at the 59 second mark to introduce the choir again before West enters back onto the track at the end. The song itself is very overwhelming and loud, and West's vocals are not of the highest quality, which is unnatural for such a talented producer. In his review of the album, Brendan Klinkenberg of Rolling Stone (rollingstone.com) said, "Sounding as if he were recorded from one room over, West is no longer the brash bandleader standing in the center of the storm. Instead, he's simply hanging on, delivering slightly more focused versions of screeds delivered last week in lengthy interviews."
Next on the album comes "Follow God," the track with the most commercial success, perhaps because it sounds the most like a traditional Kanye West song. Opening with a vocal sample, West waits no time before getting started. He raps over a chop-up-the-soul beat and employes a well-executed staccato flow. However, lasting only 1:45, this is one of those tracks that leaves the listener wanting a little more. Senior Adam Polokoff agrees, saying, "This was my favorite song on the album, but I wish there was a feature or a hook or something to add to the experience. I feel like it's over before it even begins."
The upbeat atmosphere built up by "Follow God" is immediately stripped away by the dark and brooding track "Closed On Sunday," where West opens with the line "Closed on Sunday / You my Chick-fil-A," perhaps the worst line of 2019. This is followed by the Pierre Bourne produced "On God," which has a beat that sounds a lot more like a casino slot machine than a hip-hop-worthy sample. West does not bring anything special to either of these two tracks, and thus neither of them has much replay value.
West does somewhat successfully revive the album for at least one track with "Everything We Need," featuring a pleasingly melodic hook by Ty Dolla $ign and vocals from Ant Clemons. Unfortunately, West's subpar bars mixed with having a run time less than two minutes leaves the listener again wanting more. Ant Clemons returns for the next track, "Water," which, although goes without drums, does have appeal with the return of the choir and Clemons' well-executed verses. 
The eighth song on the album, "God Is," puts West's singing abilities on display, as he discusses how all of his material success is a direct result of his faith in God. Although his performance is imperfect, it feels genuine, which can at least be appreciated if not fully enjoyed. Senior Rachel Campanile acknowledges West's effort, saying, "It really sounded like he was trying to speak from his heart and get his message across."
Next comes perhaps the most underrated track on the album, "Hands On," where he addresses the skeptics who doubt and criticise him for releasing a Christian inspired album over a dark beat with an oddly satisfying chopped vocal sample. Although it is not one of the most commercially successful songs on the album, a combination of the sample mixed with melancholy lyrics make this a song that unexplainably sounds better at night and has perhaps the most replay value among all songs on the album.
The second-to-last song on the album, "Use This Gospel," builds on this dark energy. With a surprise feature from Pusha T and a harmonic humming sampled in the background, this track is another that is worth several replays. Perhaps the best part of this song, although unorthodox, is the saxophone serenade performed by legendary jazz artist Kenny G just before the beat switches at the end of the track. "I'm not even a jazz fan, but I enjoyed the change of pace that Kenny G brought to the song," said senior Arianna Paxinos. 
The album comes to a close with a 49 second outro titled "Jesus Is Lord," which again features West's unimpressive vocal abilities, which are luckily masked on this track by his ability to harmonize with the symphony of trumpets in the background. 
One of the main criticisms of Jesus Is King is West's overall performance on many of the tracks. He fails to deliver any mind-blowing bars or impressive flows, thus failing to give many of these songs any kind of replay value. On top of this, the production is inconsistent, and the features can only do so much to add to the replay value of this album. Ultimately, this is a project that, although has its highlights, is not worth much more than one listen.