Two LHS Seniors Recognized as Long Island Scholar Artists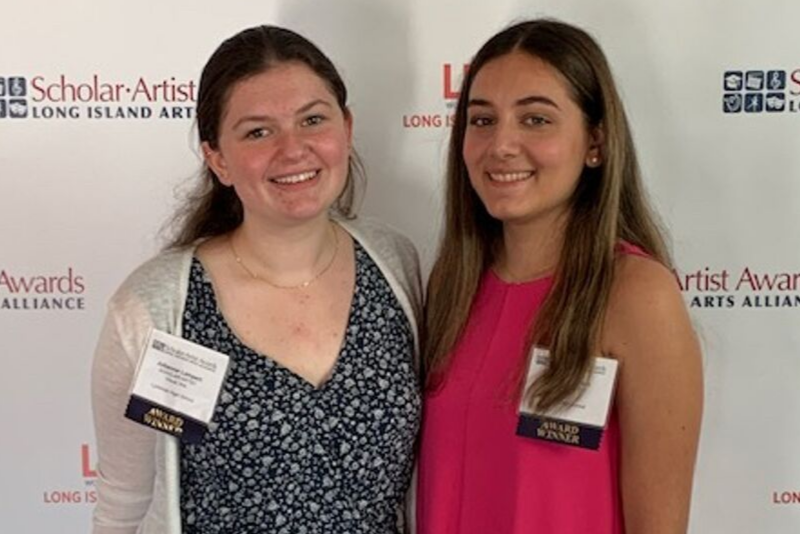 Two seniors were invited to be in the Long Island Arts Alliance Scholar Artist Progra in September. With only 20 students on Long Island receiving this honor, having representation from two LHS students is a rare honor. Senior Julianne Lampert was recognized as a scholar artist for visual arts, and senior Arpie Bakhshian was recognized for music as a violinist. They were honored during a ceremony at the Tilles Center for the Performing Art on Spt. 11..
The Long Island Scholar Artist Program annually recognizes students who excel both academically and artistically, including the areas of music, visual arts, dance, theater, and media arts. Superintendent Melissa Burak, Director of Fine and Performing Arts Joseph Pallotta, Orchestra Teacher Alyssa White, and Art Teacher Jennifer Turner each played supporting roles for the two scholar artists over their years at LHS and at the ceremony, along with the students' families. 
When asked how she felt about winning, Lampert replied, "I was so excited when Mrs. Turner nominated me to apply for the scholar artist award, but I never thought that I would actually get it! Art has been such a big part of my life these past few years. It's the way I relieve my stress and express myself. It can be tough to balance both art and school, so it feels so good to be recognized for both. I'm so thankful for this opportunity, and I hope more Lynbrook students will apply in the future." 
Bakhshian similarly responded, "This was such a surprise; I honestly had no idea that I would be selected as a scholar artist. My passion for the violin has only grown over the years, and I feel so honored to have been chosen. I would definitely recommend other teachers to nominate their students and for students to stay involved in the arts."
From long hours practicing for auditions and learning new pieces to perfecting art projects and developing creative new works, Bakhshian and Lampert have worked very hard for this acknowledgement. Both White and Turner agreed, with White saying, "They deserved to be recognized as the scholar artists that they are."