Senior Backpacks: An LHS Tradition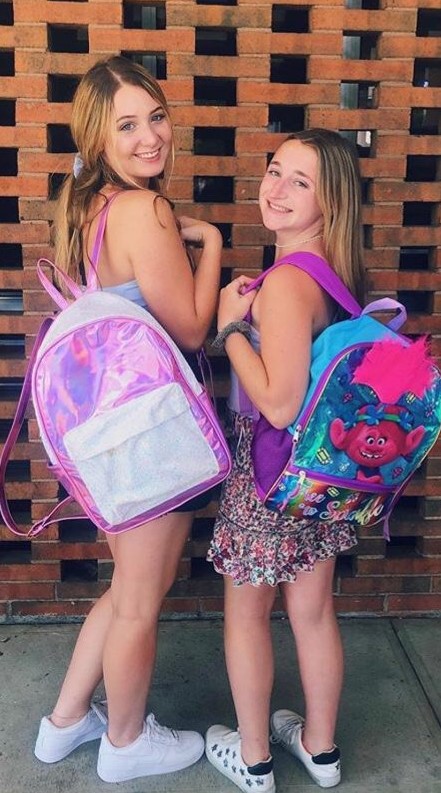 As you walk through the halls of LHS, you may steer your attention towards a group of seniors talking and walking besides each other. There is nothing unusual about their appearance other than what rests upon their backs. What makes them stand out from the rest of the crowd are their unique and quirky backpacks. Some may call senior backpacks a tradition at LHS, but where exactly did this tradition to originate?
Throughout the years at LHS, these so-called senior backpacks have been reaching new heights and becoming more and more of a trend. Whether it is a backpack from a favorite childhood television show or just a unique design, they are everywhere. But why not just purchase a regular backpack? Senior Caroline Ridings explained, "This year, I decided to have a senior backpack mainly because it gives me the opportunity to have one more chance to pick out a fun and cute backpack for my last official school year as a kid before I venture off into college and head into the real world." Senior year is a time to embrace who you are and live life to the fullest because in a blink of an eye, high school will be over. The family, friends, and teachers you have become used to being surrounded by from time to time will not be there to guide you. If there is any piece of yourself that feels as if they are holding back, this is the time to break free of restriction. Having a backpack that is different from the rest of the crowd shows that you no longer care about what others think and are doing what makes you happy.
Even though it can be unique to have a backpack that differs from the rest, a deeper meaning lies beyond what one may think. Standing out is not the only motive for having one of these backpacks. A sense of innocence is exerted in the tradition, and it can give seniors something to hold on to. These backpacks remain as a reminder of their adolescence but also as a wake-up call because they know that that they will not be remaining in LHS for much longer. The backpacks are a way to express the student's inner child that seems to be slipping away as each day goes on and as the seniors approach the end of their high school experience. Senior Jordana Swimmer stated, "I chose to get a Jojo Siwa backpack this year. Having a funny backpack is basically a symbol showing that you have made it to senior year and are ready for the next chapter in your life." Owning a senior backpack can also be viewed as an achievement because having one shows that you have climbed up the ladder and worked hard to make it to where you currently stand as a senior in preparation for graduation. Senior backpacks are symbols of an individual's childhood and the memories that he/she has created throughout the course of his/her life.
Some people may think that it is unreasonable to purchase a new backpack to use for only one more year. One may not want to spend the money, think it is strange, or possibly think that they are not reliable enough to use for a long period of time. Senior Jolie Sebel commented, "I did not want to buy a new backpack when I could just reuse my old backpack from last year." Not all seniors buy senior backpacks because of these reasons, but they may be missing out on the fun of embracing who they are by using a backpack that means something to them. Senior backpacks encourage creativity and bring out fun during stressful times of college application deadlines and admissions. Showing up to school with a backpack that represents individuality and creativity demonstrates how you have made your mark at LHS and are now ready to alter your life as you know it and become a grown up. A senior backpack is one last cry for childhood before you go out and face a world of new people and challenges. A senior backpack may just appear to be a backpack from its physical appearance, but inside, it holds cherished memories, an end to an era, and even a start to adulthood.