A Night at the VMAs
Oh boy, what a night! The 2019 MTV Video Music Awards (VMAs) aired on MTV and were held at the Prudential Center in Newark on Monday, Aug. 26. The VMAs are never really about the music and video awards. The attention is focused more towards the crazy performances, celebrity appearances, and monstrosities of outfits finding their way towards the "Worst Dressed" list.
The show opened with Taylor Swift performing her hit song "You Need to Calm Down," expressing LGBTQ-positive messages emphasized by rainbows and drag queens on stage. She then played her title track, "Lover," from her new album, and she brought some "old Taylor" back by playing the acoustic guitar so that the focus was solely on the music.
The host of the night was Sebastian Maniscalco, an American stand-up comedian known for his hilarious commentary and connection with Italian roots. It was an interesting choice, considering that the VMAs are marketed towards young, teenage audiences, and he opened with jokes bashing young teenagers. Yet, Maniscalco made the audience laugh at themselves. Sophomore Isabella Sferrazza said, "He is absolutely hilarious! My friends and I love watching his stand-up, and I can personally connect to his crazy Italian background. It was refreshing to see someone different hosting such an award show. I never would have expected it."
Maniscalco's jokes were not the only hit of the night. Performances by Shawn Mendes, Lil Nas X, Missy Elliot, H.E.R, and Normani rocked the stage. Miley Cyrus performed in front of a black and white set with a new, emotional song titled "Slide Away," which discusses her recent spilt from husband Liam Hemsworth. Shawn Mendes and Camila Cabello gave the audience a glance into their whirlwind, steamy romance with the performance of their top-charting duet, "Senorita." The Jonas Brothers returned to the VMAs stage together after ten years and performed live from Asbury Park. The New Jersey natives delivered an amazing performance in their home state, with everyone in the crowd screaming their record-breaking hit, "Sucker." One of the crowd's favorite performances was by Lizzo. Lizzo had the whole arena dancing to her number one chart topper, "Truth Hurts" and her motivational, catchy song, "Good as Hell." "I am obsessed with Lizzo! Her positive influence on young women today and her message of self-love is inspiring to me. Not to mention how catchy her music is!" commented Amanda Larow, a sophomore and an obvious Lizzo fan. Lizzo really does put the "SING" in single!
At last, the whole point of the show was the awards themselves. The first award for Best Hip-Hop Video of the Year went to Cardi B for her hit single, "Money." The award for Best Latin Music Video was presented by Alison Brie and French Montana, who took time to express their political views about immigration and the treatment of Latin Americans in the U.S. The award went to Rosalia and J Balvin for "Con Altura." Taylor Swift took home the Video for Good Award and Video of the Year Award with her latest hit, "You Need to Calm Down." She beat out 21 Savage, Billie Eilish, the Jonas Brothers, and Lil Nas X. Missy Elliot received the Video Vanguard Award for her decades of success in the music video industry. The Song of the Year Award went to Lil Nas X and Billy Ray Cyrus for their explosive hit, "Old Town Road." The Jonas Brothers won their first VMA since reuniting as a band for Best Pop Video with "Sucker." Lastly, the never-disappointing Billie Eilish won Best New Artist.
The VMAs ended with performances from New Jersey natives Ice Cube, Naughty by Nature, Redman, Wyclef Jen, and Fetty Wap. Even Queen Latifah joined in on the fun. The tribute to the Garden State gave a heartfelt touch to the explosive, fun-filled night. "Award shows are always fun to watch. A good escape from reality. I loved the VMAs this year!" exclaimed sophomore Emmie Paladino. As an audience, we get attached to artists. We love watching their triumphs, feeling their pain alongside them, and rejoicing when they win the awards they deserve. The anticipation, the drama, and the music all build to something bigger than just another award show. So next year, be prepared to sit on your couch, make some popcorn, get some friends together, and watch to see how MTV can try and top this year's success.
About the Contributor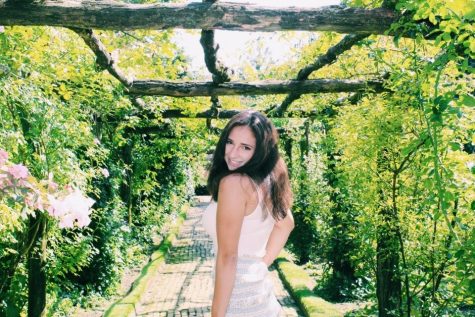 Elizabeth DiFiore, Managing Editor
I am a part of the Class of 2022. I am a news online editor and a managing print editor for the features section of Horizon. I am an avid reader and writer.