Colorism Is an Issue No One Talks About
When one sits down to watch a movie, he/she typically does not pay attention to the diversity of actors in that film. However, if one does pay attention, there is a noticeable trend of darker skinned actors not being featured in films. One of the reasons for that is colorism. Colorism is not so much being judged on one's race or the color of his/her skin, but the shade of it. Colorism is a major issue that impacts Hollywood and the film industry. "Colorism," according to NBC News, "[is] the idea that light-skinned minorities are given more privilege than their darker skinned peers." This problem is more prevalently seen in the movie industry than any other. Movies like The Hate U Give, for instance, received a lot of criticism when the trailer first came out because in the book, Star, the main character, was portrayed as a dark-skinned black teenage girl, but in the film, Amandla Stenberg, a biracial, light skinned black teenager, played her character. And, this is not the first instance that something similar has happened. Some argue that it should not matter whether or not the actress is light-skinned and that what matters is that fact that she is black; however, it does matter because not enough dark minority women are seen in the media. According to (Tiffany Onyejiaka) in Teen Vogue's article "Hollywood's Colorism Problem Can't Be Ignored Any Longer," "Why does it matter that some of the most popular black actresses are light-skinned? Because it indicated that Hollywood still overwhelmingly believes that a black woman must possess non-black ancestry or features to be considered beautiful or valuable." With that said, the most well-known actors/actresses are usually biracial and have features that are commonly said to "have a closer proximity to whiteness," according to Onyejiaka. Actresses like Zendaya, Halle Berry, Yara Shahidi, Amandla Stenberg, and Alexandra Shipp, to name a few, are true examples of the light skinned privilege because these are well-known actresses who are featured in many films and shows. Not to mention, Zendaya, herself, has addressed her privilege and commented as to "hav[ing] a bit more privilege compared to [her] darker sisters and brothers," according to Teen Vogue. "I think that darker men and women aren't casted as much since our society isn't fully equal yet. We say that everyone is equal, but we can still see discrimination, racism, and sexism today. Some people are stick in the past and think that change isn't good," comments Amintta Ragavanis, a freshman.
"I think colorism is an issue because, in movies, the lighter skinned people are seen more, or if the darker skinned people are depicted, they act in a very stereotypical way," says Samiyah Landrum, a sophomore. There are numerous instances of characters that are casted as dark skinned that act how the stereotypical black person is "supposed" to: loud, "ghetto," and wearing revealing clothes along with large hoop earrings. An example is The Proud Family, which is an early 2000s Disney-animated sitcom. It was enjoyed by many, but looking back at it now, there were many issues with the show. The main character was Penny Proud, who was light skinned with somewhat straight hair, and was respectful, smart, well-read, and classy; however, her best friend, Dijonay Jones, who is darker skinned, is made out to be loud, selfish, untrustworthy, aggressive, and, what some may characterize as, ghetto. Over an array of shows, if they do by a minor chance feature a dark-skinned character, most of the time, she perpetuates the negative stereotype of "the angry black woman." So what does this say about how show writers are trying to characterize black women?
Colorism is not just an issue that affects black men and women, but it is a problem for the Indian community. In India, there is a direct correlation of being light skinned equaling beauty. There is a huge market for skin bleachers and skin lightening creams. Several Bollywood actresses such as Priyanka Chopra have admitted to using skin lightning creams and others have even promoted them. One of the infamous brands is Fair & Lovely, whose mission is to provide "effective and visible fairness to women, and more than that, it provided hope. Hope to millions of women around the world, especially in Asia, who desire fairer and even-toned skin…" according to the Fair & Lovely website. There is even an issue with the name of the brand that exhibits their goal of skin bleaching. To add, "India's obsession with fair skin is well known and deep-rooted. Colour prejudice is widespread and practised openly across the country. Indian society believes skin colour determines a person's worth. In our culture, all virtues are associate with fair while anything dark has negative connotations," according to online magazine Aljazeera. "The portrayal of light skinned Indians in Indian movies–they portray light skin is better than dark skin. I also see a lot of light skin people that do not like to be associated with darker skinned people," says Aliyah Jaikaran, a freshman.
"I think the reason people of color are so underrepresented in Hollywood has to do with the long history of scientific racism toward people of color, and the entertainment industry is one of the many industries this problem goes on in," says Jolie Orbeta, a sophomore. There are still a lot of stereotypes and lack of acceptance for darker people of all minority groups. It is something people of all different backgrounds struggle with whether they be Asian, black, Latinx, etc. In the end, representation in the media is what will make the difference and set the example that light skin is not the right skin.
About the Writer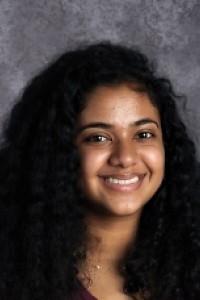 Faith Singh-Koobial, Contributor
I am part of the class of 2021 at LHS. I am in Key Club. I have a dog named Bandit, and I went to elementary and middle school in Queens.