Lady Owls Close Another Season
After suffering an unfortunate 39-34 loss only three weeks prior, the Lady Owls returned to Valley Stream South, and this time, they were out for revenge on February 11. This game had huge implications, as the Lady Owls had to win to get into the playoffs. They knew what they had to do, and they did it: the owls destroyed Valley Stream 55-36, securing their spot in the playoffs.
That game was just one of the many that embodies the nature of the Owls: determined. Despite losing key seniors who had graduated with the rest of the class 2018, the Owls were determined to return to playoffs for the fifth consecutive year and they did just that.
This year, the team was significantly younger than years prior, with eight out of their total 18 players being underclassmen, most notably freshman star Kyla Nembach. Nevertheless, the younger teammates proved their skill, many making significant contributions to each game and some even taking home All-Conference honors.
Senior captain Katie Bamman was named a senior scholar athlete for her impressive academics and athletic contributions to the basketball team. Sophomores Kayla Schwizer and Leanna Sullivan were each named all-conference honorable mention, and sophomores Camilla Bahri and Nembach both were awarded the title of all-conference athletes.
The girls' strength as a team was highlighted by starters senior Kerin Bartels, senior Madison Barroso, junior Sara Bahri, sophomore Camilla Bahri, Bamman, and Schwizer. Coach LoCicero, however, is proud of the entire team: "We worked very hard every day, played some great defense, and played every game tough… we had a great season with great senior leadership. "
Playoffs marks an almost bittersweet moment for seniors as it proves the team's hard work paid off but many have also realized this means an end to their high school basketball careers. "My team and I have worked very hard this entire season to be where we are. Making playoffs was very exciting for us, but I'm going to miss LVB very much," commented Barroso. Schwizer agrees that she too is "so proud of the team but sad to see the seniors leave."
Unfortunately, the Lady Owls' time in the playoffs was short-lived after they suffered from a rough loss in the first round to Mineola, ending their 2018-19 season. Led by Head Coach LoCicero and senior captains Bartels and Bamman, the team finished with an overall record of 11-10.
About the Contributor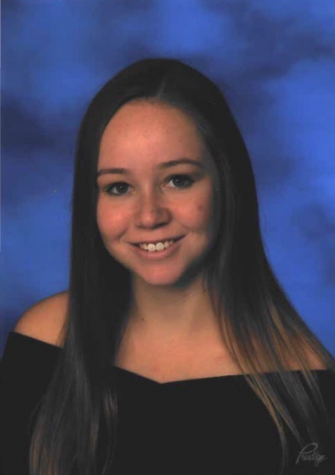 Jane Hoeflinger, Editor-in-Chief
I am a member of the Class of 2020. In my free time, I write articles for Horizon. I am the editor-in-chief for the print edition for 2019-2020.